THE MANY USES OF CLAY AND CONCRETE BRICK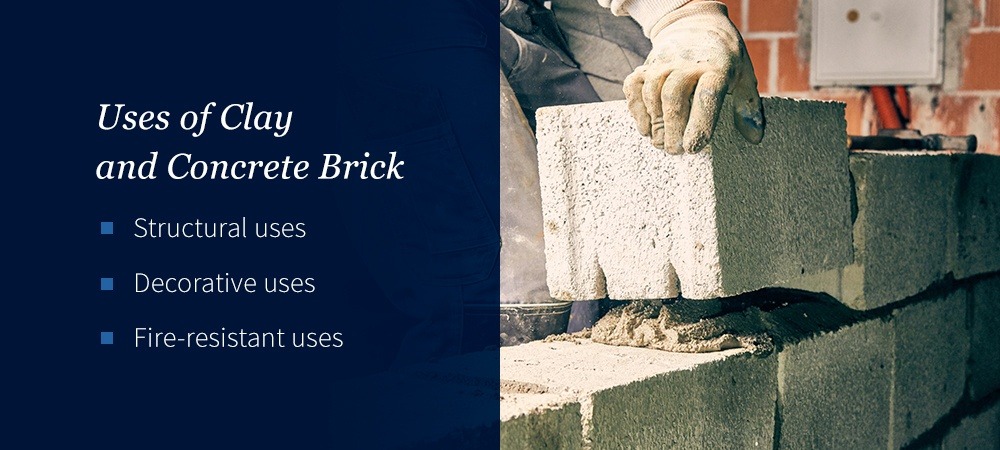 People have used clay and concrete brick in their construction and landscaping applications for thousands of years. Construction workers around the world still use masonry brick for a wide range of uses today.
Some of the most common applications of brick that have been passed down throughout its long history include:
Structural uses — From historic buildings to modern homes, masonry bricks are a staple in both commercial and residential building construction. Brick for storefronts also creates a polished, professional look. Brick walls have a reputation for providing a stable and long-lasting foundation, composing some of the most beautiful buildings in the world. The brick can either be concealed on the inside by another finished material like plaster or paint or can be exposed on both the interior and exterior for a traditional and elegant style. While less common, brick has also traditionally been used to construct the roofs and floors of some buildings.
Decorative uses — The elegance and simplicity of brick make it an exceptional choice for decorative use. It comes in many beautiful colors, shapes and textures for a variety of aesthetic designs. Our Nicrete products provide a beautiful alternative to clay bricks that can take on beautiful colors and textures, like thin bricks, white bricks and different brick finishes. Many high-end homes use masonry to line driveways and patios, and both residential and commercial buildings often use brick that's cast to form arches, cornices and other decorative designs.
Fire-resistant uses — For centuries, people have used fire bricks to build fireplaces and chimneys due to their exceptional temperature tolerance. The material is non-combustible, making it an excellent choice for withstanding a fireplace's heat.