Nitterhouse manufactures many different types of architectural concrete blocks and architectural pavers so that you can be sure to find what you need for your building project. We are open to collaborating with your project design team to create the building that matches your inspiration and imagination. The possibilities are limitless using our full line of architectural concrete products.
Architectural Concrete Block Options
We offer two basic finish choices of our quality CMU's; our standard ground face block known for its uniformity and natural beauty and our split face architectural concrete block that offers texture and dimension.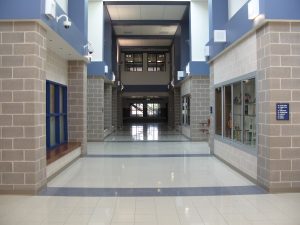 Additional Finish Options
In addition to our basic CMU options, Nitterhouse is proud to manufacture a recycled architectural concrete block called Eco Smart which is produced with 30% recycled material. This recycled option is available in our standard Ground face and Split face finishes in a variety of color options.
We also offer another option of our ground face blocks called our Elite CMUs. Our Elite ground face CMU collection is filled and polished which makes them perfect for building interiors, or buildings and areas that compel an exquisite look.
Legacy Collection Veneer CMU Architectural Blocks
Nitterhouse offers a Legacy collection of veneer CMU's that offer a natural look characterized by beautiful aggregates that show through the surface. This collection comes in two additional finishes: textured stone and terrazzo stone (smooth, polished finish). The Legacy textured finish gives dimension and adds style and drama for interior and exterior applications. On the other hand, the Terrazzo smooth finish has a granite appeal and add class and drama for its interior and exterior applications. If you struggle to choose between our Legacy Textured stone and Legacy Terrazzo stone, you may opt for the Legacy Linear Collection that features beautifully scored linear lines between a ground face finish and a shot blast textured finish.
The Legacy Stone Collection of CMU's also comes in a Chiseled Face option that gives it more dimension and texture as opposed to the traditional veneer stone blocks. The Legacy Chiseled Face CMU works beautifully as an accent band on a building and can be used to give a project an extra-dimensional surface.
Monarch Blox Collection Architectural Bricks
Our Monarch traditional line of architectural block feature an alternative to the look of clay brick, while still maintaining the clay brick color. Nitterhouse's Monarch Traditional blocks are half-high through wall units. Thus, they maintain the regular height of a brick but have the width and length of a regular block making this option a great solution for fast-track jobs or projects in an area that demand the look of brick.
Let our products inspire your building's design! We manufacture high-quality masonry products so that you can be confident in your project.
No matter the type of commercial project you and your design team are tackling: schools, churches, office buildings, firehouses, or healthcare facilities, Nitterhouse has the architectural block options to make your project a reality.
For NCMA E-Tek information visit:
http://www.ncma-br.org/member.asp
Nitterhouse is the name that will help you choose the right architectural concrete products with great quality and customer service that has continued in the same family since 1923. Contact us today and meet the demands of your latest project.