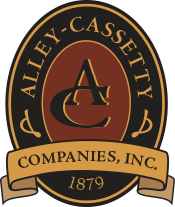 Call Us for Nitterhouse Masonry Products
Nitterhouse Masonry Products – Nashville, TN
---
Alley-Cassetty Brick sells the following Nitterhouse Masonry Products:
Alley-Cassetty Companies, Inc., has been providing businesses throughout the Nashville area with an assortment of premium products and services for more than 125 years. Our full-service building supply division features a wide selection of stone and brick products, CMU blocks and other masonry supply materials that help builders, landscapers, architects and other construction professionals meet their project objectives.
Nitterhouse Masonry Pavers for Sale
---
Alley-Cassetty is pleased to represent the line of high-quality paving stones from Nitterhouse Masonry Products. NMP is a family-owned and operated masonry company and a leading concrete and brick supplier throughout the Mid-Atlantic region. Whether you're in the market for concrete blocks, patio pavers, or backyard or driveway paving stones that combine high functionality with remarkable aesthetic appeal, you'll find the right product for your project at your Nashville site.
Permeable Pavers
---
Stormwater management has become a hot-button issue in many regions of the U.S., including municipalities in the Nashville area and other parts of Tennessee. Stormwater runoff may contain contaminants that pose a danger to human and animal health and the environment, and can negatively impact the quality of the water supply. In some cases, stormwater runoff has caused homes and even entire communities to become uninhabitable.
The need to combat stormwater runoff and comply with EPA mandates has led many states to enact laws to facilitate stormwater runoff management. One example is the so-called "rain tax" in Maryland, which enables the state to levy a fee to recover the cost of stormwater management services. The fee is based on the amount of impervious surfaces on a property that contribute to stormwater runoff.
A permeable paving system from Nitterhouse Masonry Products helps prevent stormwater runoff by allowing the water to pass through them and into the soil. NMP Aqua Pave permeable pavers are designed to eliminate surface runoff, while also removing up to 99.99% of hydrocarbons and 97% of heavy metals. These permeable pavers are an excellent choice for water harvesting and roof water management applications.
Other NMP Products Available
---
In addition to concrete pavers, Alley-Cassetty carries an assortment of NMP architectural masonry products. And as a leading brick supplier in the Nashville, Tennessee, area, we supply numerous varieties of Nicrete Brick, an attractive, cost-effective brick solution for commercial and residential applications.
Our NMP Product Inventory
---
We invite you to visit Alley-Cassetty on Oldham Street in Nashville to see samples of our line of Nitterhouse Masonry Products bricks, architectural products and pavers for sale.