Concrete Parking Stop Blocks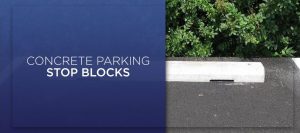 Nitterhouse has been a leading producer in concrete parking blocks for many years.
Nitterhouse's concrete parking blocks withstand the test of time even through the harshest weather conditions. We offer parking blocks in various lengths — 6, 7 and 8 feet long —  as well as, other finishes which include a safety yellow and "log bark" finish.
Concrete Parking Blocks
Businesses and commercial operations of all kinds rely on concrete parking blocks, which help make lots more secure, efficient and organized, demarcating spots and maintaining order across busy surfaces used by employees, customers and others.
At Nitterhouse Masonry, we've served for many years as the leading producer of concrete parking blocks in Pennsylvania and regions throughout the United States. We offer our customers various concrete parking lot stop options, and we always provide quality products and outstanding customer service at Nitterhouse.
Continue reading to learn more about our concrete parking blocks, and locate a dealer near you to get a quote for your concrete stopper needs.
Concrete Parking Stop Options
Explore your many options when shopping for concrete parking lot stops. At Nitterhouse Masonry, you can choose from among the following materials and styles:
Concrete: Traditional concrete is perhaps the most popular material for parking stops. If you're looking for a fast, simple, effective solution, choose concrete curb stops.
Concrete log: Our concrete log curb stops look like real trees, allowing them to blend in with the natural surroundings around a parking lot and not cause an eye-sore for employees or customers. They are attractive additions, yet they provide exceptional durability and performance over the long-term.
Bright yellow concrete: Bright yellow concrete parking stops are popular for their high visibility and the way that they clearly outline the structure of a parking lot.
No matter the material or style of concrete parking lot stop you choose, you can always count on quality when shopping with Nitterhouse Masonry. Parking stops take a beating daily, and we strive to deliver concrete parking blocks that can take that beating and continue performing over the long-term.
How to Install Parking Stop Blocks
Concrete Parking Block Specs
Our precast concrete parking lot stops are produced with 5,500 psi concrete. Our curb stops resist UV light, they won't warp or twist over time, and they come with pins for stable installation. Our different concrete parking blocks offer their own unique specifications. Check out the table below to see the specs for our car curb stops, log stops, yellow concrete parking blocks and truck blocks.
The Benefits of a Nitterhouse Parking Block
Nothing is more important than durability when you're shopping for concrete parking blocks. At Nitterhouse Masonry, our concrete stopper options are steel-reinforced and designed to withstand repetitive impact from moving vehicles on a regular basis. And it's not just cars that can impact curb stops. Weather can damage concrete parking blocks too, which is why our concrete parking lot stops are created to withstand the elements.
As noted above, parking blocks from Nitterhouse Masonry won't twist or warp over time, and they pin securely into place for the long-term stability and organization you need for your lot.
Along with durability, Nitterhouse Masonry concrete parking bumpers are constructed to maximize safety. As a precast concrete product, each parking stop block is molded to alleviate impact pressure on the block's anchor pins, both of a vehicle's tires and the surface the tires strike. The sloped design of our concrete parking bumpers also protects tires from tears, dents and punctures.
By installing Nitterhouse Masonry precast concrete parking stops in your lot, you can protect pedestrians and surrounding infrastructure from traffic and rolling vehicles. Whether your lot is near a shopping outlet, school or sidewalk, concrete parking blocks will help direct the flow of traffic. Parking stop blocks can also guard any parking lot signage, poles, carts and other parked cars from damage.
Where to Buy Concrete Parking Blocks
At Nitterhouse Masonry, we've been family-owned and family-operated for five generations. Today, we use a network of dealers to work with clients across the Eastern United States, including a presence in Pennsylvania, Maryland, Virginia, New York, Ohio, Kentucky, Indiana, Tennessee, West Virginia, Delaware, New Jersey and Washington DC.
Concrete Parking Block Installation
Once you have your durable concrete parking blocks from Nitterhouse Masonry, you'll need to have them professionally installed. Luckily, Nitterhouse Masonry takes care of the installation for you, too! We'll come to your site and install the precast concrete parking blocks you ordered for you, so all you have to do is relax and enjoy the benefits of having top-quality concrete parking stop blocks in your lot.
Are you ready to secure the toughest concrete parking stops for your lot? Locate a dealer near you today.