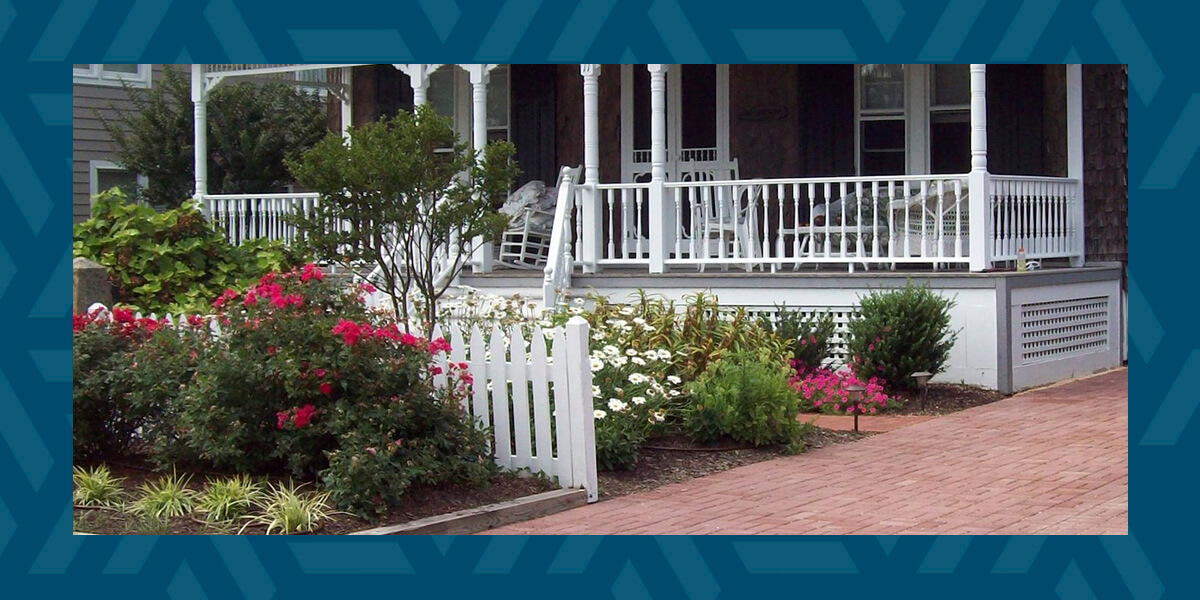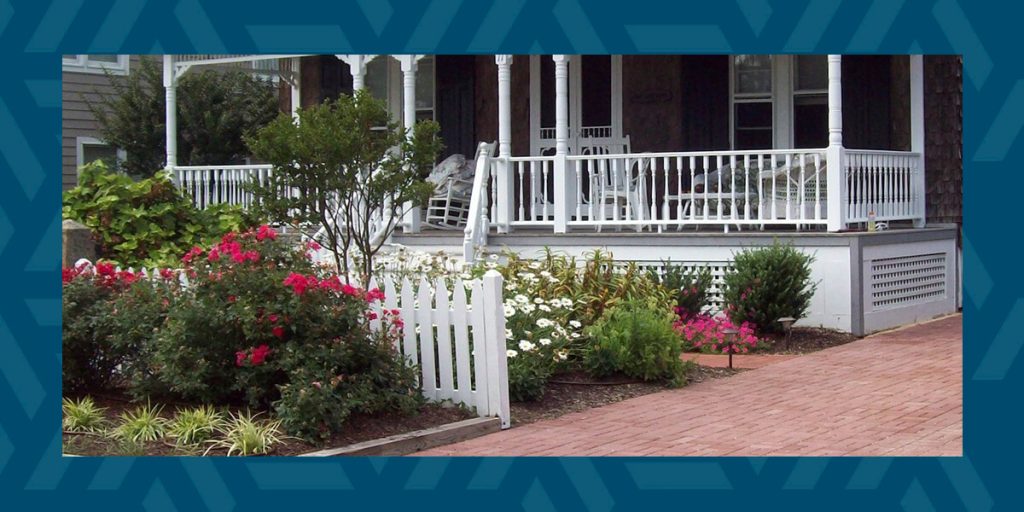 If you're looking for a landscape investment that can impact your property value, pavers could be the answer. From their aesthetic appeal to long-term durability, pavers have the potential to increase your home value. They may increase your happiness after the upgrade, as they offer a beautiful addition to any space.
Whether you install a driveway, patio or walkway, here's how pavers increase property value.
Do Pavers Increase Home Value?
You'll be happy to know patios and paver walkways can improve your home's curb appeal and, as a result, increase your overall property value. But just how much value can a patio add to your home? One study found that a new patio costing $3,269 would bring a $3,563 increase in value or a 109% return on investment.
Patios are a feature many home buyers first look for. Pavers can create a space for homeowners to relax, sit fireside, enhance a garden, interact with friends and watch the world go by. So, while pavers can help your property sell for a higher price, they may also result in a faster sale when the time comes to put your home on the market.
While the precise return on investment will depend on your location, buyer demand and patio type, you'll most likely recoup most of the costs and increase your home's value in the process.
Considering all this, a patio, walkway or paver driveway can add value to your home, making them beautiful additions to any space. They benefit your well-being as well. The 2023 Remodeling Impact Report from the National Association of Realtors® (NAR) found that 85% of homeowners had an increased sense of enjoyment at home after a patio project, while 73% felt a major sense of accomplishment when thinking about the project.
Enhanced Curb Appeal
Driveways, walkways and patios are often viewed as welcome mats to your home. While an aging concrete driveway can set the bar low for expectations for potential buyers, your pavers' clean textures, lines and colors set the tone for a positive home experience. Pavers also come in various styles and materials, ensuring you find the right design, no matter your home's architecture.
The more your pavers match the look of your home, the greater the curb appeal. For instance, you could use concrete pavers for a more modern-style home or brick pavers for a colonial house. And when you style your pavers correctly, you'll enhance your home's other outdoor features, including gardens, fountains and seating areas.
According to the NAR, an overall landscape upgrade recoup up to 100% of its value. More specifically, paver walkways can enhance stone planters, flowering shrubs and trees to improve your home's curb appeal.
Built to Last
With heavy vehicle or foot traffic, walkways, driveways and patios see a lot of stressful activity, which can cause pressure depending on the materials used. With concrete, heavy loads and the elements can lead to cracks and costly repairs.
In the winter, cracks can widen as water enters the cracks and freezes and expands. Pavers, on the other hand, can withstand more weight than poured concrete.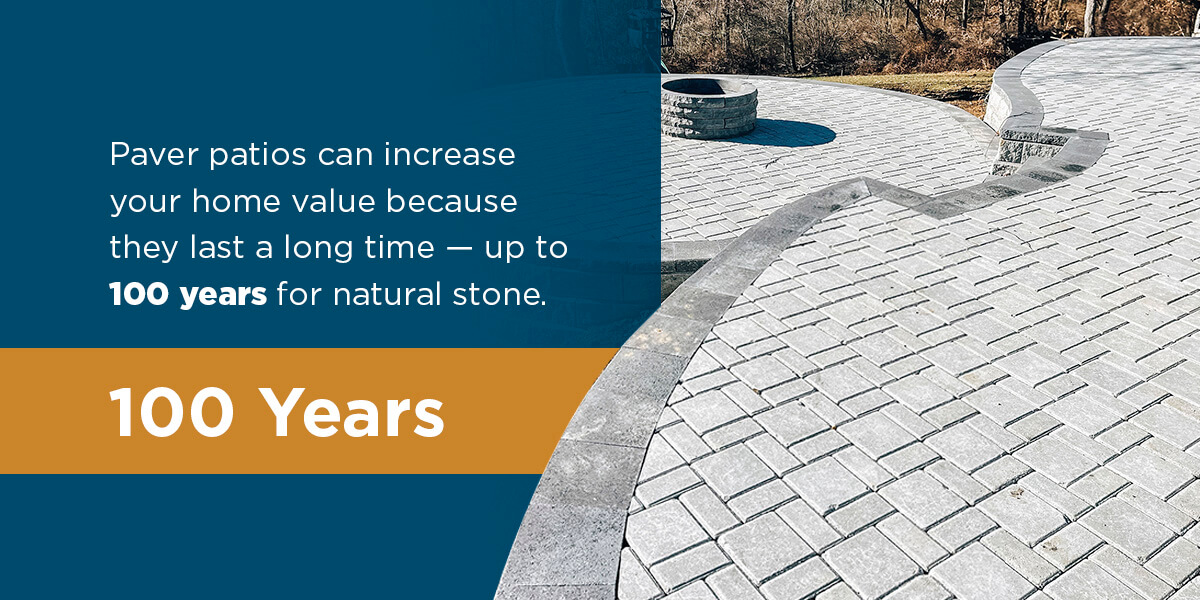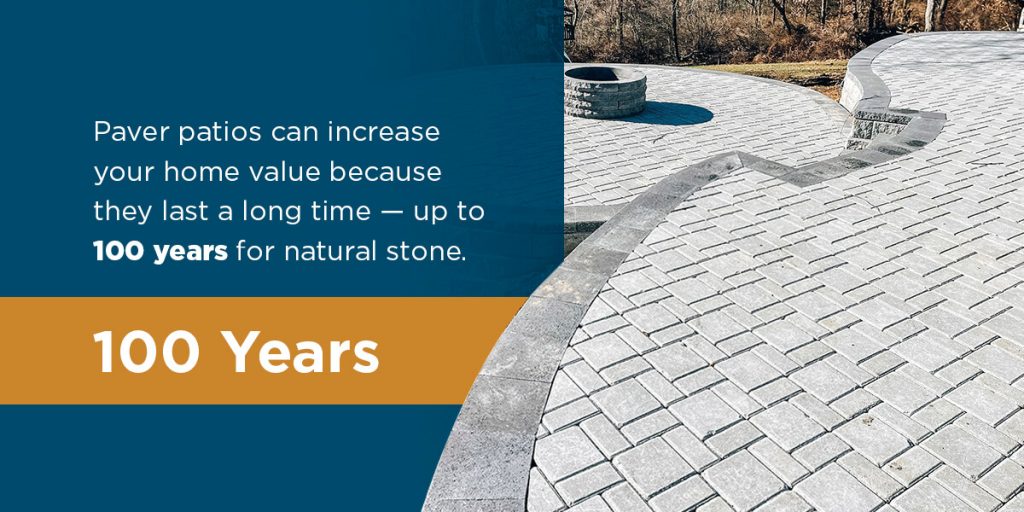 That's due to the materials themselves as well as their interlocked nature. Paver patios can increase your home value because they last a long time — up to 100 years for natural stone. Even if a paver cracks or loosens, repair costs will be lower since you'll only need to replace one paver rather than entire concrete slabs.
Using the correct type of materials can make all the difference. Travertine pavers are highly durable and popular for their eco-friendly features. Concrete pavers are another affordable option, coming in many tones, shapes and sizes. In the long run, this means less time and energy spent and lower maintenance costs for homebuyers.
Eco-Friendly
Sustainable features are considered must-haves by buyers in many of today's housing markets. While this includes smart thermostats and energy-efficient lighting, it can also include permeable pavers. A permeable patio or driveway drains and filters stormwater to keep pollutants and debris out of waterways while reducing stress on storm sewers and watercourses. Many permeable filters can effectively filter out oil, gasoline, diesel and other pollutants, positively impacting the environment.
Many potential buyers will value permeable pavers for their positive effects on rainwater conservation and management.
Improve Outdoor Flow
Flow is everything — it impacts how a buyer feels as they walk around your home, rooms and even your backyard space. A paver walkway can add value to a home by increasing the home's exterior appearance and overall flow. Pavers can be used to create more discreet garden spaces and effectively extend your outdoor space. You can retrofit your pavers into distinct livable sections, such as a cookout space, pool surrounding, relaxation area or playground.
Pavers are attractive due to their versatility in improving a property's traffic flow, making them an excellent solution for anyone upgrading their home on a budget, including buyers looking for a versatile outdoor space.
Create a Seamless Living Space
Nowadays, people are looking for a seamless transition from their indoor living space to the outdoors, and pavers can help you do exactly that. When you open up your indoor space with a paver patio, you bring elements of the outside inside, creating a more attractive, relaxing and peaceful home environment.
Plus, you won't have to worry about planning permission. If you were to add value to your home in another way, such as extending your property, it could lead to a longer, more drawn-out process. A paver project eliminates the extra time, energy and money needed for this valuable upgrade.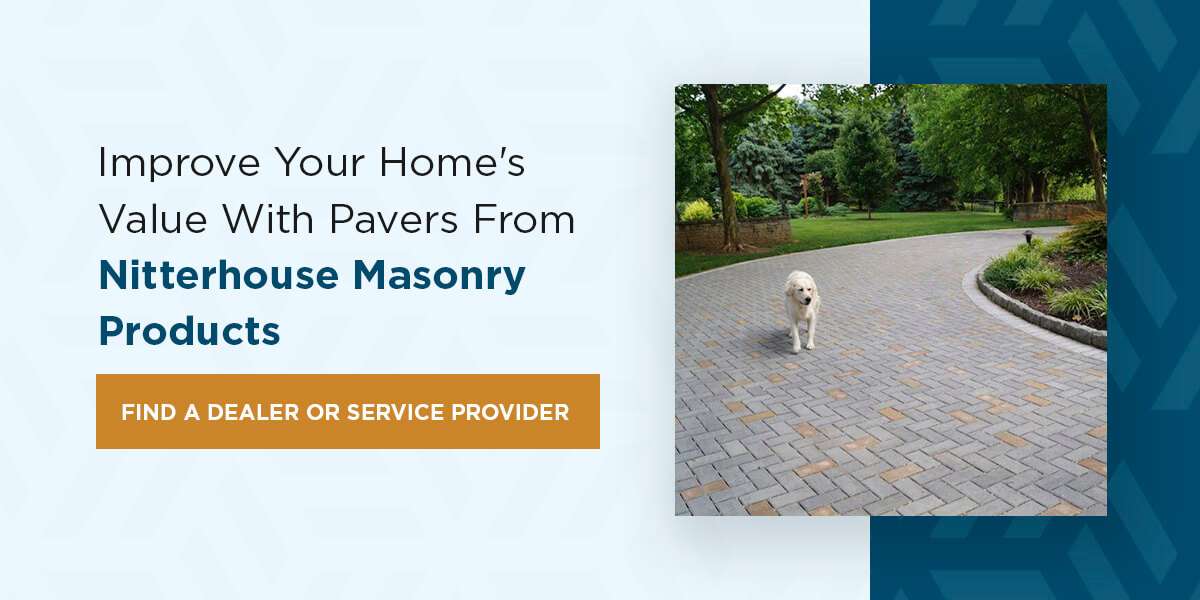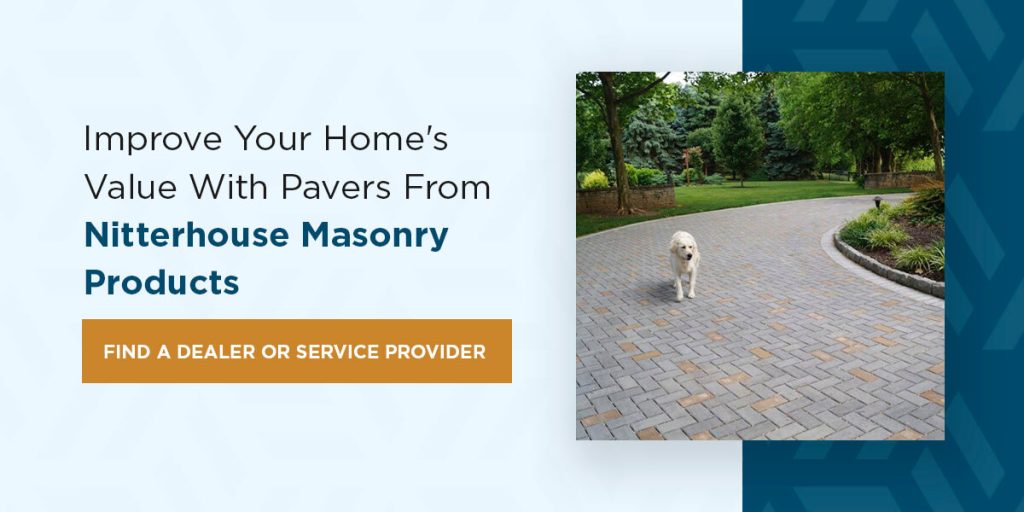 Improve Your Home's Value With Pavers From Nitterhouse Masonry Products
Pavers provide many benefits for your home, which can help increase its value. They can also make your home feel more like a home, creating an outdoor oasis you'll never want to leave. From patios and walkways to driveways and other designs, pavers can add a gorgeous touch to any property.
When you're looking for high-quality, durable and eco-friendly pavers, look no further than Nitterhouse Masonry Products. With dealerships and project partnerships through Pennsylvania, Maryland, New York, Ohio, Virginia, West Virginia and beyond, we can help you achieve your ideal backyard landscape.
To get started, find a dealer or service provider near you today.