Everything You Need to Know and Prep for Your Next Hardscaping Ideas
Our homes are where we put up our feet, where we rest, where we let ourselves laugh and be at leisure. It's where we gather friends, family and neighbors, where we spend countless hours, and where we invest hard-earned money to make it our own. 
Most importantly, our home reflects us. We design it — inside and out — to match our values and personalities, then let our lives unfold within.   
If the home is where the heart is, then at Nitterhouse Masonry Products, we think the land and features surrounding it should be equally cherished.
Homeowners invest nearly a tenth of their home's value into upgrading or renovating its hardscaping designs and features. And it's not hard to see why! These outdoor additions add a functional yet aesthetic appeal to a property that goes well beyond an admirer's passing glance — and can raise the value of your whole home.
Hardscaping ideas are endless. From elegant patios and outdoor kitchens to stone fencing and walkways with the perfect paver pattern, a hardscaping design is an achievable — and cost-effective — upgrade to your home. Hardscaping doesn't have to be a series of hard design choices or either-ors.
When it comes to landscaping versus hardscaping, the best projects incorporate the two and stay on budget.
Hardscape Planning Information They Won't Teach You in Stores 
Inside our Ultimate Guide to Hardscapes, you'll find information on planning home-improvement landscaping endeavors:

Hardscape designs and overview 

Front yard and backyard hardscaping ideas

Costs and budgeting

Tools and materials

Insider installation tips and tricks

Backyard hardscaping and landscaping hacks
Creating a hardscape design doesn't have to take months of stress or a huge budget. With a little planning, a little research and an eye for creativity, you can achieve a hardscape design fitting of the place you call home.
Chapter 1: Hardscape Planning 101: Preparing Any Backyard Landscaping and Hardscaping Project
Congratulations! You've decided to put on your do-it-yourself hardscaping hat — or, at least, reach for it — and create the yard of your dreams.
Whether that dream involves brickwork, retaining walls, patios, new plantings, pavers or all the above, you're taking the next step to increase the value, appeal and personality of your home.
Every hardscaping project has to start somewhere. While planning a hardscape project can be a balancing act of wants and needs, creative inspiration with practical preparation, we've broken down the basics to keep in mind as you consider adding a hardscape feature to your home's exterior. 
What to Know Before Hardscaping
Many people — from seasoned designers to ardent do-it-yourselfers — begin their project with lots of ideas and excitement, seeing their front and backyards as blank canvases. While you don't need an expert landscaper or outside contractor to execute every hardscape detail properly, you also don't need to overwhelm or overcomplicate project planning, ultimately ruining its creative spirit.
A well-designed hardscape can increase the value of your home — and 16 percent of real estate agents suggest it, especially if selling is in your near future.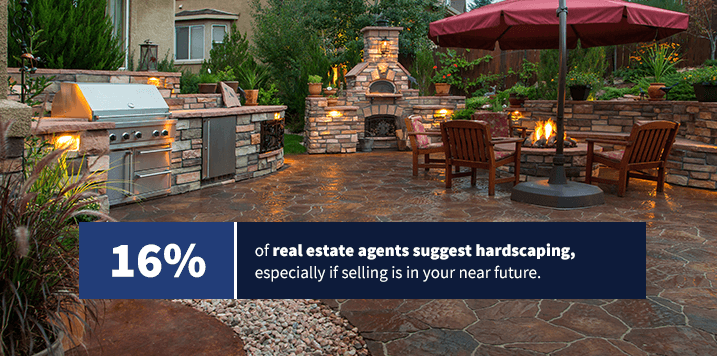 In this chapter, we outline a step-by-step checklist to plan your hardscape project.
How to Plan a Hardscape Project
Having the foresight to make proper preparations is perhaps the most essential step in any quality hardscape endeavor — and the most overlooked. Avoid costly surprises and an unfortunate end design by performing the following steps: 
1. Do a Site Analysis
Before anything, complete a detailed and thorough analysis of the natural features of your property. A complete site analysis should evaluate the following:

Natural hills and slopes

Soil type

Rocks and other heavy impediments

Current foliage

Water and drainage

Required maintenance
Consider all this alongside the spatial dimensions of your upcoming installation. What is the actual space you can work with? Be honest with yourself. Don't cram too much hardscaping into too little square footage or leave large patches blank. 
Then, ask yourself if your hardscaping vision aligns with your terrain's practical realities. The goal of your project is to show off the physical land to make your yard its best possible self. Work smarter, not harder, to enhance what's already there.
2. Set the Budget
Several variables will determine the price of a hardscaping project. The earlier you can estimate them, the better your project management and execution will be.
A final budget in planning for your hardscaping should account for:
All hardscaping materials, raw and manufactured.
All landscaping manipulation, such as costs associated with redirecting drainage, new codes or permits.
Decorative yard items, including softscaping, flowers, plantings, benches and fencing.
Tools, bought or rented.
Labor, if bringing in professional help.
To give you a few examples, the average cost for a deck in 2017 was $7,086. The average price for a newly installed cement patio or hardscaped walkway hovered a little over $3,000.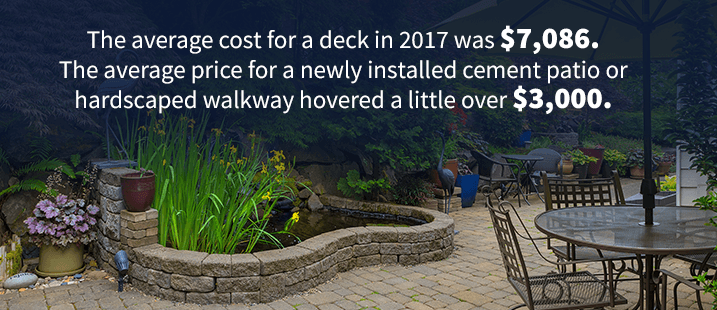 Remember, these numbers are merely broad estimates, not hard and fast rules. The final budget in planning for your hardscaping project should never stray from personal comfort.
3. Research Area Building Regulations and Permits
Next, check all hardscaping codes, building requirements, zoning laws and necessary permits required by your municipality.
You can do so through a simple Internet search of your city followed by "residential ordinances" or "code of ordinances." You can direct any questions that arise to your local ordinance board or similar representatives.
Investigate if your area requires an on-site municipal inspection before beginning your project. Otherwise, you risk violations that halt hardscaping — or worse, state you must take down or remove anything you've already invested time and money into.
Finally, if your neighborhood is part of a home owner's association, or HOA, there may be additional regulations and necessary permits.
4. Select Hardscaping Tools and Materials, Receive Samples
While it's impossible to predict every single tool or piece of equipment you'll need over the course of your backyard hardscaping project, there is a list of conventional materials and resources you'll more than likely need to bring your hardscape design to life.
Considering tools and materials beforehand helps you stick to a budget and an efficient project timeline. Common hardscape materials include:

Concrete: Poured by a professional or mixed yourself using a cement mix, sand, ground stones or gravel and water.
Brick: 

Clay or concrete bricks

 across dozens of cuts and colors.
Natural or faux wood: For attached or standing decks, pergolas and arbors.
Tile: Decorative tiles to add pop to terraces, stairs, retaining walls, patios or walkways.
Pavers: In a range 

of backyard pavers and driveway paver stones

 for an aesthetic upgrade.

   

Stone: Veneer and natural stone to polish a final hardscape design.
Landscaping Stone:

Loose stone or rocks available in a variety of shapes and sizes for walkways or around plants in place of mulch.
Ask for material samples at your local store. Compare what materials will function best in your space, as well as what fits your ideal installation, maintenance and labor upkeep.