NitterRocks are produced from our "second" architectural products that just don't meet the superior quality standards we set for our CMU (Concrete Masonry Units). Sometimes we will also manufacture an overrun of architectural block and in those instances we will also use those CMU block to create NitterRocks.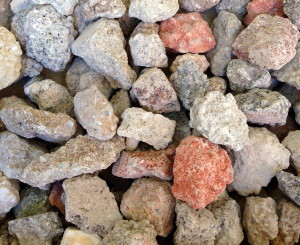 Most of the time companies will simply throw away their overruns or second architectural block, but here at Nitterhouse we crush them to about 1"+ size that is perfect for landscaping stone. Not only is NitterRock a great green product it is also very affordable to the consumer compared to other landscaping stones.
You will also discover every NitterRock gets prettier over time as the rain continues to wash away dust particles from the crushing process. NitterRocks have many different colors as a multitude of different architectural masonry units are used to produce them. This color aspect makes them fit in perfectly in any landscape setting.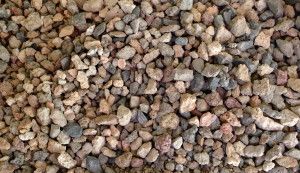 We also recycle our block and crush them to an even smaller size minus 3/8" called NitterStone that we use in our production as a recycled material for our "Eco Smart" Concrete Masonry Unit (CMU) that contains a percentage of recycled material.