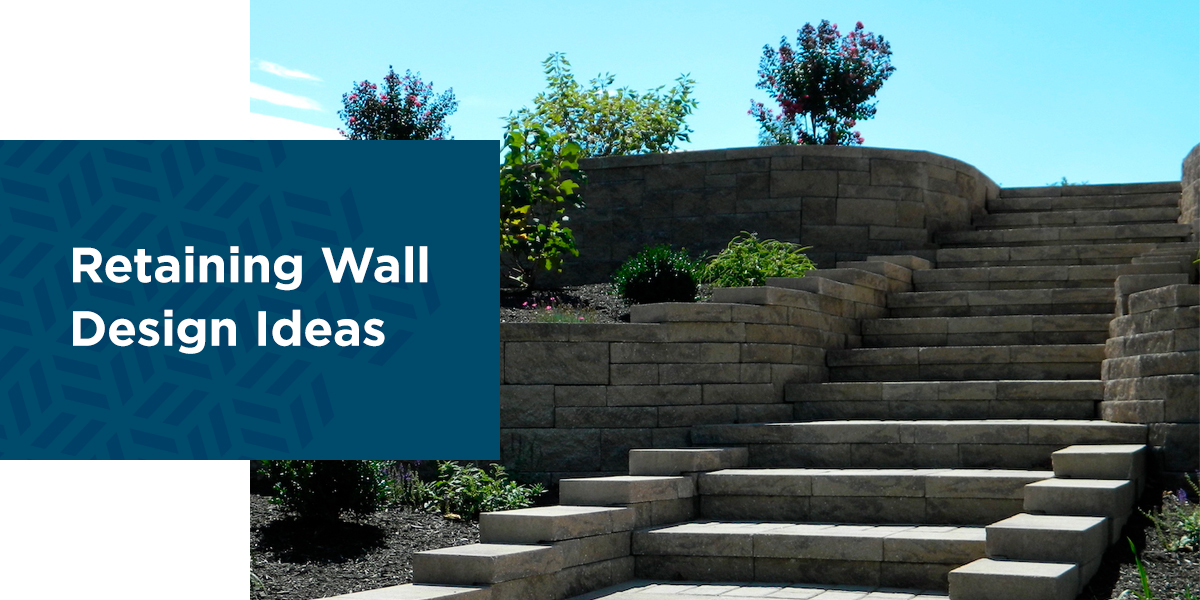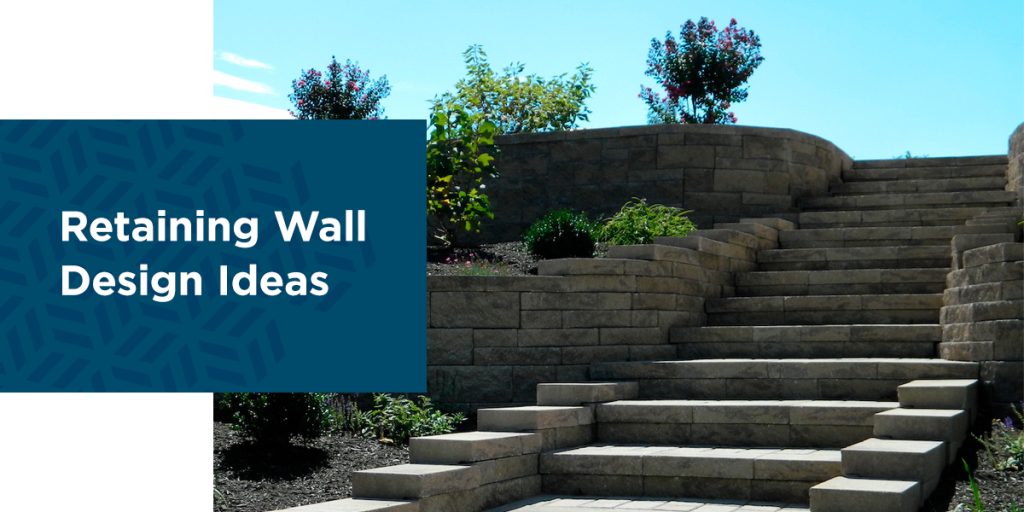 A retaining wall can add uniqueness to your property while offering various functional purposes. Each design offers the opportunity to add a mixture of materials, plants or flower decorations to spruce up the landscaping. Some homes use walls to protect from sliding soil, while others integrate benches or seating areas to utilize the space for a practical purpose. Others want a functional wall that separates the home from a patio or pool. Whatever the case, retaining walls require a bit of consideration beforehand to ensure they're executed perfectly.
What Is a Retaining Wall?
Properties that contain slopes or hills use retaining walls to hold back the soil and prevent the ground from eroding. A well-placed retaining wall creates a flat expanse across a sloped yard and transforms a hilly space into a patio or garden. Beyond their functional features, retaining walls have various design and material options that can match the aesthetic of a home or property.
Materials can include brick, wall blocks, wooden structures or concrete options, depending on what will suit the house. These wall structures can create an outdoor space that utilizes levels, flowers or pathways to make a landscape enjoyable while raising the value of the home and keeping it protected.
Whether you plan to install a retaining wall for practical or aesthetic reasons, understanding the various design options available may help you decide what best suits your property.
Retaining Wall Landscape Design Ideas
A well-designed retaining wall can create an aesthetically pleasing addition to a landscape design. Home and business properties can use various retaining wall ideas to implement their aesthetics and create a personalized garden or patio area.
Shapes
Different shapes of retaining walls can integrate the landscape's design and the natural foliage of the property to create a seamless transition between the lawn and the structure. Considering the various retaining wall shapes may also help you decide what best fits the landscape of your property. A few unique options exist when it comes to the shape of retaining walls:
Block wall with steps: Create an outdoor terrace over a sloping yard.
Double wall: Maximize the available lawn space to add visual appeal. Consider adding steps to create a path through the sloping yard.
Two-tier: Yards with steep slopes may use two-tier walls to prevent erosion, utilize space for patios or garden beds and create an attractive background for plants.
Layered landscaping: Consider using more than two layers to break up the hilly landscape and create flat areas to plant trees or bushes.
Curved wall: A curved wall can add a unique visual addition to the space and are available in a variety of materials and tier options.
Serpentine wall: Homeowners that want a stable retaining wall can consider a serpentine wall with vertical curves that resist damage from outside forces.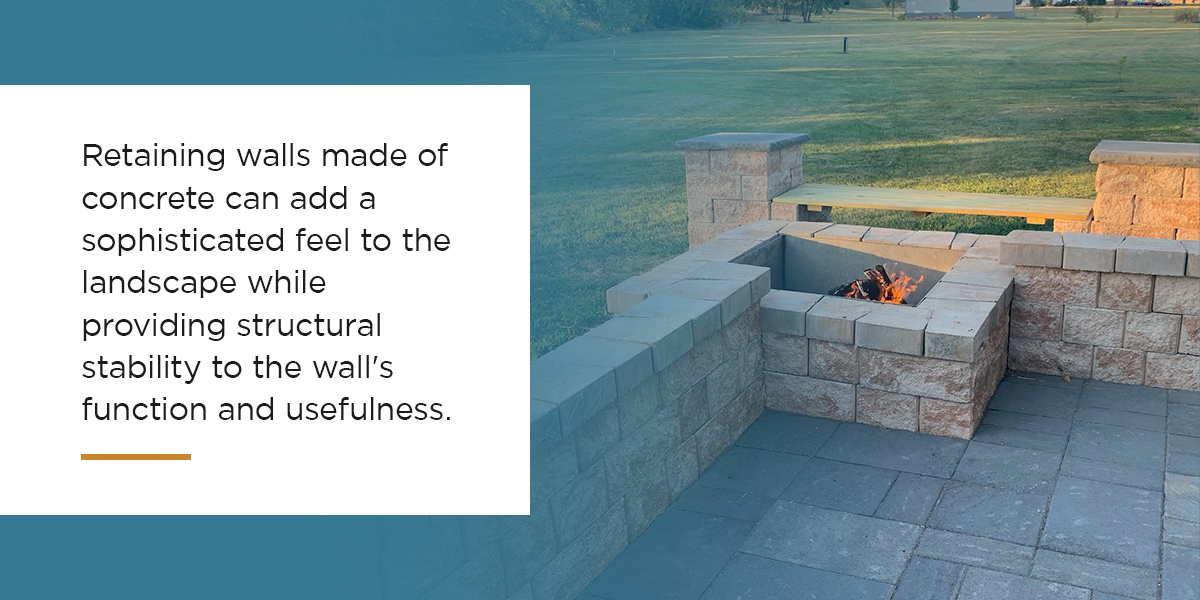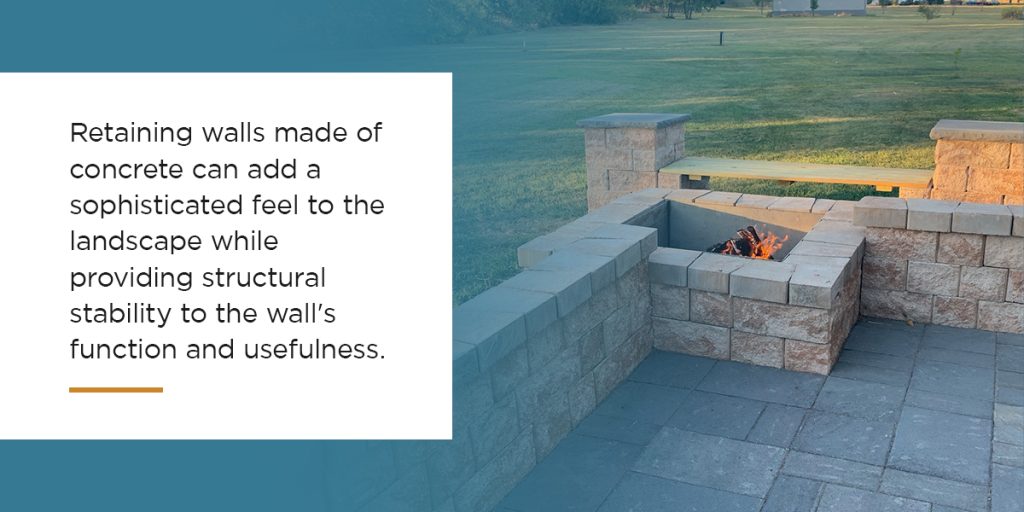 Concrete Retaining Wall Blocks
Retaining walls made of concrete can add a sophisticated feel to the landscape while providing structural stability to the wall's function and usefulness. Keep in mind that while you may be limited on the variety of concrete blocks available, these kinds of retaining walls are less challenging to install than those with other materials.
A few exciting block designs and methods exist when it comes to retaining walls that can appeal to natural aesthetics:
Ecology concrete blocks: Eco-friendly concrete retaining blocks are made with a stone texture finish and can be dismantled and reused whenever needed.
Pre-cast modular concrete blocks: Pre-cast blocks weigh less than typical concrete blocks and are engineered to allow taller builds.
Natural stone-colored concrete blocks: Many concrete retaining blocks come with textured finishes or stone-colored patterns to give the look and feel of a natural feature.
Unique Additions
A mixture of different shapes and materials can be used to construct unique backyard wall ideas. Whether a homeowner wants a stone structure that offers seating options or needs to protect the soil around a pool or patio, these unique retaining wall options can add a distinctive piece to the backyard:
Benches and wall seating: A wall design for seating can make use of the wall's functionality and create natural seating structures through a carved space or built-in bench.
Patio and pool: Retaining walls near a patio and pool can provide privacy for the space, while greenery planted on the beds can create a softened backdrop.
Vertical sleepers: Vertical sleepers can separate a garden area from the yard and add visual movement to the space.
Steel walls: The rustic colors of a steel wall can create a farmhouse style and enhance an agricultural setting.
Flowers and Planters
After deciding on the shape and material of the retaining wall, homeowners and landscapers have the option to implement flowers or planters into their design. You may need to consider the kinds of plants that will thrive in your area, and whether they will need adequate sunlight, watering or shade.
Several options can strengthen the yard's look, whether you're looking at garden ideas for double-sided walls or succulent and cacti options for a desert-like feel:
Prairie and native plants: Prairie and native plants have a distinctive look that pairs well with natural stone.
Vertical planters: Vertical gardens work well with stacked stone walls with areas to place plants.
Concrete planters: These planters can look like one piece of wall and mix natural foliage with artificial elements.
Centered around a tree: A retaining wall around a tree can hold soil and provide room to plant flowers.
Drooping flowers: Spilling flowers like moss, thyme or rock cress can be planted near the retaining wall's edge.
Cascading greenery: Rosemary or dichondra add vibrant colors to a neutral wall.
Low-maintenance plants: Succulents like agave or aloe can provide low-maintenance foliage options.
Cacti: Planting cacti like organ pipe or candelabra in a flower bed adds a desert flair to a home's landscaping.
Shrubs: Formal gardens do well with sculpted shrubs that add texture and a luxurious feel to a lawn.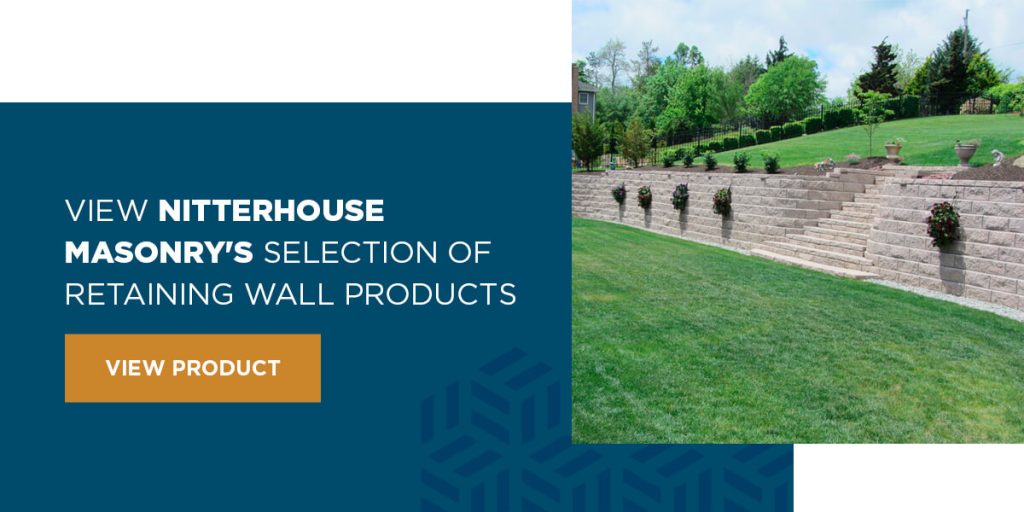 View Nitterhouse Masonry's Selection of Retaining Wall Products
Nitterhouse Masonry is a family-owned company that offers high-quality products and industrial, commercial and residential building materials. We serve customers in the Mid-Atlantic region with selections of concrete blocks, paving stones, retaining walls and specialty products.
Our engineered retaining walls are professionally built by certified wall contractors, so you can trust in their durability and reliability. Plus, we keep a consistent budget and schedule throughout every project, so our expert team can complete your project on time and for the cost you expect.
Contact us today to speak to a customer representative or call us at 717-267-4500.