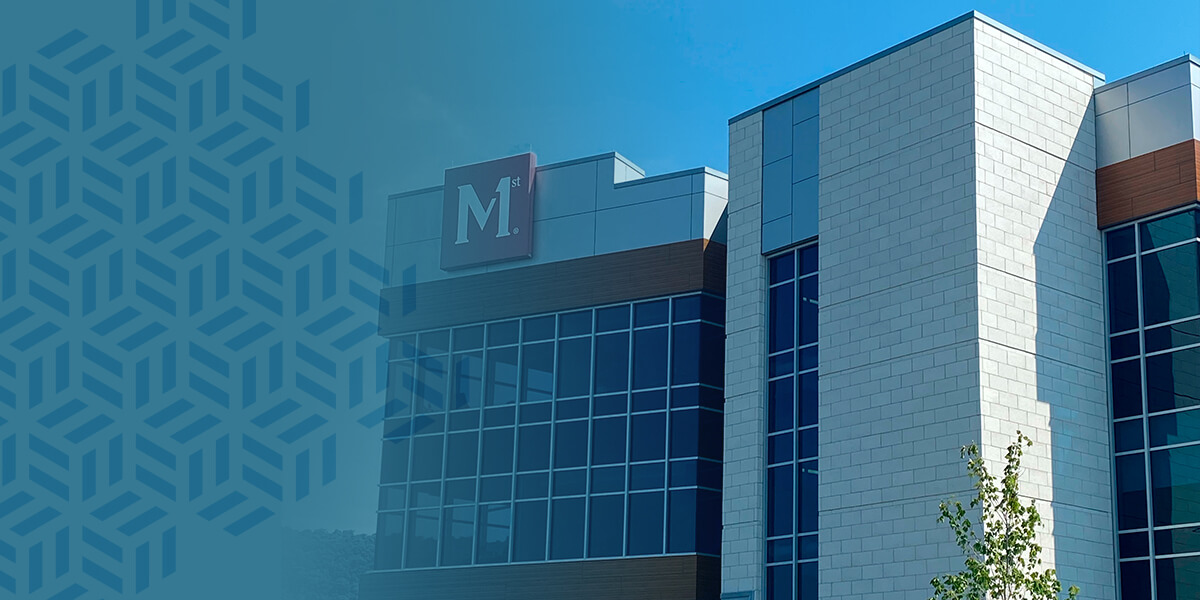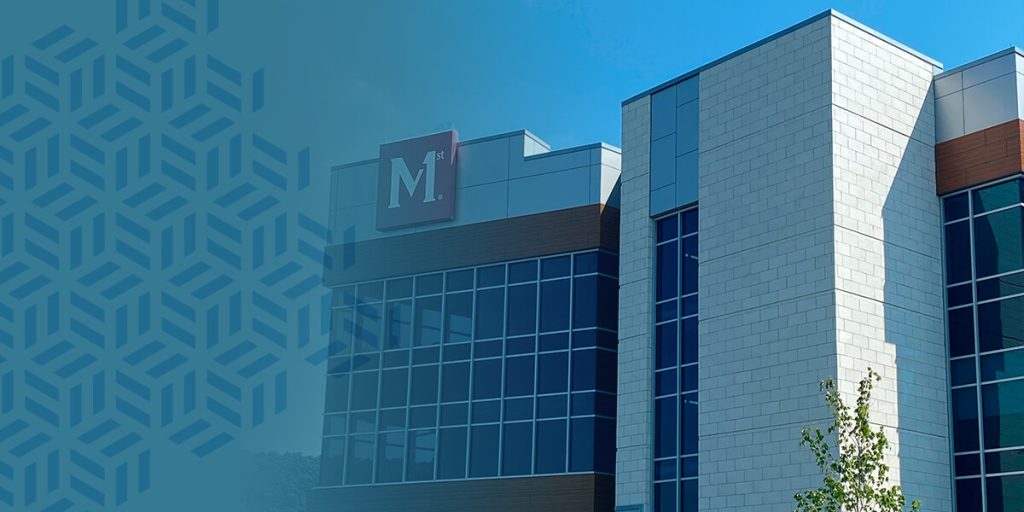 Architectural blocks, metal and glass, are used in a variety of residential and commercial construction projects. Several factors, ranging from the type of structure being built to the local climate, can play a significant role in determining which material is best suited for a specific project.
While each material has benefits as building materials, there are a few things to keep in mind when considering architectural block vs. metal or glass in construction.
Whether you need products for architectural, residential or contractor use, you'll discover the highest-quality building materials for projects on the East Coast and beyond at Nitterhouse Masonry Products.
Differences Between Architectural Block vs. Metal and Glass
Architectural block, metal and glass offer benefits ranging from structural stability to style in a construction project. Metals are often used for structural components, while glass is often used as a glazing element or as window frames.
Architectural blocks can be used in various parts of the project, including the foundation. It's a versatile material suitable for all kinds of applications. These blocks are made out of a combination of sand, rock, cement and water, making them a durable and versatile solution for all kinds of construction demands. Whether used for exterior or interior applications, architectural blocks are an environmentally friendly solution that can help reduce energy costs.
Because each of these building materials is constructed differently, they each have their pros and cons when used in residential and commercial projects:
Renewability: Concrete architectural block is durable, requiring far fewer replacements, but production requires more resources. While metal isn't a renewable resource, concrete blocks, metal and glass can be recyclable, depending on the type.
Preparation: Glass can be endlessly recyclable, so it's more readily available. However, metal isn't a renewable resource and can be more challenging to obtain for construction. Because concrete contains a mixture of materials like cement, fine aggregate, gravel, stones and water, there is additional preparation and construction time involved when using this material. Additional inspections might also be required when using concrete.
Insulation: Architectural block can absorb heat from the sun and pairs with insulation to minimize temperature fluctuations. When paired with insulating materials, metal frames have impressive insulating capabilities. Glass is also a good heat insulator, especially when paired with other insulating materials, and it has impressive natural light transmission.
Resistance: Concrete is highly resistant to fire, insects and moisture. Some metals are corrosion-resistant, which can be ideal for specific construction projects.
Disadvantages of Metal Frames in Construction
While metal has been and continues to be a popular construction material, there are some disadvantages to using this material, particularly steel, which is commonly used as frames in construction projects. Here are a few of the downsides of using steel frames in construction:
Reduced strength after fires: While steel can't combust, it's strength can lessen when exposed to high temperatures, making them susceptible to buckling or collapsing. Steel is also an excellent conductor of heat, so it can ignite other materials they come in contact with, letting fires spread quicker to other parts of a building.
Prone to corrosion: Steel is a metal prone to corrosion, especially when exposed to outdoor elements. An additional barrier between steel frames and the atmosphere is necessary to prevent corrosion, which can add additional costs to a construction project.
Less energy efficient: Steel framing is less energy efficient than other framing materials due to thermal bridging since steel is the most conductive path within the building. Thermal bridging can make a building more cold or drafty while also creating black stains on the colder portions of the wall.
Higher maintenance costs: Since steel is susceptible to corrosion, steel frames often require more maintenance. Failing to perform regular maintenance can cause steel frames to lose thickness from corrosion each year. More maintenance requirements mean higher costs.
Higher initial costs: On top of higher maintenance costs, steel frames often have a higher initial investment. Due to limited availability, purchasing steel materials for construction can cost more than other alternatives.
Reduced flexibility: Steel fabrication is precise, so steel frames are often delivered in their final forms. While this can be advantageous, it can pose challenges if you need to make sudden adjustments or if initial measurements were off. Steel is challenging to alter once on-site and can be a time-consuming process.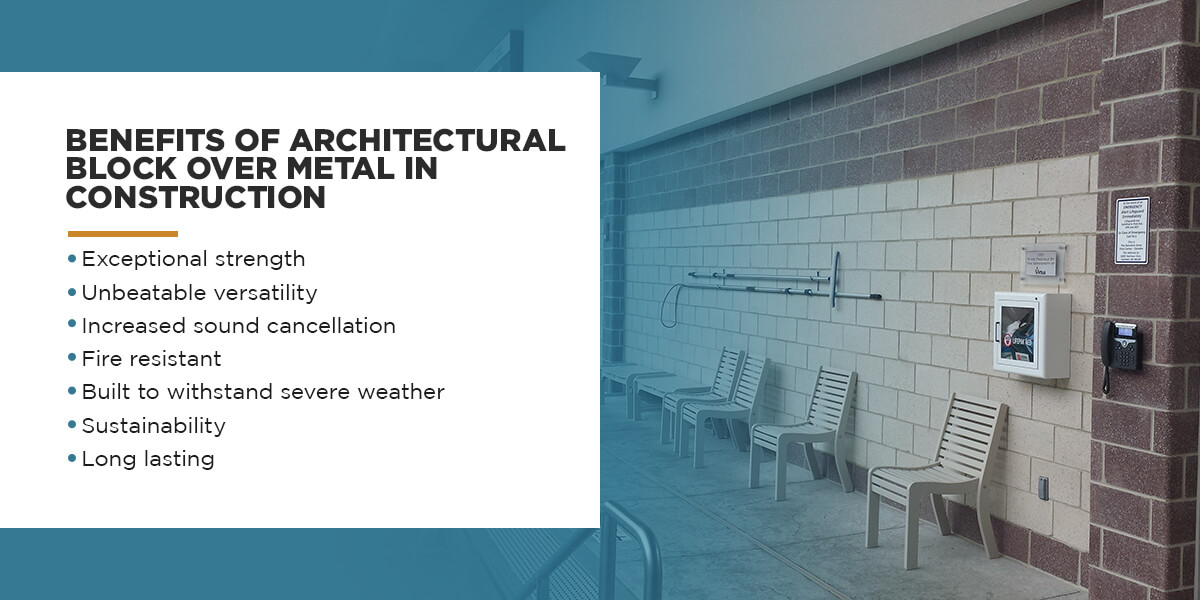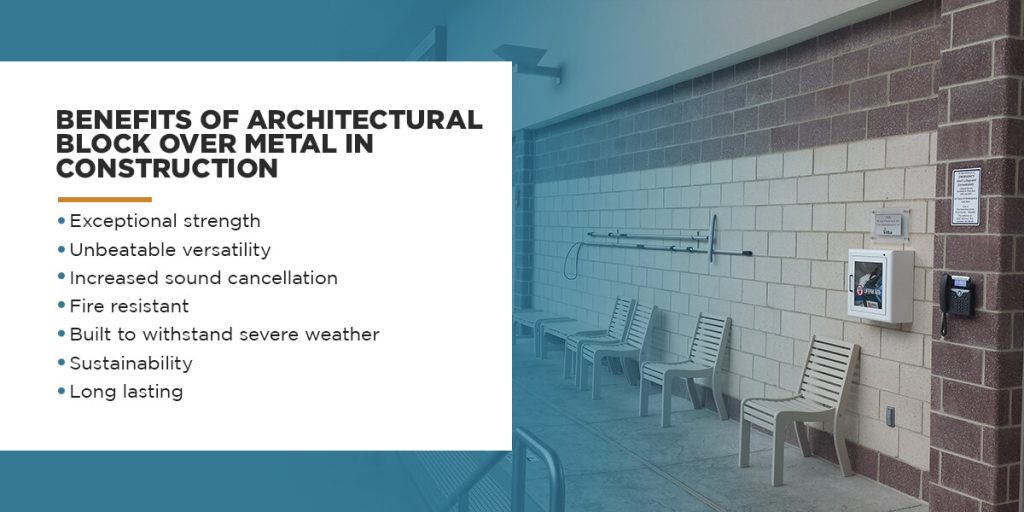 Benefits of Architectural Block Over Metal in Construction
No matter the type of construction project, there are several benefits of using architectural blocks over regular blocks or metal or glass. Architectural blocks deliver an ideal balance of both durability and decorative features that make them applicable to a range of construction projects. They are also used structurally, like regular block or steel, but architectural blocks aren't hidden. In other words, the selected colors and finishes will still be seen, contributing to the residential or commercial structure's overall aesthetics.
Here are a few other advantages:
Exceptional strength: Though concrete is pliable when it's wet, it offers the structural stability necessary for residential and commercial applications as it dries. Once it's removed from the block mold, you can count on the architectural blocks to hold their shape and deliver high compressive strength.
Unbeatable versatility: Architectural blocks make it possible to get the job done for various commercial projects, including office buildings, health care facilities, dormitories, schools and more. With an array of sizes, textures and colors to choose from, achieving a visually pleasing design is easier than ever.
Increased sound cancellation: Concrete frames are dense, so it's able to effectively cancel out unwanted sounds, creating a more serene environment.
Fire resistant: Since concrete blocks aren't flammable, this material is less of a fire hazard. The blocks will not burn or cause fire to spread to other parts of the building, unlike a steel frame, which helps create a more fire-resistant residential or commercial building.
Built to withstand severe weather: This building material is also built to withstand severe weather, including moisture and strong winds. Steel can corrode in similar conditions and need additional materials to prevent corrosion. Glass can also become damaged in some severe weather conditions. Concrete also has low thermal conductivity, preventing heat transfer indoors and reducing the need for expensive temperature management.
Sustainability: Compared to other structures, architectural blooks offer some insulation. By helping maintain a building's temperature during the winter and summer, you can reduce your overall energy consumption. Alternatively, steel is prone to thermal bridging, which can make a building colder or more drafty. Metal is also a non-renewable material, so it's less environmentally friendly to use in construction.
Long lasting: Unlike steel, which can corrode without the proper precautions or regular maintenance, concrete materials typically get stronger over time. This long-lasting construction will continue to provide structural integrity for years to come.
Types of Concrete Block that Nitterhouse Masonry Products Carries
Since we were founded in 1923, Nitterhouse Masonry Products has been producing a variety of high-quality masonry products. We combine the latest in technology and engineering excellence to deliver concrete and specialty concrete products suitable for projects ranging from retaining walls to office buildings.
Our masonry products include: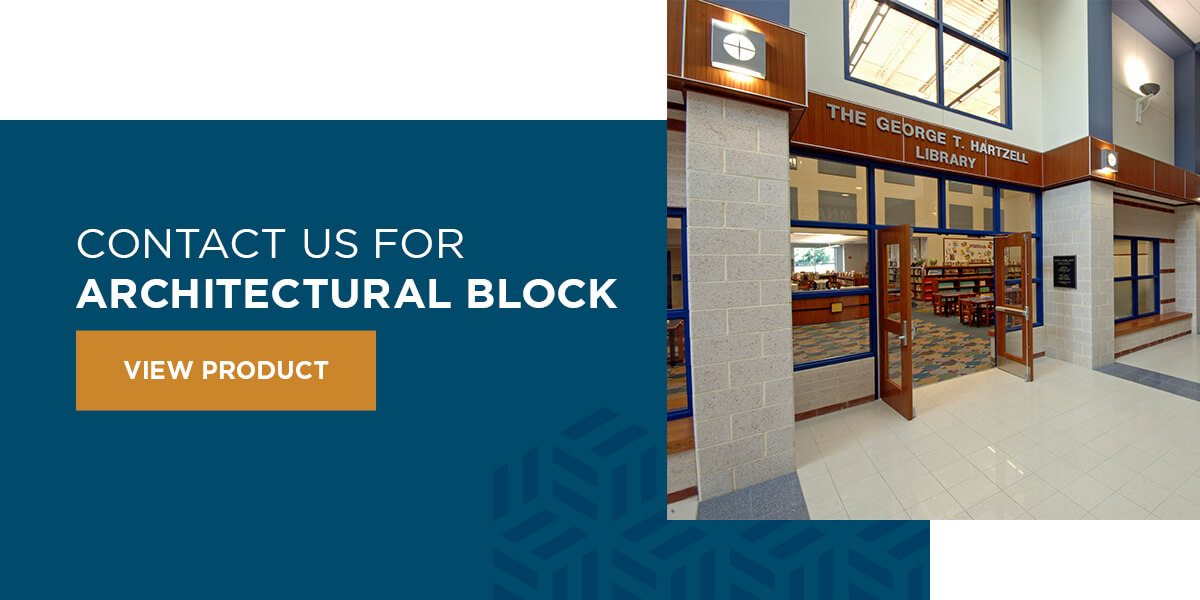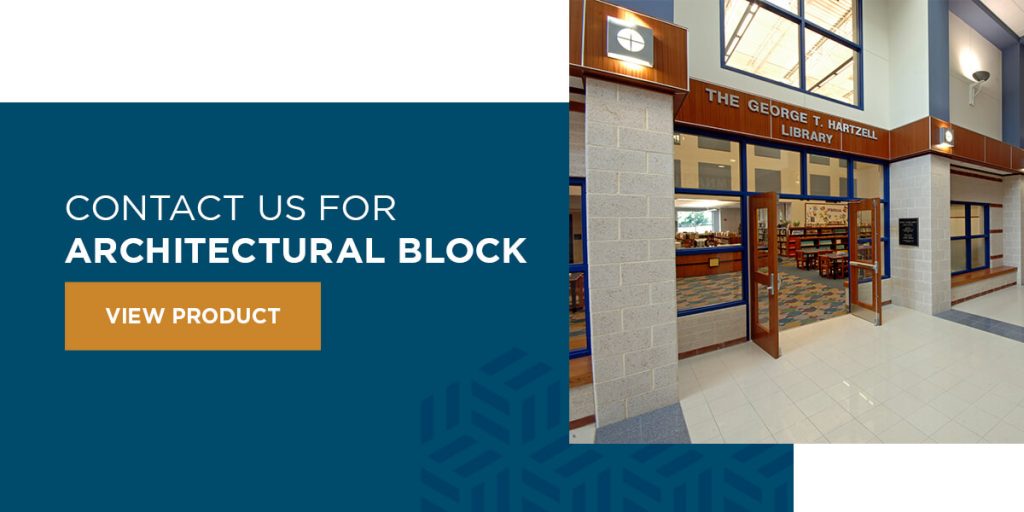 Contact Us for Architectural Block
Ready to begin your next construction project? With a range of architectural blocks that combine aesthetic appeal and structural dependability, you're sure to find exactly what you need. Contact us today to learn more.