Building a deck or patio can increase the living space functionality of a home. These spaces are cost-effective and straightforward projects that can also significantly boost property values — and property appeal.     
From hosting family barbecues and birthday parties to a quiet, relaxing outdoor retreat, decks and patios are the most versatile hardscaping projects you can add to your backyard.
They are as eye-catching as they are functional. You can build them large or small, fit to host the whole neighborhood or the tucked-away respite for a relaxing drink after work. Patio design ideas and hardscaped decks are numerous and trending. We've got you covered on where to start.    
Decks and Patios Are Popular Backyard Landscaping Additions
Over 87 percent of prospective homebuyers list backyard living space as one of the home features they desire most.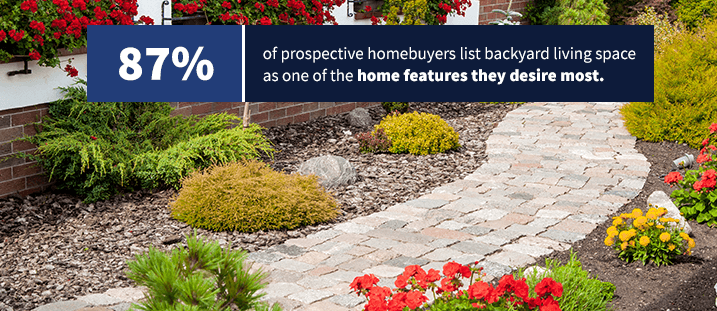 Such a coveted nature makes decks and patios a go-to upgrade when looking to increase the return on investment of your home. With proper seasonal care and basic cleaning maintenance, patios and decks are also one of the easiest hardscapes to keep from depreciating. 
There's one crucial difference between the two, though — level location.
Hardscaped patios are typically ground level, made from poured concrete, patio pavers or concrete pavers fixed into a flat surface area. Concrete can be purchased pre-mixed or blended and poured yourself. Pavers come in a range of interlocking or architectural paver patterns and are ideal for a more luxe, elegant installation look.     
On the other hand, hardscaped decks tend to be freestanding or attached structures that sit above ground level. They are typically made from wood or wood composite.    
Let's walk through the planning and construction needs of building a patio or deck.   
Deck or Patio Materials
Decks and patios are frequently constructed from these materials, which you can sample at your local hardware store or masonry distributor:
Stonework: Laid stonework is perfect for courtyards and patio entryways aiming for a classical, European ambiance. 
Tile: Ornate and chic, tiles are a stand-out base or trim material to add to hardscaped patios and decks alike. 
Pavers: Patio pavers blend the look of stone and tile in an easy-to-install base material great for walkways, driveways and garden patios.
Brick: Clay, concrete or stone blends to enhance the character of decks and patios.
Poured concrete: The most user- and budget-friendly of all patio material bases.
Natural wood: The classic and cozy base of attached or freestanding decks that are so popular today.
Wood composite: Achieving the same timeless look as wood, but with a longer lifespan and often a smaller price tag.

   
Tools for Installing a Deck and Patio
Building a deck or patio may seem daunting. You might think you need a contractor and professional crew to measure appropriately, dig, construct and finish this outdoor space — much less make sure the final product remains stable and secure!   
Both of these hardscape projects actually come down to a few surprisingly straightforward steps. With the following tools and procedural steps, you will have everything you need for this hardscape project: 
Layout and measuring: Industrial measuring tape, chalk or paint box, batter boards, construction twine, carpenter's square, speed squares.
Excavation: Shovel or sod cutter to clear the installation area, drain spade to dig post holes, various clamps to secure perimeter.

     

Construction: Jig and screw kits, adjustable or crescent wrench, hand sledger, pliers, circular saw, jigsaw, reciprocating saw, masonry or metal grinder, hammers, nails, nailers. 
General: Table saw, power nailer, nail gun and compressor, router, hand sanders.
What to Know Before Building a Deck or Patio
All backyard landscaping projects, including outdoor living space projects such as decks and patios, need you to consider the following: 
1) Research area building regulations and permits. Additionally, check there are no utility lines — such as gas, sewage or power — running beneath your intended patio plot.
2) Determine freestanding or attached. Freestanding decks and patios are installed more than one inch from a house as their own individual features. Attached decks and patios, on the other hand, are connected directly to a building or residence.
3) Account for furniture, windows and doors. When measuring floorboard heights, dimensions and railings for home-attached decks, don't make the rookie mistake of forgetting window and door practicalities. Install the height of your deck floor so there's space for doors to smoothly open and windows don't become obstructed.
4) Mark deck or patio height. Remember to measure and mark everything beforehand to get an accurate building framework. A few notes to consider:
Don't forget the dimensions of boards, bolts and joints themselves. These will add a little extra onto the final height of your deck or patio.
Keep this entire height below any attached door's opening threshold.
Mark both the patio width and the height along your house or building.
5) Pick a material aligned with your budget. Concrete and wood fall on the most economical side, while pavers sit in the middle and tiles and brickwork will need larger budgets.   
6) Do it yourself or hire a crew. Again, be honest with your comfort levels and budget.
7) Don't fight nature — design according to your yard. Unless you're willing to enact significant yard re-shaping, re-sloping, re-drainage and permits, complement the shapes, hills and curves you already have.
Deck and Patio Tips and Tricks
This final insider information will help you hack your way to a better-hardscaped deck or patio, one board or brick at a time:

1) Style your base materials. Consider the layout and patterns you can make with your chosen materials, such as basket weaving deck boards or adding decorative accent tiles to steps, caps and posts. Or you can opt for pavers and learn how to choose the right paver for your project by browsing the dozens of options within masonry catalogs.
2) Consider weather and climate. How will the climate conditions of your area affect your desired building material? What kind of treatments will be necessary to preserve the chosen wood, stone or tiling?
3) Be safe. Most residential decks come designed with a load-bearing weight of 60 pounds per foot. Going overboard with deck or patio furniture, outdoor kitchens, hot tubs or even too many guests will spell serious structural and safety concerns.
4) Allow for drainage. Space boards according to the manufacturer's instructions to allow for proper water runoff between.
5) Add finishing touches. Whether it's decorative trim, post caps, skirting, outdoor lighting, plantings or tree and brush foliage — whatever you can think of — crown your deck or patio with the adornments all your hard work deserves.
CHAPTER 2: TYPES OF HARDSCAPING IDEAS AND BACKYARD LANDSCAPING