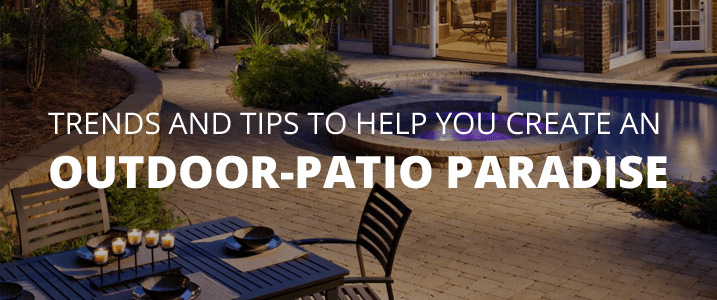 Jump To:
Nearly all humans love and even have a basic need to be outdoors. All five senses kick into high gear, and everything seems more vibrant and vivid as we feel the sun and wind, smell fresh-cut grass and flowers or just sit outside. Nothing beats outdoor living when the weather is right.
The extent of our outdoor living might be to sit in a folding chair outside the back door and dream about how nice it would be to have some outdoor living space. On the other hand, we might sit outside on an existing patio that needs to be replaced, expanded or improved.
Whatever leads us to an outdoor patio project, it's good to gather some information before diving in to plan and place one. Knowledge of the hottest patio trends as well as the tried-and-true fundamentals will help you make informed choices, create an ideal setting and get the best value for your money.
The American Society of Landscape Architects (ASLA) states that a home with a professionally designed landscape will command 15 percent to 20 percent more if and when it is ever sold. For those who never plan to sell, a patio and other landscape elements add to the satisfaction and quality of life for many years.
Check the Trends, Define Your Style
Patio trends continue to evolve. Large expanses of concrete are out, and creatively clustered sections and strategically placed pavers are in. Gas fireplaces have grown in popularity because they are easy, versatile and clean, while wood-burning models remain as a favorite outdoor feature. If you go with a natural-gas appliance outside, have a professional connect it.
Today's patio trends include many more ideas to beautify your outdoor environment that are adaptable to your personal style and creativity.
For example, if you place big pavers with space between them you can create a walkway leading to a raised area with a fire pit, fountain or other feature. Use long strips of sparsely placed architectural concrete surrounded by gravel and plants to create a clean, symmetrical look.
A walkway that leads to the garden or an expanded patio area creates additional living space and a comfortable place to be in the sun or shade. The main concept behind an oasis effect is to have some kind of pathway that leads to another living area set away from the main house, which could be tented, shaded or have a pergola or trellis.
Smaller-sized patios with efficient layouts accommodate tight budgets, and bigger-sized patios cost more but can include a kitchen, fire-pit area, seating, a bar and more. Color choices lately lean toward earth tones, but plenty of people also choose dark colors. Natural-stone looks are "in," such as flagstone, slate, cobblestone, brick and travertine. Natural stone usually comes with a high price, but concrete pavers can create the same look for much less money. Real stone is expensive and can be hard to find, and concrete can provide an affordable option to get the same look.
You can illuminate the patio with LED bulbs to save energy and money on the electric bill. LED bulbs are also brighter. Some fixtures offer motion-sensor switches for even better energy efficiency.
Potted plants, flowers and gardens not only look beautiful, but enable you to place the color, texture and height of thing you want exactly where you want it. Keep in mind that the pavers you choose for the patio can also create a perfectly matched exterior for your planter boxes.
A lot of situations and tastes call for inset designs within the patio or its elements. Much like a commercial use might have the corporate logo in the pavers, people will put the family initial, favorite sports-team logo or other designs such as those made to look like a rug.
A general trend since the recession is that more people forego an upgrade and opt to stay in their current home and create new living areas, many of which are outdoors. The possibilities are practically endless with outdoor patios, as well as features such as gardens, walkways, decks, porches, tented or covered spaces and pergolas.
The list of general styles and possible combinations of them, along with the looks you might produce from your own creativity, is long:
Classic
Modern
Traditional
Fun
Sophisticated
Clean
Patterned
Colorful
Ethnic
Themed
Shabby chic
Sassy chic
Historic
Retro
Futuristic
Funky
Eclectic
It might help to take a deep breath and an assessment of your vision for your outdoor patio area. Whether you have no idea what you want, or you already have a specific mind's-eye picture of your perfect patio, it will help to ask yourself some questions about it.
How do you want to use it and how often?
Will you maintain the area yourself or hire someone to do it?
How many people do you hope to accommodate there?
What other elements will be in the area, such as a fire pit or barbecue grill?
Do you want to eat or drink there?
How does the sun hit the area?
What view do you want as you use the future patio?
What kind of seating do you plan to have? Built-in, removable, swing?
To what will the patio connect? House foundation, driveway, landscape area?
Will it be raised from or lowered into the ground?
How will access to it work?
What is your budget?
The ASLA, which gives guidance on landscaping and outdoor features, recommends investing about 10 percent to 20 percent of your home's value into the outdoor landscape.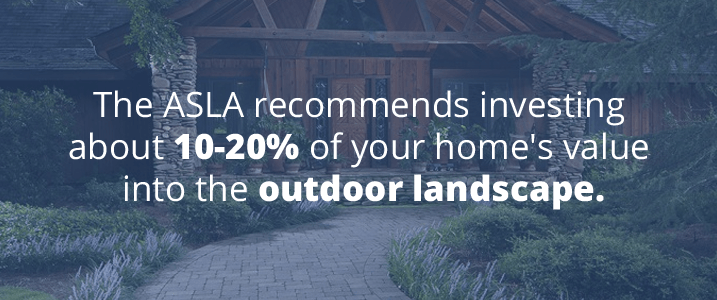 Once you start forming a vision of your outdoor patio, it will serve as a good guide for orientation, materials and shape. Keep in mind that pavers come in many different sizes, but generally the bigger the area, the bigger the pavers or sections should be. For example, if you use bigger stones such as an 8×16-inch or a 16×24-inch on a larger-sized patio of more than 500 square feet, it will look more natural and proportionate than if you use smaller pavers to cover a large area.
Basic Types of Patio Design
A patio is a hardscape, and it offers many different style themes. The four main ones are:
Antique — This choice incorporates sophistication with a worn-in-time look. With an antique theme, you can create the feel of a certain period or place such as ancient Egypt, Greece or England.
Classic — This style theme is dominant in the market. Usually a smooth surface, it sometimes resembles brick or tile. You can arrange it in a symmetrical pattern.
Contemporary — You'll find ultra-modern looks more often in Europe and some progressive urban areas of the United States. The aesthetic usually includes clean lines, curves, clever use of shapes, bright color and glass as well as chrome and other metals.
Natural — This patio looks as if real blocks of stone have been cut to form the surface. Often it's a dark, textured slate. However, the natural theme can include shiny, reflective travertine or a sparkly granite-like finish. The natural theme also often has artfully placed bricks that look like cobbles or stones that create some other look that is considered natural.
Pavers Can Serve Many Purposes
The ASLA advises people to replace concrete and asphalt with pavers. They look nicer and will not hold or radiate heat the way traditional concrete, asphalt and other surfaces do.
Plan to spend some time looking at different kinds of patio pavers, because there are so many options. You'll find basic, smooth, tough squares in every color to grooved-textures and intricate designs.
You can get rounded-edge pavers for steps or a swimming pool. You can find pavers that create a cobblestone or flagstone effect. There are patterns that sparkle like quartz or look like slate in all hues. An urban-stone style or concrete patio pavers will form the look of symmetrically placed planks in many colors including clean white, cool gray and others.
With permeable pavers, you can create an environmentally friendly patio since they allow water to travel through instead of over them. Storm water that washes over impermeable surfaces carries dirt and bits of asphalt, causing water pollution.
Some local codes insist that if you create any new impervious surface, you also create features to mitigate the additional runoff or pay additional fees or taxes to the water-managing entity. Mitigation might include filtering the water before it runs to any water body or reaches the ground water.
Not only can pavers add to the aesthetics of your outdoor space, but in some cases, they can help you comply with regulations. In a 2015 ASLA survey, experts ranked permeable paving as one of the top 10 projects in high demand.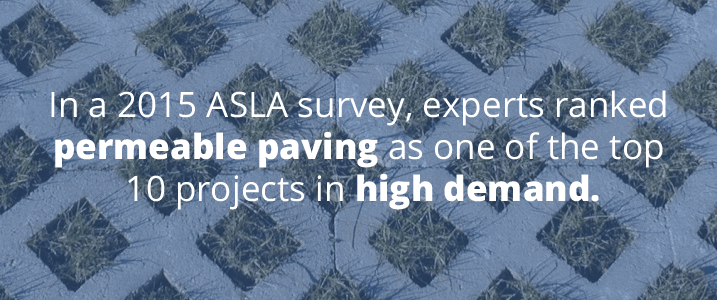 Other specialty pavers are made for the visually impaired and those with other types of disabilities. The bricks, like some types at a traffic intersection, have a textured exterior that signals a change in the path ahead. More paver types can give you exactly the look you seek, and some are designed to lay straight over your old patio surface.
Pavers can be made to look any way and still be perfectly flat, ADA compliant and attractive. Some specialty types can incorporate walkways that go on top of the grass and stone choices that have a little grass growing between them.
You'll also find products to secure the pavers in place and then seal them, as well as clean them properly. Using those products can ensure a longer life of the feature and help create the finish you want.
Best Patio Design 101
As you review your options for your patio layout, you may feel overwhelmed. Narrowing down the style and design you like best can be a challenge. The key is considering all your options.
The aesthetics of any outdoor patio or other features involve many elements:
Color
Shape
Texture
Lines
Flow
Environment
Proximity
Climate
Nature
Neighboring property
You can probably think of a few more for the list, but the object is to consider anything that might affect the look, feel and location of your patio. Most advice you find says to maintain clean, straight lines as well as overall symmetry.
That doesn't necessarily mean everything has to be square or have all-rectangular lines because any design you create should be clearly indicated and defined, at even depths and equal distances. With curved designs, think of "straight lines" as making sure all the different sections and parts of the design are perfectly aligned throughout the shape.
You can create all kinds of symmetrical patterns in the patio using different paver shapes and colors. For examples, you could incorporate a family crest, initials or name; favorite sports logo; a big checkerboard effect or a classic dark-and-light tuxedo look.
You can consider covered-patio ideas for something different and as another way to add space. For example, the oasis effect might include creating a traditional outdoor patio area along with a walkway that leads to another area covered with a trellis, pergola or tent-type frame with canvas or sheer material over it. An arbor, gazebo or pavilion can also provide a cover for any patio surface as well as become an aesthetically pleasing focal point. Once the area and structure are installed, you will find all kinds of creative ways to add splashes of color and accessories to complement it.
You can apply three basic design principles as a guide for your outdoor patio design regardless of style, taste or budget: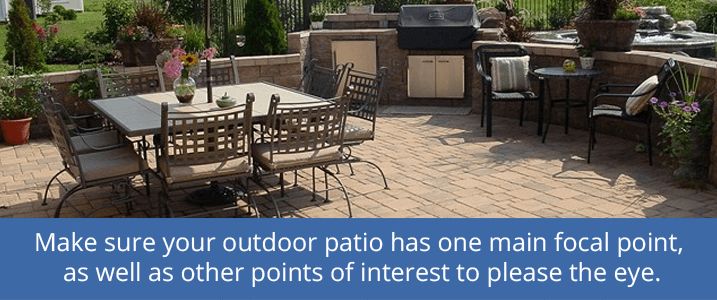 Focal point — Make sure your outdoor patio has one main focal point, as well as other points of interest to please the eye such a raised fire pit and plants all around or features that highlight nature.
Unity — If you throw together the patio, it will show in the result. Plan ahead to visualize all the elements and confirm they blend well together, including colors, textures, theme and use.
Balance — An often-overlooked item in patio design, you need to make elements "even" as best you can. If you have a big bench and chunky flower pot on one side but nothing of comparable size on the opposite side, it is displeasing to the eye.
The principles of overall landscape design expand on those for patios:
Simplicity — This suggests the opposite of complex or cluttered and advises that we avoid overuse of color, texture, curves and shapes.
Rhythm and line — Most landscapes include a certain feature or features that repeat such as flower pots, benches or lights. The repetitive effect is known to be calming to humans. The lines are created by how the flower beds and other features are shaped and aligned as well as where elements intersect, like the walkway and grass or garden and patio.
Proportion — This principle pertains to overall landscape size and its relation to your home, lot and surrounding property, as well as the sizes of the items you place onto the landscape and the ratio of open to furnished space.
Landscape architects, master gardeners and people at the local university extension be helpful as you plan your outdoor patio and have questions about layout — especially plant materials and environmentally sustainable design.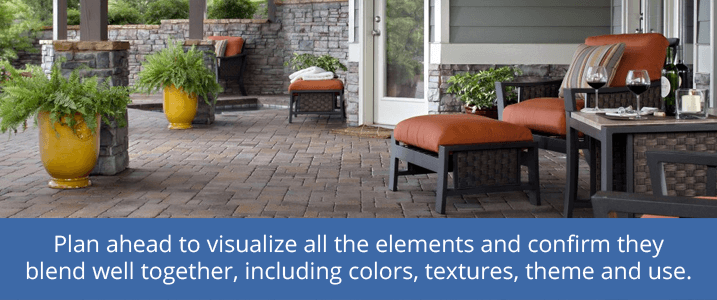 The specifics of any patio paradise are subjective and depend on the personal preferences, style, favorite colors and creative ideas of the person installing it. Develop a functional, comfortable space that gives you somewhere to be outdoors and enjoy good weather.
Partner With the Experts
Nitterhouse Masonry Products produces all types of concrete masonry products for outdoor projects. Expertise makes a world of difference in masonry and concrete work, and we enjoy helping people find the right pavers or other outdoor treatments to suit them, their environment and the use they envision. Our family-owned business began in 1923 when a single mason started honing his expertise and making quality concrete blocks in his garage.
To create an ideal outdoor space, you'll need knowledge in everything from materials, setting and sealing to vision, layout and style. Contact us anytime you need a professional partner for a patio or other type of outdoor area such as a walkway, driveway, retaining wall or stone veneer for the home, garden, fountain or other projects. Contact us today to learn more about what we offer and find a local dealer!