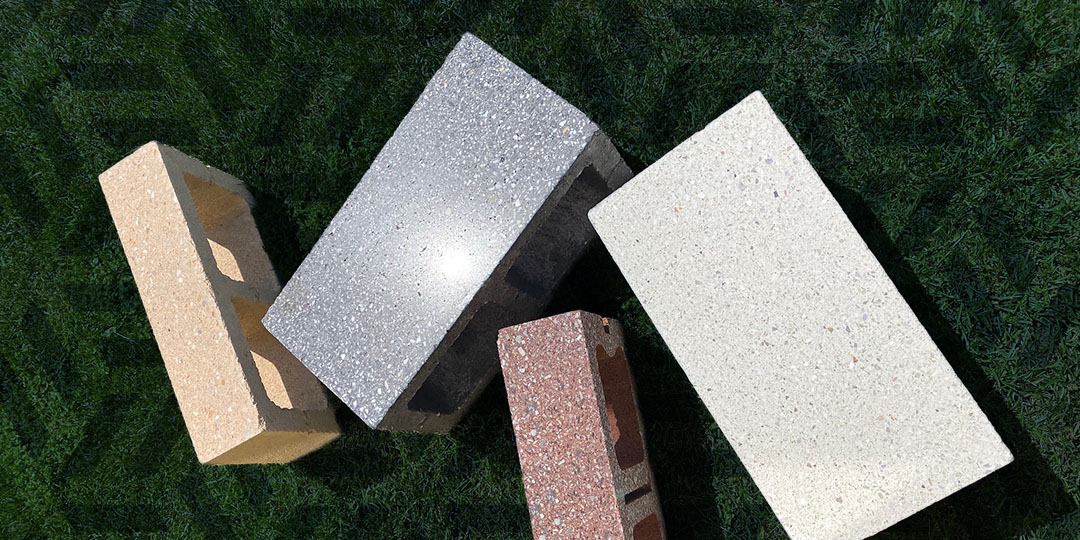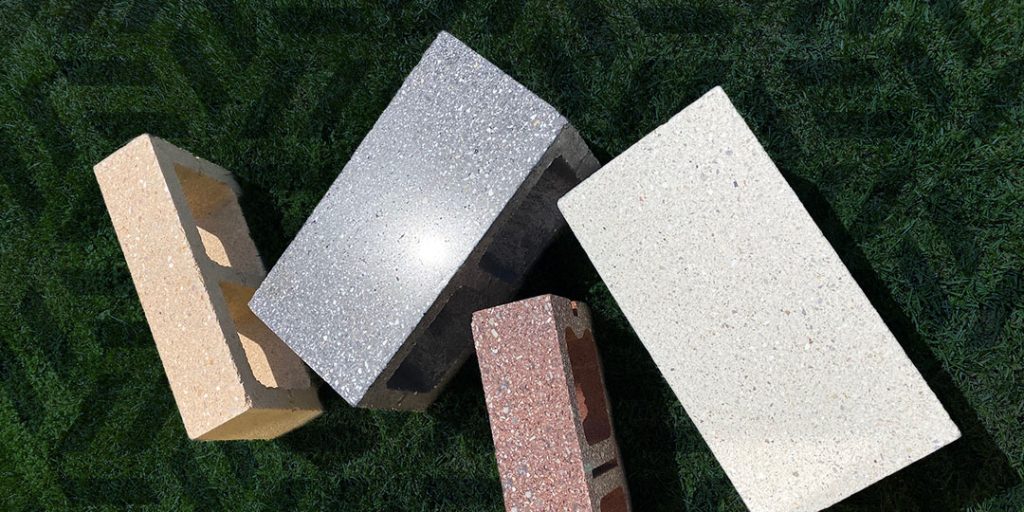 Whether you're constructing a house, apartment building, school or shopping mall, quality building materials matter. Architectural concrete blocks can enhance your structure with durability, moisture resistance, soundproofing properties and other qualities.
From load-bearing walls to foundations, architectural blocks serve a variety of construction applications. You'll have a wide assortment of textures, colors and sizes to choose from, making it easy to match your design preferences.
With so many options to consider, knowing where to start can be a challenge. We'll help guide your decision. This article explores architectural blocks in-depth, covering their uses, benefits and different types available.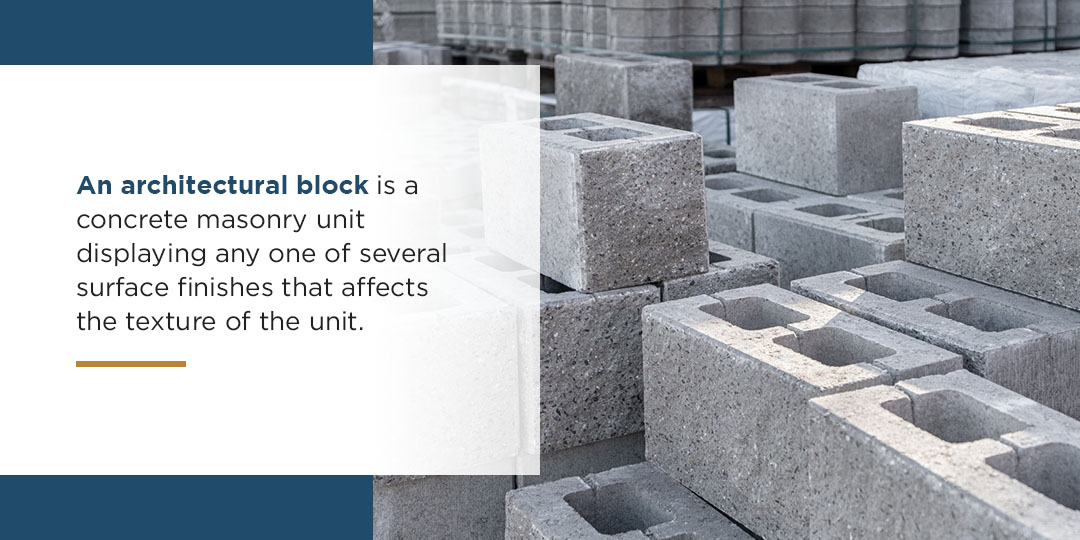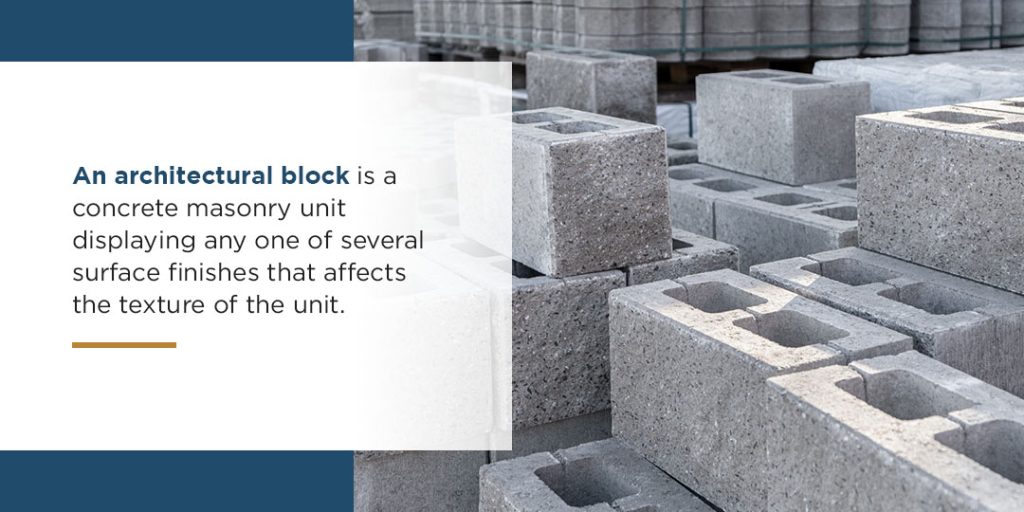 What Are Architectural Blocks?
An architectural block is a concrete masonry unit displaying any one of several surface finishes that affects the texture of the unit.
Architectural concrete blocks are often referred to as concrete masonry units, or CMUs. They typically contain materials like water, cement, aggregates and integral water-repellant admixtures. CMUs can be solid or hollow with two or more cores. Hollow blocks require less raw material, time and labor to manufacture, and they're easier to lift and place than their solid counterparts.
Meanwhile, fully solid CMUs are better for load-bearing walls or projects where holes can be risky or inconvenient. They can also provide more security for buildings.
Regardless of the type or style you choose, architectural blocks are exceptionally versatile. Builders and architects can use them for a wide range of construction projects, like:
Shopping and retail centers
Museums
Libraries
Courthouses
Schools and universities
Banks
Fire stations
Health care facilities
Hotels
Office buildings
Residential spaces
Sealants and Coatings for CMUs
Various coatings can be used to finish architectural blocks. These finishes help keep water from penetrating and damaging the concrete.
The coating type will depend on the block's function, where it will be used, whether the coating should be breathable and sunlight resistant, and other factors. Some common coatings include:
Cement paints
Epoxy
Latex paints
Oil-based paints
Water-repellant coatings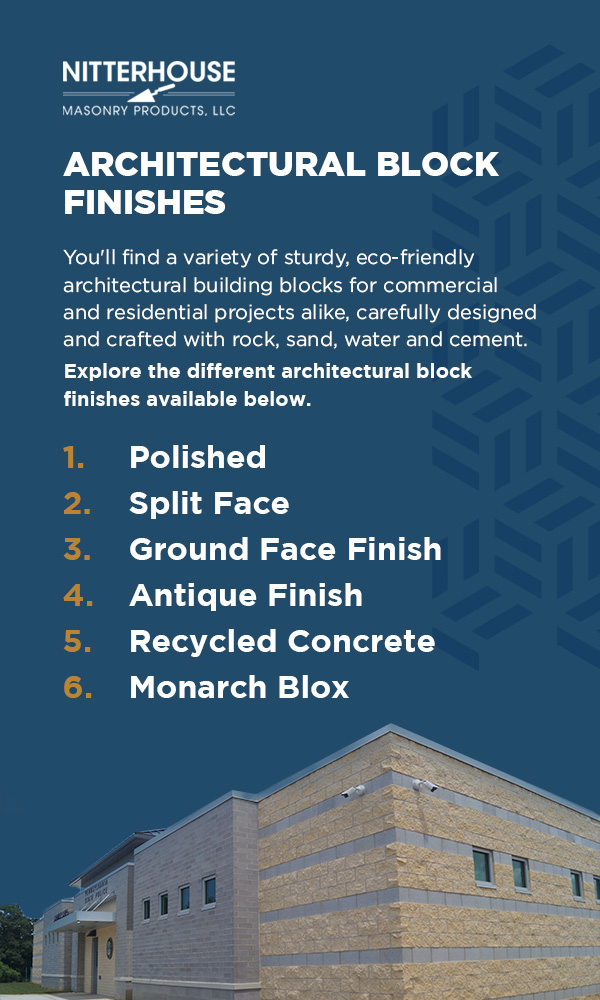 Architectural Block Finishes
You'll find a variety of sturdy, eco-friendly architectural building blocks for commercial and residential projects alike, carefully designed and crafted with rock, sand, water and cement.
These blocks are ideal for both interior and exterior applications, providing buildings with long-lasting finish and strength. CMUs are available in numerous shapes, sizes, colors and styles, so you can easily find the right products for your unique needs and specifications. Explore the different architectural block finishes available below.
1. Polished
Polished face concrete blocks give buildings a beautiful, glossy finish without compromising reliability and strength. These are one of the newest and most innovative CMUs at Nitterhouse Masonry Products. We've vigorously refined these blocks to achieve a distinctive shine resembling polished marble or granite.
We carefully design, grind and polish these blocks in our state-of-the-art facility to ensure they resist fading and retain their aesthetic charm for years to come. These blocks give structures unique sophistication and sleekness that other buildings can't emulate.
Our polished blocks come in many sizes, shapes and colors to meet a variety of design preferences and project requirements. In addition to their visual appeal, they're low-maintenance, sustainable and easy to install. Whether you're enhancing a commercial or residential space, these architectural blocks will make a stylish statement.
Here are some common uses for polished finish blocks:
Apartment buildings
Boutiques and shops
Courthouses and judicial centers
Government and municipal facilities
Educational facilities
Food processing facilities
2. Split Face
If you're seeking an architectural block that combines durability, function and beauty, split face blocks are an excellent option. They provide a rugged and rocky appearance yet still lend a clean, eye-catching appeal to any space.
Besides texturally enhancing your building, these blocks offer superior strength and quality. They meet American Society for Testing and Materials (ASTM)-C90 standards for load-bearing concrete masonry units, and you can use them at and below grade.
When using them for non-load-bearing walls, they will comply with ASTM-C129 requirements. Additionally, these blocks are fire-rated for up to four hours in accordance with standards by the National Concrete Masonry Association (NCMA).
Our split face blocks are uniquely designed to catch sunlight, adding depth and interest to your structure's finish that will surely draw some eyes. With many colors to choose from, you can seamlessly match your existing concept or start fresh with an updated look. Split-face blocks are suitable for interiors, exteriors and accent bands, adding natural beauty and texture to any project.
Our split face CMUs can provide striking color and texture for buildings such as:
Banks
Fire stations
Museums
Office buildings
Schools
Manufacturing facilities
Shopping malls and retail facilities
3. Ground Face Finish
Ground face concrete blocks provide a smooth, clean and effortless look for interior and exterior applications alike. We design these blocks with a rich, stunning finish to give your building a one-of-a-kind aesthetic.
These blocks meet ASTM-C90 standards, and you can pick from an array of custom sizes, shapes and colors with matching Type-S mortar. These blocks offer flexibility, versatility, and fast and easy installation, saving you valuable time and money. You can also enjoy the following benefits:
Low-maintenance: Our ground face finish blocks can retain their beauty for decades without the need for repainting or recoating.
Moisture-resistant: These blocks feature high moisture tolerance, meaning you'll face fewer issues with mildew, mold and rotting. Because these blocks form a tight seal, they prevent hot and cool air from escaping and outside air from entering the structure. As a result, you can enjoy lower utility bills each month.
Non-combustible: The material offers excellent fire protection.
Sound-reducing: These blocks can achieve optimal acoustic performance and noise reduction.
Our ground face architectural blocks radiate class and uniformity, making them ideal for the following construction projects:
College dormitories
Libraries
Office buildings
Schools
Shopping malls
Food processing facilities
4. Antique Finish
Antique finish architectural blocks feature a shot-blast finish to enhance the concrete's natural beauty, giving it a weathered and rustic texture. These blocks meet ASTM-C90 standards and come in many hues, making it easy to find the right colors for your project.
Great for interior applications, exterior facades, accent banding and more, antique finish blocks are fast and easy to install, cutting down on time and labor expenses. Similar to our other CMUs, our antique finish blocks are equipped with excellent thermal properties. They can easily maintain hot or cool air within the facility while lowering energy costs.
When expertly installed and maintained, these architectural blocks can retain their structural integrity for many years. If you desire simplicity and cleanliness with natural beauty and flair, our antique finish blocks may be the perfect addition to your construction project.
Shot-blast finishes give buildings a warm and robust feel, making our antique finish CMUs a wonderful choice for the following building projects:
Banks
Courthouses
Hotels
Libraries
Museums
5. Recycled Concrete
We manufacture our recycled architectural concrete blocks with 30% recycled content, making them an eco-friendly option for your construction project. Recycled concrete blocks are simple to clean and maintain, and they're essentially maintenance-free when installed properly.
You may be familiar with Leadership in Energy and Environmental Design (LEED), a worldwide green building rating system that sets high standards for sustainability, cost-effectiveness and efficiency. Our recycled concrete blocks can help your project attain LEED certification or points. You can receive points for materials sourced within 500 miles of our facility in Chambersburg, Pennsylvania.
Our blocks allow you to earn credits in the following areas:
Mold resistance
Durability
Impact-resistant finishes
Finishes that don't require painting
These products also absorb moisture, minimizing mold growth while boosting interior comfort. Their impressive acoustic properties are great for office buildings, libraries and other environments requiring optimal soundproofing.
The blocks' thermal properties provide high protection against temperature fluctuations that frequent the Northeastern climate. Further, their fire resistance can enhance safety for occupants.
With these green blocks, you can enjoy a modular design that minimizes waste, enhances sustainability and simplifies the construction process. You can complete your project with higher efficiency while reducing your carbon footprint.
Below are some popular uses for our recycled architectural concrete blocks:
Apartment buildings
Municipal buildings
Offices
Schools and universities
6. Monarch Blox
Monarch Blox architectural blocks allow you to achieve a clay brick appearance with concrete properties. They're more realistic-looking and durable than many other brick alternatives, featuring the height of a traditional brick with the depth and length of a concrete block.
You can choose from various color blends — like desert, chestnut, mahogany and rustic — as well as three different sizes, making it easy to match your project's specifications. These blocks suit a variety of commercial applications, from shopping centers to office buildings. They also meet ASTM-C90 standards, designed for use in both above and below grade.
When choosing Monarch Blox, you can also enjoy the following perks:
Quick and easy installation
Minimal maintenance
Soundproofing qualities
Energy efficiency
Fire protection
Whether you don't have the time to lay genuine brick or simply enjoy its rustic and natural look, Monarch Blox may be the solution you're looking for. These blocks are well-suited to these building projects:
Banks
College dormitories
Office buildings
Schools
Shopping malls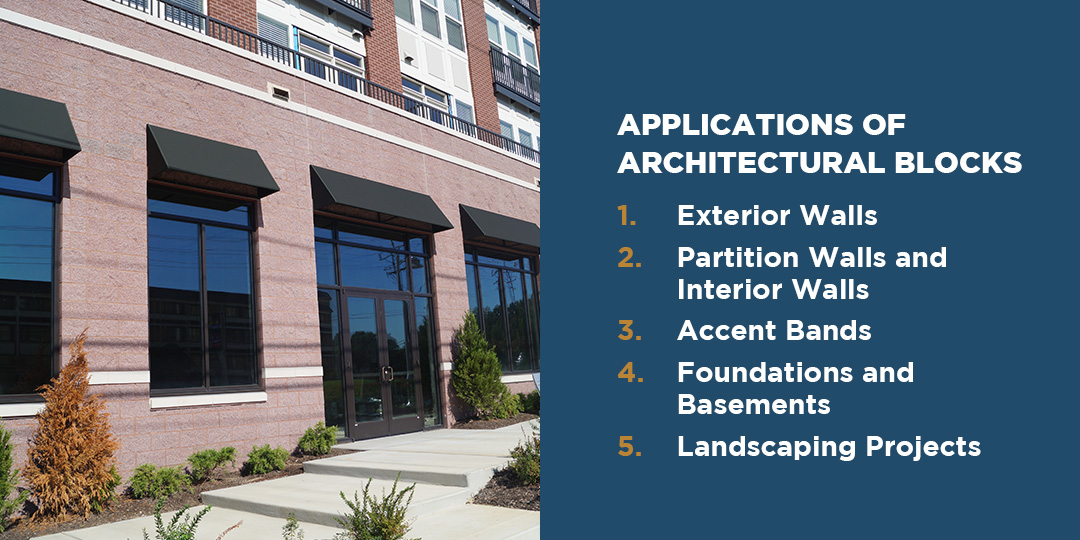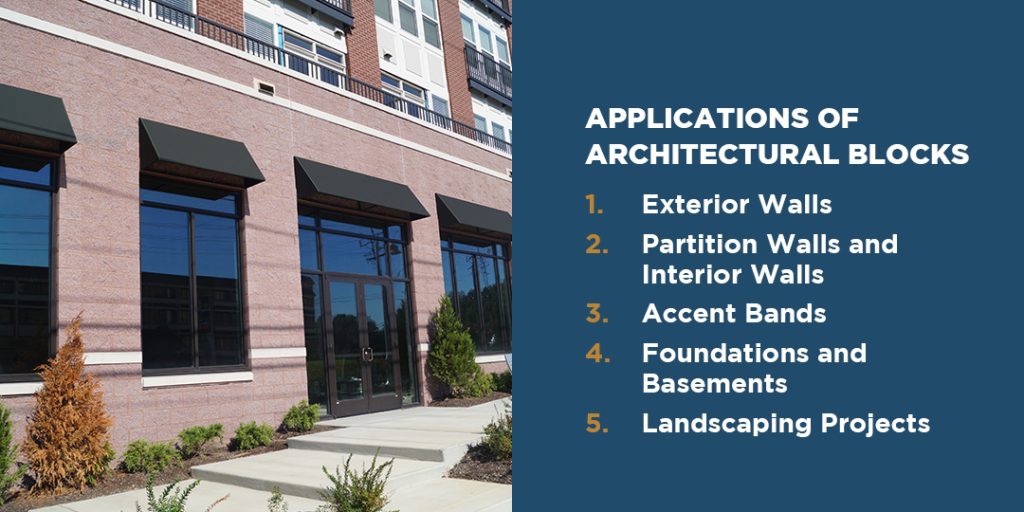 Applications of Architectural Blocks
Architectural blocks are highly versatile, accommodating a wide range of interior and exterior building projects. They're available in various shapes, sizes, textures and colors, allowing you to achieve a unique design.
Our antique finish blocks offer a timeless appeal for museums and courthouses, while our ground face blocks lend themselves to more modern and sleek designs for office buildings and schools. Below are some common applications of architectural concrete blocks in construction projects across industries.
1. Exterior Walls
Concrete blocks are incredibly strong, durable, and fire- and weather-resistant. These properties make them a great choice for exterior walls in commercial and residential buildings, given they're constantly exposed to the outdoor elements. Concrete blocks' ease of installation also makes them ideal for exterior walls, and walls in general.
2. Partition Walls and Interior Walls
With their fast and simple installation, concrete blocks are a practical choice for partition walls. Reinforcing the walls with steel can offer additional strength to the structure.
3. Accent Bands
Exterior walls often incorporate concrete masonry accent bands. These bands help conceal horizontal elements like flashing and expansion joints, all while adding architectural interest to the wall.
4. Foundations and Basements
CMUs provide high structural integrity, durability and resistance to moisture and weather damage. These qualities make them ideal for basements and foundations.
Besides using architectural blocks for constructing basement walls, you can also use them to prevent leaks and flooding.
Concrete blocks typically have a larger load-bearing capacity than that of poured concrete, making them a strong and sturdy choice for foundations. Additionally, they often provide quicker and simpler assembly.
5. Landscaping Projects
Concrete blocks can be used for various landscaping applications, such as terrace walls and raised garden beds. You can use blocks with similar colors and finishes to create a more cohesive look across the outdoor space. Architectural blocks add shape or add visual interest to a yard. They can also help keep elements like landscaping away from your building.
Concrete wall blocks feature clean, consistent sizing, so they stack up evenly. They offer a uniform look for outdoor spaces. These blocks come in a variety of shapes, colors and textures to enhance or reinforce various design concepts.
These blocks provide limitless possibilities when it comes to outdoor landscaping projects. Some examples include:
Benches and seating
Steps
Plant holders
Decorative walls
Garden walls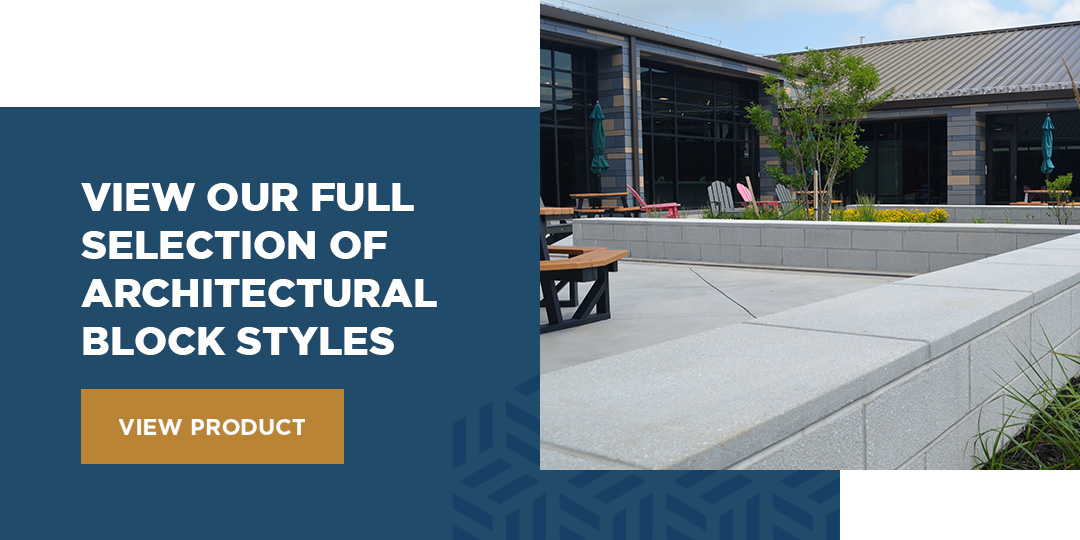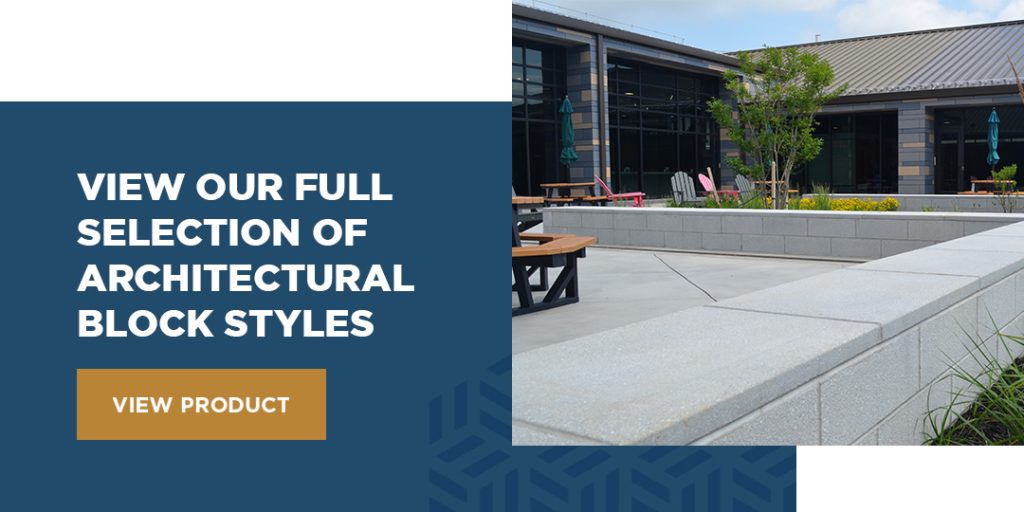 View Our Full Selection of Architectural Block Styles
If you're looking for durable architectural blocks that add value to any construction project, turn to Nitterhouse Masonry Products. We manufacture all of our CMUs with the highest-quality materials, devoting high precision and care to each of our innovations.
We have a century of expertise in concrete block manufacturing, making us a trusted choice for residential and commercial building applications alike. Family-owned and operated for five generations, Nitterhouse has proudly served the mid-Atlantic region with superior materials since 1923. Our passion for exceptional customer service and building solutions remains just as strong today.
We invite you to browse our architectural block selection to find the ideal choice for your construction needs. If you have questions about any of our products or an interest in making a purchase, contact one of our professionals or locate a dealer near you!