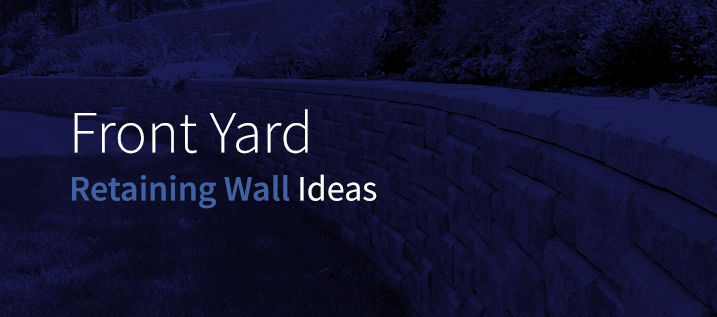 Jump To:
Everyone wants to increase their curb appeal. But a responsible homeowner also needs to protect their land from erosion and other damage, especially when dealing with spring downpours and harsh winters.
You can do both with a retaining wall.
A well-made wall maximizes your property value and prevents sloped and unstable soil from washing away with a storm. It also increases the amount of usable space in your front yard, so you and your guests can fully enjoy your home.
We've gathered some of our favorite ideas for stylish front yard retaining walls so that you can get some inspiration for your next project. But first, let's look at some of the ways a retaining wall can benefit your landscape.
Benefits of a Front Yard Retaining Wall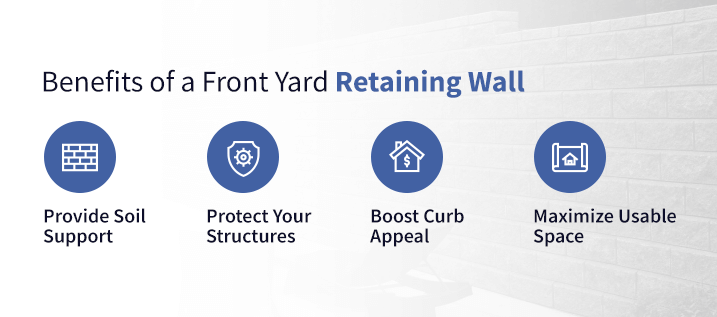 Building an attractive retaining wall in your front yard serves a dual aesthetic and functional purpose. A strong, attractive wall supports your soil and protects your structures, but it also adds beauty and usability to your yard.
1. Provide Soil Support
First and foremost, a retaining wall supports your soil. Especially in sloped or erosion-prone landscapes, building one wall or several tiered retaining walls ensures that your land doesn't run away from you. We typically invest more time and effort into our front yards than backyards — a front yard is often the first impression people have of you and your home, and excellent curb appeal can significantly boost your property value. With a wall, you don't have to stress about losing your painstakingly landscaped front yard to a downpour.
2. Protect Your Structures
A retaining wall does more than prevent a bed of marigolds from washing away — it also protects the structures on your land from soil or water-related damage. All it takes is one storm, drought or harsh winter for a slope to give out and a mudslide to crush against your house or garage. If designed strategically, retaining walls redirect water to appropriate drainage areas, which keeps your home safe from everything from small leaks to catastrophic flooding.
Most homeowners don't consider sinkholes a threat to their land and structures. But they happen more frequently than you think, and a retaining wall is one of the best lines of defense — retaining walls keep your land where it should be and prevent dangerous water pools.
3. Boost Curb Appeal
A charming rock or concrete wall instantly adds elegance and sophistication to your yard. Often, homeowners pair retaining walls with garden beds and other landscaping, which increases its attractiveness. Even more than traditional landscaping, a retaining wall shows that you have invested a lot of love and care into your yard. You don't have to have a sloped property to enjoy the benefits of a retaining wall — short walls add depth and interest to a flat yard, and can support elevated garden beds. Add lanterns or other lighting sources to your wall to make your yard glow.
4. Maximize Usable Space
Retaining walls help you get as much use out of your yard as possible. Some walls curve effortlessly into a small front patio space — short walls make perfect benches. If your yard is sloped, using tiered retaining walls creates levels of usable space, turning a previously steep and empty piece of property into areas for relaxing and gardening. Because of this, retaining walls are especially helpful in urban or suburban settings where yard space is limited.
Retaining Wall Looks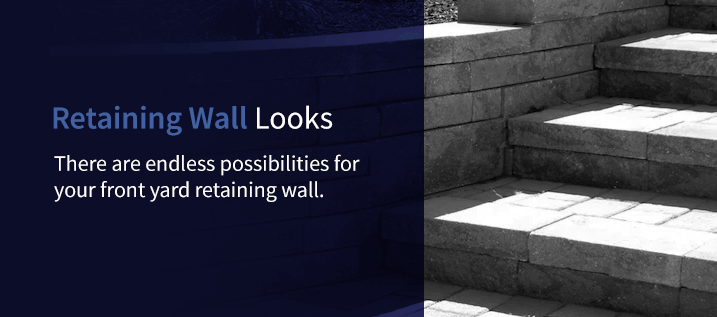 There are endless possibilities for your front yard retaining wall. Try adding a water feature or gorgeous landscape bed to cascade over the stone, or build benches for a timeless feel. The only limit is your imagination, but to help you get started, here are 20 of our favorite looks for a front retaining wall.
1. The Classic
This retaining wall may be classic, but it's far from boring. The slate grey of a concrete block wall adds subtle interest and texture to your yard and can be easily upgraded by greenery or lighting. Classic retaining walls can be easily built from environmentally conscious materials as well, which minimizes the environmental impact of your construction.
2. Multiple Colors
Use multiple colors in your wall for an entwined look. Blend neutrals like browns and greys to add depth and interest to the front of your house. Multi-colored walls subtly decorate a space, and if you use subdued tones, the dappled wall will easily mesh with the landscape.
3. Overlapping Stones
Build a wall with "overlapping" stones to create visual interest. Every stone curves outward, which creates small pockets of shadow under each block. Especially beautiful in large retaining walls, protruding stones give a uniform texture to a retaining wall and give your yard a polished look.
4. Tiered Walls
For yards with a steep slope, tiered retaining walls are a stylish and functional way to increase the amount of usable space in your property. Instead of one large retaining wall, several small, tiered walls give a softer and more gradual effect. Tiered walls can be straight or curved, depending on the slope and your design style.
5. Matching Hues
Try to match the color of your wall with your house for a blended and cohesive effect. But don't match exactly — use the color of your house as a guide, but try to choose a wall stain that has a slightly lighter or darker tone. This gives your yard greater depth and helps your retaining wall stand on its own.
6. Boulders
If you want a unique, no-frills retaining wall, look no further than natural boulders. These big, rough stones can be grouped to form an effective short retaining wall. A boulder wall gives your property a natural look and blends your yard into the surrounding landscape.
7. Edging Pavement
More likely than not, your front yard borders some pavement, whether it's a main road or a driveway. Use retaining walls to edge your property, especially the sections that include pavement. This not only prevents erosion, but it adds an attractive outline effect to your yard and increases your curb appeal.
8. Greenery
For an organic, lush look, surround your wall with loads of green plants. Mix up busy shrubs with long-lasting herbs and trailing ivy for a gorgeous, dense look. Greenery is especially effective when your retaining wall borders pavement or is near the entrance of your home.
9. Thick Barrier
Build a thick wall to perfectly outline garden spaces or to provide natural, inviting seating. Wide walls are beautiful on short retaining walls, and they add a charming effect when used with curving designs.
10. Large and Small
If you are using natural stone, try using a variety of sizes in your wall. Small stones can fill in the gaps of larger rocks, creating an organic, timeless look. For a similar look using precast concrete, go for a block that has a variety of stone patterns.
11. Lighted Wall
Add lights around your front yard retaining wall for a dramatic and breathtaking low-light setting. In-ground landscape lights can emphasize the beauty of your wall, and if you use natural stone, the lights will cast interesting shadow patterns. Lights add elegance and sophistication to a space without being loud or flashy. Use lanterns for a classic, elegant feel, or string cable lights along the border of your wall for a dreamy look reminiscent of warm summer nights.
12. Stone Stairway
With the same stones that you use in your retaining wall, build a natural staircase. By matching the material of your wall with your steps, you will get an effortless, seamless look that naturally guides guests to your home.
13. Inviting Patio
Who says that patios are only for the backyard? Create a small seating and gathering area in the front of your house using retaining walls, stairs and benches. Guests will naturally drift outside, guaranteeing that your yard and wall will be appreciated for years to come.
14. Stacked Planters
On top of your wall, include built-in stone planters for a vibrant and inviting look. Planters are an easy way to landscape your yard without additional work, and greenery looks especially lovely when contrasted with the grey or brown of a concrete wall.
15. Water Feature
If you've always dreamed of having a small pond, waterfall or fountain in your front yard, your retaining wall can help make that dream a reality. Incorporate small pools into your wall for a truly gorgeous and ethereal look, particularly when merged with planters or other landscaping.
16. Jagged Stone
For an aged, weathered feel, use rough stone veneers or rugged concrete blocks for your retaining wall. The time-worn look instantly adds a vintage sophistication to your yard and works especially well with darker colors and stains. Upgrade your suburban home to an old estate with a rough-stone retaining wall.
17. Clean Cut
Alternately, a minimalist, modern retaining wall might fit the design of your yard. Poured concrete is stunning and urban, adding a polished look to a suburban or urban home.
18. Living Wall
If you want a truly natural look, use your retaining wall as a trellis for gorgeous climbing plants. Try some yellow jasmine for a curtain of joyful spring and summer blooms, or a delicate climbing rose for a softer, timeless look. The stone peeking through the foliage will offset the green even more, creating a lush and vibrant look for your yard.
19. Built-In Benches
If your retaining wall is deep, consider building in some benches. This works well with both chunky, large boulder retaining walls and smooth concrete block walls. With some weather-resistant throw pillows for a comfy touch, benches are perfect if your wall extends to a front patio space.
20. Locally Inspired
Try matching the stain of your wall to rocks found around your home. If you live in an area with red sandstone, use this as inspiration — an amber wall will look like you gathered local stones and blend your yard into the surrounding landscape.
Short Retaining Walls
Retaining walls are divided into two types by their height. Short retaining walls are 4 feet tall or shorter, and they can be designed and built by a contractor or according to a landscape architect's plans. If a wall is over 4 feet tall, it is a large retaining wall and must be built and designed by a qualified engineer. The reason is simple — if a wall is taller than 4 feet, it must withstand significantly more lateral pressure and needs proportionally larger footings to stay stable.
Typically, residential retaining walls are between 3 and 4 feet tall. But short retaining walls have their benefits:
More Materials: With short walls, you have a wider range of materials to choose from. You could decide to build your wall using stacked stones or boulders, or even from a weaker material such as timber. A short wall doesn't have to withstand the same weight and pressure as a tall wall, so you can use less fortified materials without danger.
Reduced Risk: If a tall retaining wall collapses, it can damage people, property and structures. Especially if your property is built on unstable land or in an area that is prone to earthquakes or heavy storms, a tall retaining wall carries a lot of risk. With a short retaining wall, the potential for damage is much smaller, which means you can enjoy the beauty of a wall without fear of collapse.
Easier Installation: With a short wall, you don't have to contract a specialized engineer. All you need is a qualified contractor, and you can even build some walls yourself.
A short retaining wall provides optimal strength without compromising safety and is much simpler to install and enjoy.
Retaining Walls for a Driveway
An excellent use for front yard retaining walls is to enhance and protect your driveway. A driveway wall has three different forms — outlining, cut or fill.
Outlining Walls: These types of walls typically edge the pavement of your driveway and serve a decorative and protective function. They give an attractive edging to the pavement and keep soil from eroding into your driveway.
Cut Walls: A cut retaining wall is useful if your driveway goes into a steep uphill slope. The purpose of this type of wall is to keep the slope from spilling into your driveway or onto your vehicle and can extend your driveway into the hill. If you are considering a cut retaining wall for your home, consult with an engineer to make sure the wall is strong enough to withstand the pressure of the slope behind it.
Fill Walls: You might have the opposite problem — your driveway might be cut off by a steep downward slope. A fill retaining wall extends your driveway to compensate for a dangerous slope and typically ends with a guardrail or other safety barrier. As with a cut retaining wall, consult with an engineer to make sure your wall is safe and strong.
Retaining walls are perfect for edging and extending your driveway, and can provide invaluable drainage in heavy rains.
Retaining Walls for Slopes
On sloped land, the potential for erosion is amplified. Over time, gravity naturally pulls soil downhill, and heavy storms certainly don't help.
For slopes, you want to prioritize strength — your wall will be holding up a hill of downward-pulled soil. For most residential areas, tiered retaining walls are the best options for dealing with steep terrain.
Tiered walls provide flat surfaces at intervals. This not only prevents dangerous erosion but also increases the usable space of your yard. Set some outdoor furniture on one level and create a thriving garden on another. Tiered walls can be short and still be effective, which makes them an affordable solution to a steep yard.
Manufacturing Experts
Retaining walls are both beautiful and functional, and will increase the value and enjoyment of your property. At Nitterhouse Masonry Products, we know the ins and outs of retaining wall design and materials. We have faithfully served the mid-Atlantic region for five generations, and take pride in producing the highest quality blocks, pavers and stones.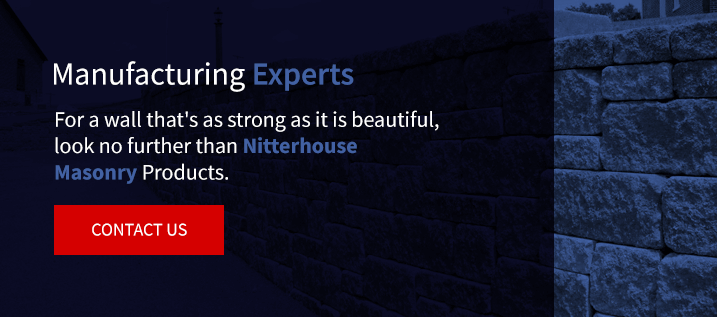 For a wall that's as strong as it is beautiful, look no further than Nitterhouse Masonry Products. Browse our collection of retaining wall materials or contact us today for more information.