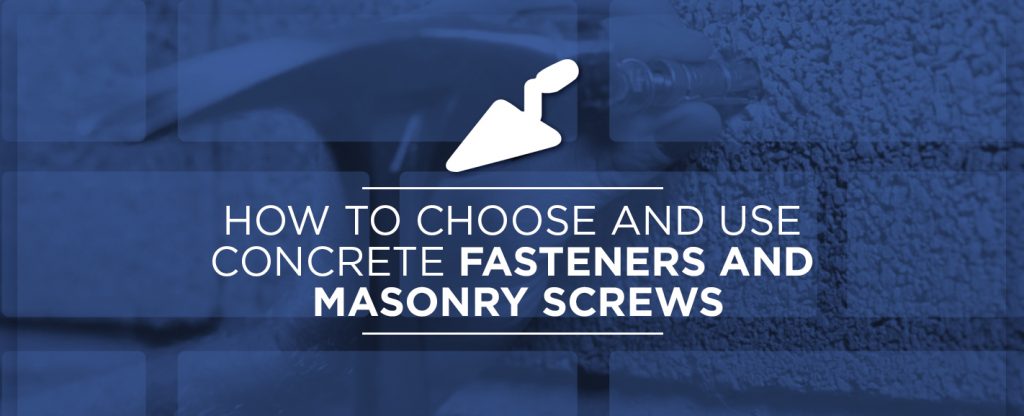 Jump To:
Builders often call concrete "nature's perfect building material." There's a lot of truth in that statement, as concrete and concrete building products make up a significant part of many of the nation's construction projects. You'll find concrete in everything from high-rise buildings to backyard landscape designs. Concrete is a universal and genuinely incredible substance.
According to the Portland Cement Association, which is America's leading authority on concrete use and consumption, the United States concrete industry creates over 550,000 jobs across every state and generates billions of dollars in annual revenue. That includes industrial, commercial and residential construction. The figures also take in do-it-yourself projects like patio paver installation and building a retaining wall with concrete masonry units.
Both professionals who work with concrete to earn a living and weekend warriors enjoying a hands-on concrete experience have shared needs. One of those needs is finding the right concrete fastener when you need to attach something to a base material. You'll have to choose the proper concrete fasteners to bond them correctly.
Correctly choosing and using concrete fasteners takes a bit of knowledge. Most professional concrete workers have years of experience that teaches them what types of masonry anchors and concrete screws to select as the right fastener. However, as a homeowner, you might be feeling slightly overwhelmed by the number of concrete-related fasteners available from leading American manufacturers like Simpson Strong-Tie or Hilti. If so, here's a handy guide on how to choose and use concrete fasteners.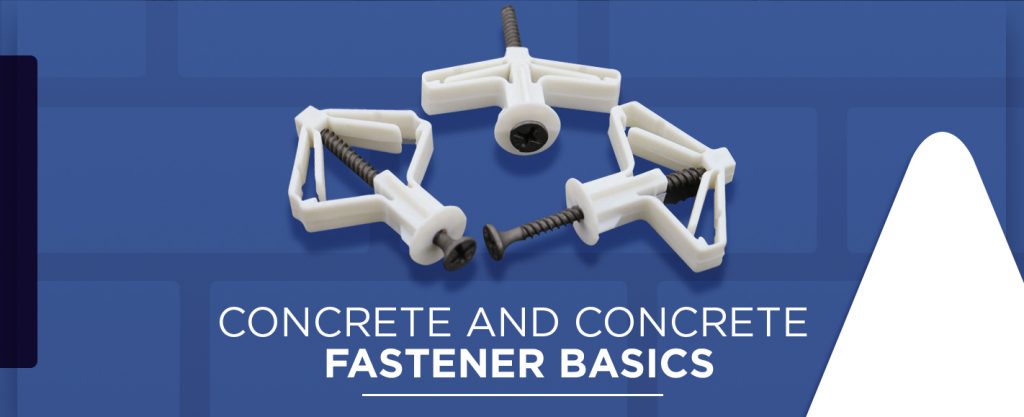 Concrete fastening is more than a science. It's closer to a craft. Like stone masonry, bricklaying and concrete placing, there are also many variables in working with concrete fasteners. First are the fasteners themselves. Each type has their designed application or purpose. Then, there are the many tools involved in attaching fasteners. Finally, combining the proper concrete fasteners and tools to meet the specific type of concrete materials can amount to an art form.
It's best to start by knowing your options. First, you have to be familiar with what materials you're bonding and what their characteristics are. Then, you're in a better position to identify what specific fastener suits your purpose. Only after establishing a baseline can you pick up the right tools and make a successful fastening that supports the weight and lasts a long time. Here are some concrete and concrete fastener basics.
Concrete: Concrete and cement are two different things. Concrete is a blend of water, crushed stone and cement powder that hardens into a building product. Portland cement is the dry powder component. It's not a brand name, but it's a vital part that causes a chemical reaction called hydration that turns a wet mix into a rock-hard substance.
Concrete strength: When selecting concrete fasteners, it's crucial to be aware that not all concrete has the same strength. Concrete is a predictable substance that takes exactly 28 days to become structurally sound. During that period, concrete is called "green." Concrete then ages for 50 more years before becoming "aged" or inert.
Concrete compression: Concrete mixes vary in compressive strength. You can calculate this figure by considering the ratio of cement powder to aggregate. As a rule of thumb, the more Portland powder there is in a mix, the higher or greater its compressive strength will be. Most ready-mix concrete blends range between 2,500 and 3,200 psi after the 28-day curing period.
Concrete load: This figure refers to the weight or load of the piece you intend to attach to a concrete structure. For instance, you might be securing some stairs or patio lights to an Allan Block wall. You'll need to calculate the load and determine if your concrete compressive strength will hold it. Then, you can select the right concrete fastener size to work with the primary material and the attachment.
Concrete load types: It's also essential to factor concrete load types when you choose concrete fasteners. There are five load categories. Static load is a consistent gravitational force that doesn't move. Dynamic loads happen when things move or vibrate. Impact loads occur when objects collide. Tensile loads happen when forces try pulling a fastener from its anchor, and shear loads occur when forces slice across the face between a fastener and its bonded surfaces.
Concrete thickness: Concrete products are three-dimensional objects. They have height, width and length. You can view all three of these dimensions as thickness, depending on where you're trying to attach an object to them. Thickness is highly important to fastener selection. A fastener must be suitable to the minimum thickness of the primary concrete material to achieve sufficient holding power.
Concrete materials: In America, builders use four main concrete types. The first is cast-in-place concrete poured in one mass. Second are concrete masonry units or block. These are individual components that stack together. Third are bricks. These are lighter-duty concrete pieces that don't lend themselves well to drilling and installing fasteners. Fourth is concrete mortar. Builders mix wet mortar and allow it to dry, bonding blocks or bricks together. If you're planning on attaching fasteners to bricks, make sure you tap into the mortar and not the brick material.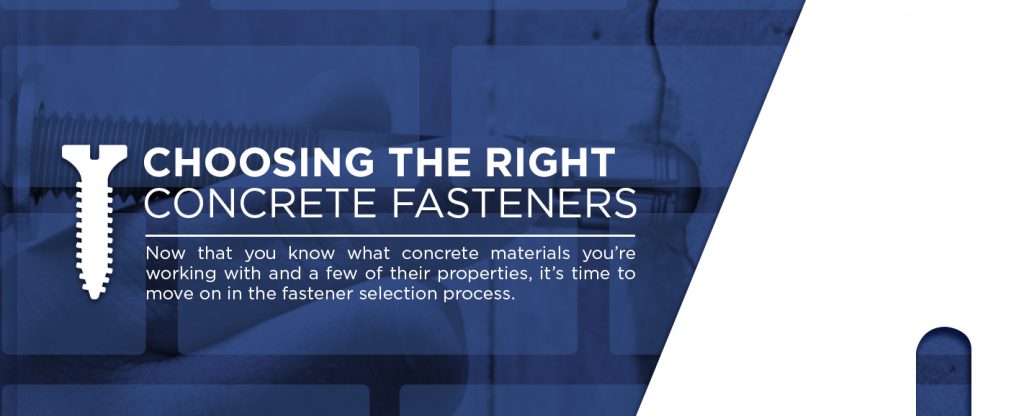 Now that you know what concrete materials you're working with and a few of their properties, it's time to move on in the fastener selection process. You must mate the right fastener with the type of concrete you're using and its strength, thickness and the load you're supporting. The next step in choosing the best fastener is identifying the fastener materials. As with concrete, not all fasteners are equal.
Outside critical factors like shear and tensile loads, there are things to know about reactions between concrete mixes and fastener materials. The three main challenges are overcoming corrosion or rust, preventing chemical reactions and preventing electrolysis. All three conditions will break down fasteners if you use the wrong material combinations. Here are the main concrete fastener materials to choose from.
Standard steel: Untreated standard steel fasteners are somewhat rare. That's because concrete material reactions from rust, chemical erosion and electrolysis quick break down standard steel, causing it to fail.
Hot-dipped galvanized steel: As a step up from standard steel, galvanized steel has good rust and electrolysis resistance, but the galvanizing process compromises some strength.
Stainless steel: A good choice in outdoor and wet conditions, stainless steel has chromium and nickel additive, making it impervious to corrosion and other damaging forces.
Lead: Many medium and heavy-duty screw and wedge anchors use lead cores with steel screw or bolt inserts. Lead resists all common threats from concrete chemicals and reactions.
Zinc: Like lead, zinc has excellent properties for resisting corrosion, chemical reaction and electrolysis threats found in concrete products. Fastener manufacturers usually use zinc for plating screws, bolts, rods and wedge inserts, rather than manufacturing the entire fastener from zinc.
Plastic: For light-duty applications, plastic inserts are a popular part of a concrete fastener solution. Plastic won't rust, rot or break down from concrete reactions. However, plastic's weakness best suits it as sleeves set into concrete that receive simple screws.
There are hundreds of different concrete fasteners available on the American market. For example, Nitterhouse Masonry & Hardware alone has 290 separate concrete fastener items in our inventory. This vast selection includes light, medium and heavy-duty fasteners. It also includes a wide range of standard steel, hot-dipped galvanized steel, stainless steel, lead, zinc and plastic fasteners for practically every conceivable concrete application.
Besides being one of America's leading concrete masonry unit and block manufacturers, Nitterhouse Masonry & Hardware carries a complete line of fasteners compatible with manufactured concrete products. Here are some examples of what concrete fasteners and masonry screws you'll find in Nitterhouse's sales inventory.
Tapcon® Hex Head Concrete Screw Anchor – 24100: This is a popular concrete fastener for light and medium-duty loads. Examples where you'd use Tapcon® screw anchors include simple jobs like attaching light fixtures to brick mortar joints, placing mailboxes on block walls or attaching shelving brackets to an outdoor patio project. There are no inserts involved with Tapcon® screws. You only need to drill a hole, and they self-tap in to anchor themselves.
Tapcon® Phillips Concrete Screw Anchor – 24350: These self-tapping concrete fasteners are a type of anchor similar to the 24100 screws, except they require Phillips-head drivers instead of hex-head tools. The main advantage to Phillips heads is that they sit flush or can countersink, rather than sitting exposed like hex products. Phillips screws are a better choice for delicate details such as mounting decorative house numbers or deck railings. They're also popular for securing gutters and downspouts.
HILLMAN Power Stud Wedge Anchor – 371946: Hillman is an excellent brand name in the concrete fastener business. These wedge anchors are versatile fasteners for medium-duty work. They're often useful in construction products where attachments are temporary. These fasteners are removable and can stand repeated use from job to job.
HILLMAN WedgeBolt Anchor – 372182: Ideal for heavier-duty fastening like attaching stair stringers to block walls or holding deck joists to concrete walls, these tough fasteners are heat-treated from high-carbon steel with zinc plating to stop corrosion and other concrete reactions. With specially designed dual threads, WedgeBolt anchors won't spin or twist in the drilled hole while being tightened.
Red Head Wedge Anchor Bolt – 50097: Red Head wedge anchors are your solution to many concrete fastening problems in regular residential applications. They're a light-to-medium-duty fastener made from corrosion-resistant stainless steel. Use examples are attaching wood furring strips to concrete blocks or mortar joints or wood plates to concrete floors. These are multi-piece anchors complete with an expander sleeve, shank, nut and washer.
HILLMAN Drop-in Anchor – 372083: Here's another excellent HILLMAN-brand concrete fastener designed for medium to heavy-duty work such as fastening deck ledgers to concrete walls. This application requires boring a hole in the concrete, then inserting the drop-in anchor, which expands and secures whatever load you're attaching to it. They're perfect for flush-mounting attachments to concrete or block masonry.
HILLMAN Spike Concrete Anchor – 371182: Spike anchors are one of the simplest concrete fasteners. They're one-piece designs that look like a crooked nail with a mushroom head. Don't let looks deceive you, though. These spike anchors are ideal for tough work like nailing mudsill plates to green concrete. The zinc-plated steel makes them long-lasting in damp conditions.
HILLMAN PHP SMS Ribbed Plastic Anchor – 5109: Ribbed plastic anchors are for lightweight chores. You'll use them in loads with little shear force or where tensile pressure is minimal. Examples are hanging pictures on masonry blocks and signs on concrete walls. Plastic anchors are inexpensive and the perfect compromise when weight isn't a factor, but the budget is.
HILLMAN Lead Screw Anchor – 5084: These small but strong concrete fasteners are the workhorse of many jobs. They're surprisingly robust for their size and easily handle medium-duty holding power. Their lead composition makes these screw anchors nearly bulletproof in concrete block, mortar joints and cast-in-place applications.
HILLMAN Toggle Bolt Anchor – 5021: For hollow walls in concrete masonry units, nothing beats a toggle bolt anchor. You drill the right-sized hole into the block and insert the anchor. The toggle expands inside the block and grips the inner wall as you tighten the bolt. Toggle bolt anchors are ideal for supporting all sorts of weight where a standard sleeve won't work in a thin wall application.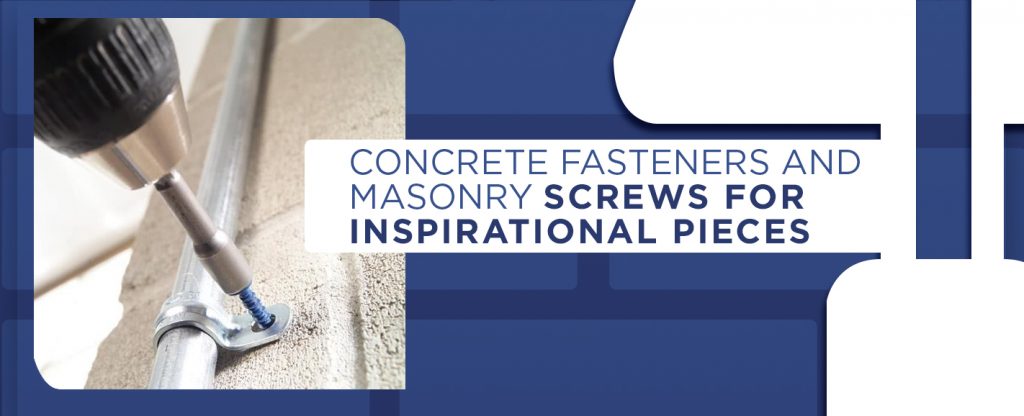 If there's a concrete fastener problem, Nitterhouse Masonry & Hardware has the solution. Whether it's a toggle bolt for a hollow masonry block wall, a spike anchor for a sill plate or a Tapcon® self-tapping masonry screw for an outdoor patio, Nitterhouse has your right concrete fastener in stock. That includes attaching any sort of material to projects in what we call our "Inspirational Pieces." Here are some "get-the-look" examples of what Nitterhouse Masonry can do for your home and landscape.
Contact Nitterhouse Masonry & Hardware to Find a Dealer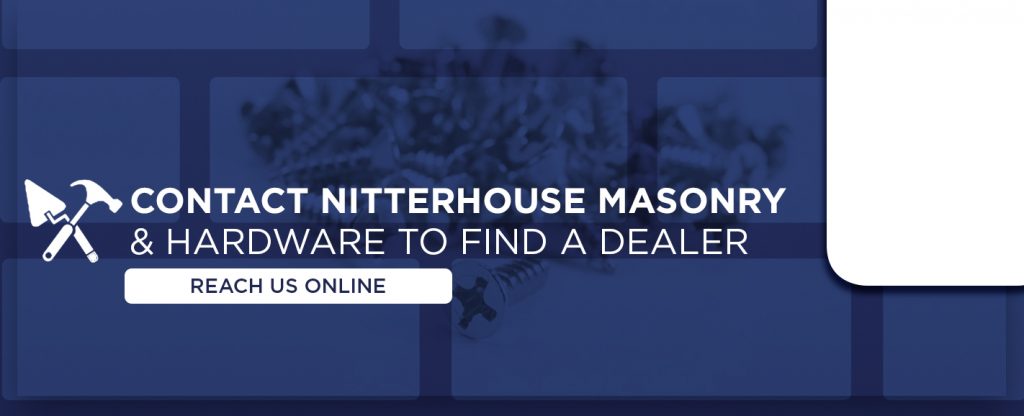 You can easily get the look you desire with product inspiration from Nitterhouse Masonry & Hardware. We've served the Central Atlantic states since 1923. Over that time, we've built an extensive dealer network to serve you with all your concrete fastener and other masonry-related challenges. Nitterhouse dealers are solid performers in the concrete world, and we're here to help you in any way we can.
Contact Nitterhouse Masonry & Hardware today. Our phone number is 717-267-4500. Or, you can always reach us online.