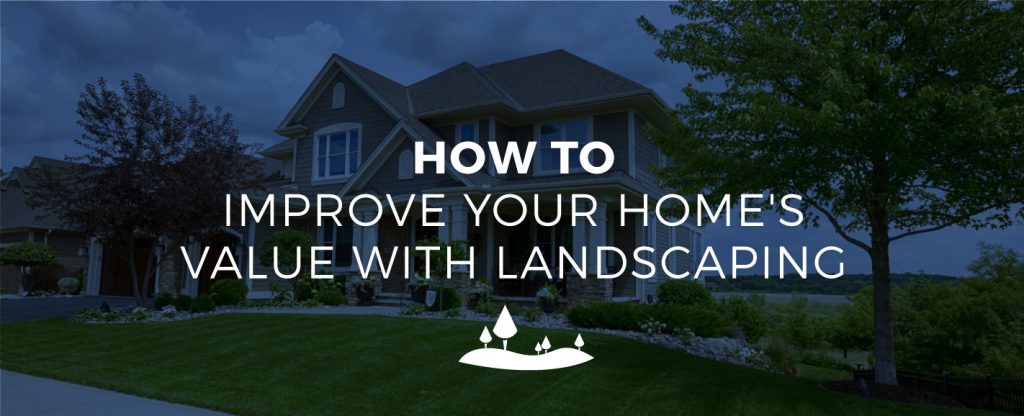 Jump-To:
It can be easy to overlook your landscaping when you're busy repairing and upgrading the interior of your home, but landscaping is a critical piece of the home-selling puzzle. Your home's landscaping is the first feature a potential buyer will see when they pull up to your house, so you want to make a good impression.
Your landscaping is also a reflection of your home's interior. If a potential buyer sees an overgrown lawn that needs attention, there's little to stop them from thinking the inside of the home is just as untidy. On the other hand, if they pull up to your home and find a thoughtfully landscaped space and attractive hardscape features, they'll be curious to see if the inside of your home is just as lovely. They'll also have an easier time envisioning themselves living there.
Overall, the right landscaping can help you sell your home faster, boost its value and increase your enjoyment while you still own the property. Landscaping is such an important aspect of a home that the American Society of Landscape Architects (ASLA) suggests investing 10 to 20% of your home's value in its landscaping.
If you're wondering where to begin, we're here to help. In this post, we'll share landscaping ideas to help you sell your home and improve its value.
Landscaping Ideas to Improve Your Home's Value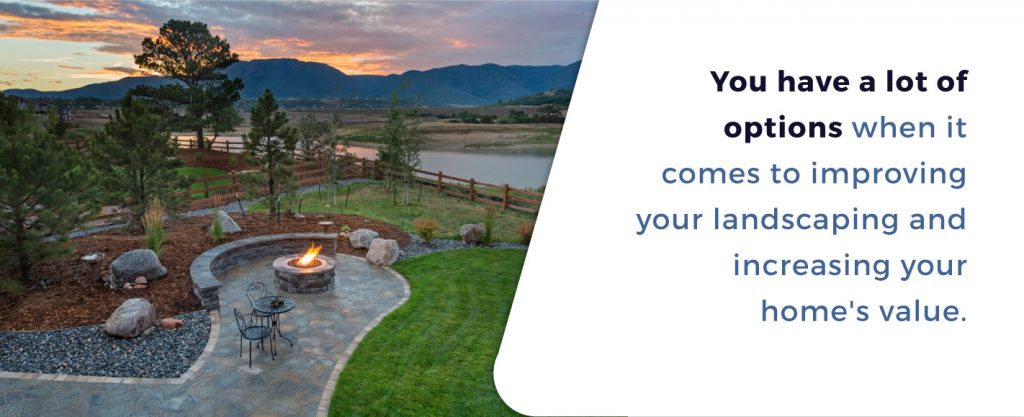 You have a lot of options when it comes to improving your landscaping and increasing your home's value. Depending on your goals and needs as a homeowner, you may just need to clean up the yard, repaint the front door and add a few aesthetic details like outdoor lighting before listing your home for sale. If you decide to invest in larger projects to boost the value of your home and attract more buyers, you'll want to consider the following factors first:
Purpose: Before making any changes to your home's landscaping, consider who uses the yard currently, and also try to envision how buyers may want to use the yard. For example, do you plan to spend a lot of time outdoors entertaining friends or family? If so, consider incorporating a patio or outdoor kitchen into your landscape design. Think of ways you can make your outdoor space more functional, comfortable and appealing.
Maintenance requirements: Consider how much time you're willing to put into your landscaping project, and also think about maintenance requirements once the project is complete. As a general rule, aim to make your landscaping as low-maintenance as possible. This means using native plants and low-maintenance hardscape materials like brick or stone that do not require paints or sealants. Also, consider installing an efficient irrigation system to simplify lawn care. Buyers appreciate low-maintenance landscaping that won't take up their time or demand too much effort.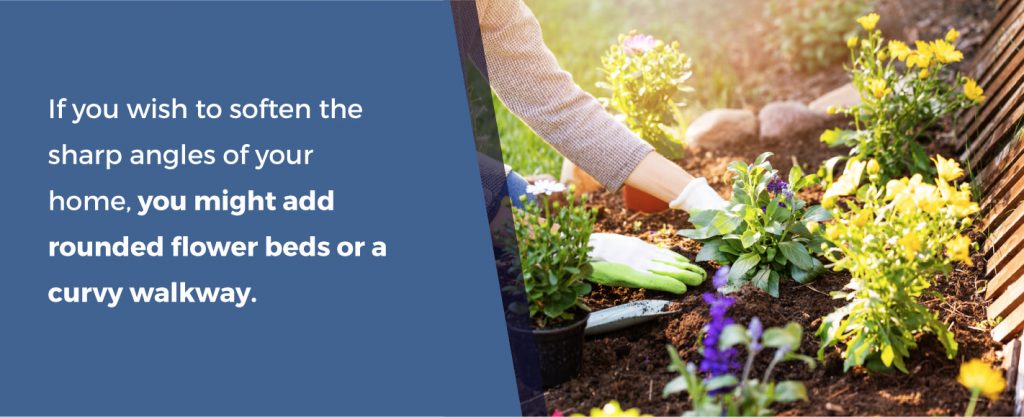 Style: Consider how elements such as color, shape and texture can be used to complement the style of your home. You'll want to view your landscaping as an extension of your home rather than something separate. For example, look at your home's architecture. If you wish to soften the sharp angles of your home, you might add rounded flower beds or a curvy walkway. Consider discussing your options with a landscape designer who can help you make the right choices, or explore books or magazines for inspiration.
If you plan well and design your landscape carefully, you'll find it to be a worthwhile investment. In general, landscaping is composed of two parts — softscapes and hardscapes. We'll explore ways to use softscapes and hardscapes to improve your property value and make it more appealing to potential buyers.
Using Softscapes to Improve the Value of Your Home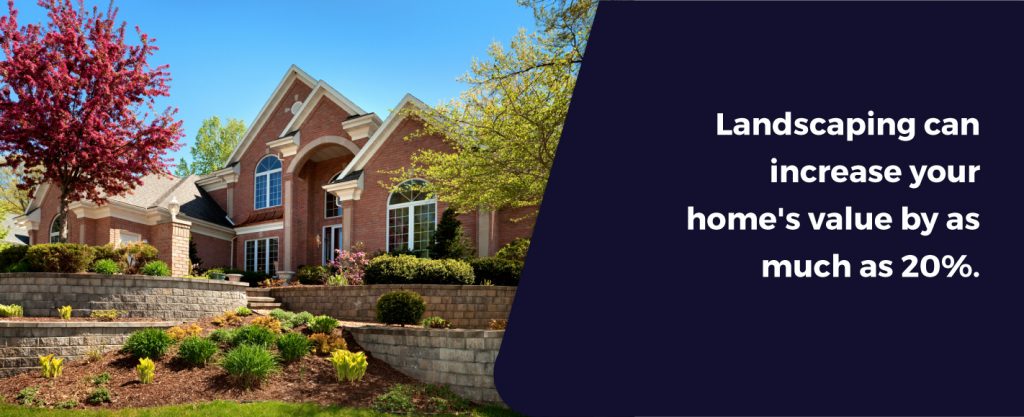 The term softscape refers to the plant life in your landscaping. This includes trees, flowers and grass. It's well worth investing in your home's softscape because plants and trees increase a home's value. For example, according to an Arbor Day Foundation report, landscaping can increase your home's value by as much as 20%. Here are a few ways you can use softscapes to add beauty and value to your home:
Properly care for mature trees: A mature tree can have an appraisal value of thousands of dollars. If you have mature trees in your yard, try to keep them in great shape by regularly inspecting them for diseases or insects, placing mulch around the trees to keep grass and weeds away, and pruning dead or diseased branches. If you don't have any mature trees in your yard, consider planting one. You'll enjoy the tree as it grows until it's time to sell, and a potential buyer can look forward to the benefits of having a tree in their yard.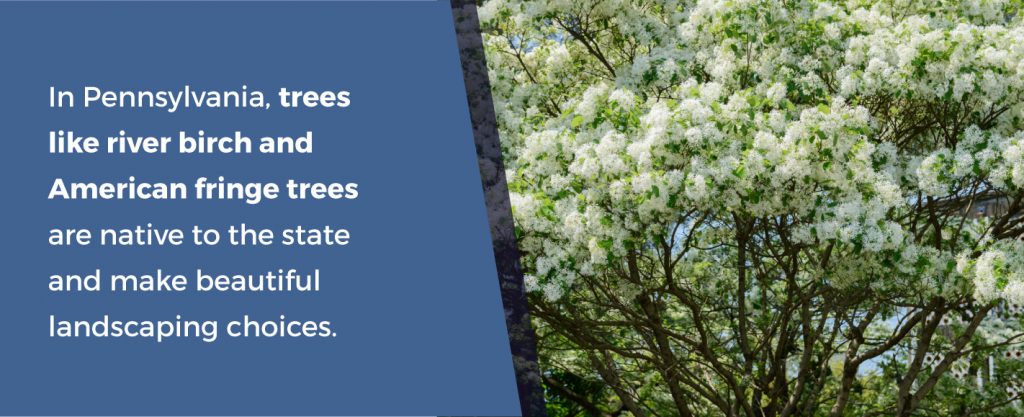 Add attractive and low-maintenance trees: Some trees are prized for durability, attractiveness and low maintenance requirements. Aim to add trees that are sturdy and easy to maintain. When choosing the best trees for your yard, it may be best to speak with an arborist and see what they recommend. Generally, you'll want to stick with plants that are native to your region. For example, in Pennsylvania, trees like river birch and American fringe trees are native to the state and make beautiful landscaping choices.
Go with small or medium flower bed sizes: An elaborate flower bed may look nice but could be intimidating to a potential buyer who may not want to put the time and effort into caring for a large flower bed. If you want to add bursts of color to your landscape, opt for small or medium flower beds instead.
Add sophisticated touches: Consider ways to make your lawn elegant and modern while still complementing the style of your home because buyers value sophisticated landscape design. For example, you might add a plant bed with curved lines or an island bed to reduce the amount of bare lawn. Think about landscaping trends and how they can inspire your choices.
Consider the seasons: When adding softscape elements to your property, consider how things will look year-round. Plan to include a mix of plants to keep your landscape pretty throughout all of the seasons. For example, you might have annuals for summer and evergreens for winter.
Use plants to increase privacy: Consider planting shrubs outside of large windows to add privacy without blocking light. Potential buyers will appreciate the added privacy, and so will you until you sell your home.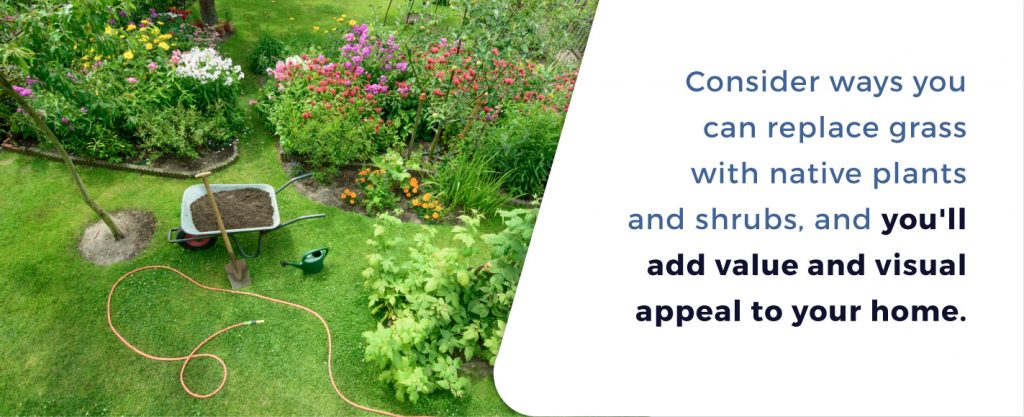 Create less lawn: The less grass you have to mow, the better. Potential buyers would likely rather spend their weekends relaxing on the patio than mowing the grass. Consider ways you can replace grass with native plants and shrubs, and you'll add value and visual appeal to your home.
The key to improving your home's value with softscaping is to keep it simple. When in doubt, add trees to your landscaping.
Using Hardscapes to Improve the Value of Your Home
Hardscapes are the inanimate elements in your landscape that complement the softscapes. Hardscapes may include objects like water fountains, benches or decorative urns. Like softscapes, hardscapes increase a home's value. Here are a few hardscape elements to add enjoyment and value to your home:
Patio: Patios add value to a home because buyers can envision spending time on the patio with friends and family. Patios also make a home more comfortable and enjoyable to homeowners while they wait to sell their homes. For example, according to a report by the National Association of Realtors (NAR), 84% of homeowners have a greater desire to be home after installing a concrete paver patio in their backyard.
Fence: Fences fill several roles on a property. They deter intruders, help protect the yard from wind and debris, increase privacy, and create clear property lines. All of these elements appeal to buyers and increase the value of a home.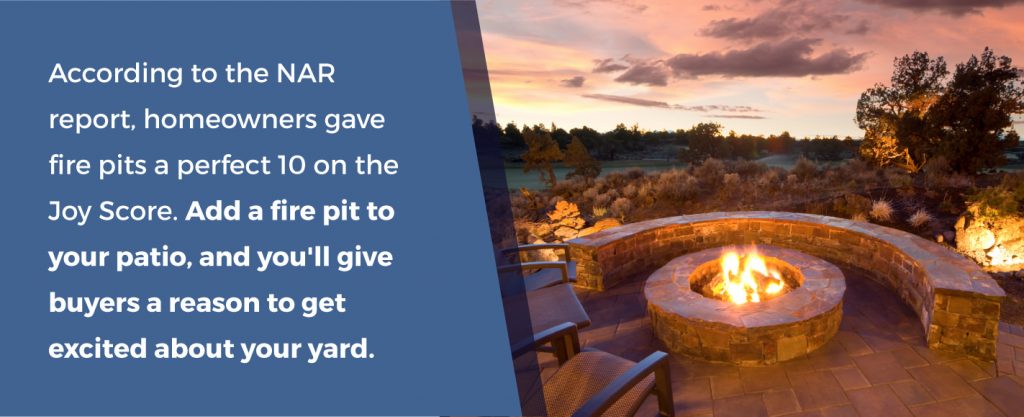 Fire pit: A fire pit helps turn an outdoor seating area into a warm and inviting space. Buyers can picture gathering around the fire with friends and enjoying a cozy evening outdoors, and homeowners can enjoy their fire pit every day until they're ready to sell. According to the NAR report, homeowners gave fire pits a perfect 10 on the Joy Score. Add a fire pit to your patio, and you'll give buyers a reason to get excited about your yard.
Outdoor kitchen: Outdoor kitchens and dining areas add a lot of value to a property. You could add features such as a grill, sink and concrete counters to create an attractive and durable outdoor kitchen that buyers will look forward to using.
Pots and urns: Consider the pots you use to hold your plants and trees and replace them with more appealing pots if necessary. Attractive planters are visually pleasing and help tie the space together. They can also function as a barrier to create a walkway or be used to accent an entryway. Consider adding a potted plant in a high-quality pot or urn to each side of the front door.
Edging: Edging adds a sophisticated, clean look to a landscape, and it serves several purposes. First, edging keeps mulch in place and grass away from landscape beds. It also helps replace the lawn and define different spaces. Choose a strong material for your edgings like stone or concrete, and install it around your garden and flower beds.
Water feature: If you're wondering if a water feature adds value to your home, the answer is yes. A water feature is an essential component of a serene sanctuary. Potential buyers will envision relaxing near a fountain or pond and taking a break from their busy schedules. You can make a water feature a part of your garden and incorporate winding pathways to lead guests to the resting spot. If you already have a water feature in your yard, simply cleaning it up by removing leaves and algae can increase the value of your home.
Walkway: One of the first elements a potential buyer will see as they walk to your front door is the pathway to your home. If your home's walkway is cracked or dirty, a visitor is bound to think the inside of your home is in disrepair. Aim to create a visually interesting walkway that will make buyers excited to see the rest of your home. For example, you might use attractive paver stones to create a beautiful clean walkway and add small plants to each side. Also, consider replacing an asphalt driveway with pavers, which are more appealing and stay cooler in the heat.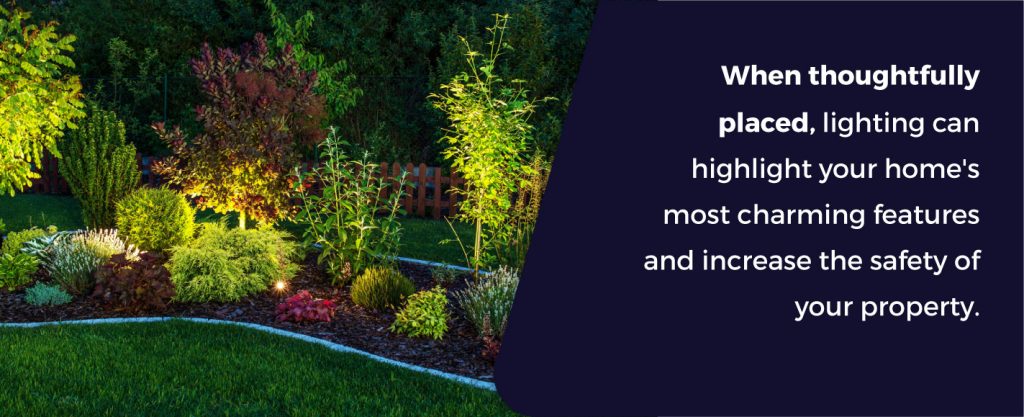 Lighting: Landscape lighting has many benefits for homeowners and potential buyers. When thoughtfully placed, lighting can highlight your home's most charming features and increase the safety of your property. For example, you can install lights to illuminate walkways and help guests see as they walk to or from your house. You can also use lighting to draw attention to your favorite trees or plants. Adding landscape lighting is a simple and affordable way to boost your home's value.
If you're still not sure how to incorporate hardscape elements into your landscape design, consider searching through books or online resources and compiling a file of landscapes you like. You can then show the pictures you've gathered to a landscape designer, and they can help you create the look you want.
What Is the ROI of Landscaping Projects?
According to ASLA, a landscaping return on investment is 100 to 200% when the house is sold. Therefore, investing 10 or 20% of your home's value in a landscaping project is a smart investment. That's not including the other ways landscaping adds value to your property, such as increasing the beauty of your home and helping you save on energy bills by providing shade in the summer and protection from the cold wind in the winter.
How to Improve Curb Appeal on a Budget
Curb appeal is what potential buyers first notice when they pull up to your home. It's critical your home has curb appeal to make a good first impression on potential buyers. Many buyers will decide whether or not they want to see the rest of your home based on curb appeal. For this reason, most experts will tell you to address your home's curb before you put it up for sale. For instance, 99% of NAR members believe curb appeal is important in attracting buyers, and 94% recommend improving curb appeal before listing the home for sale.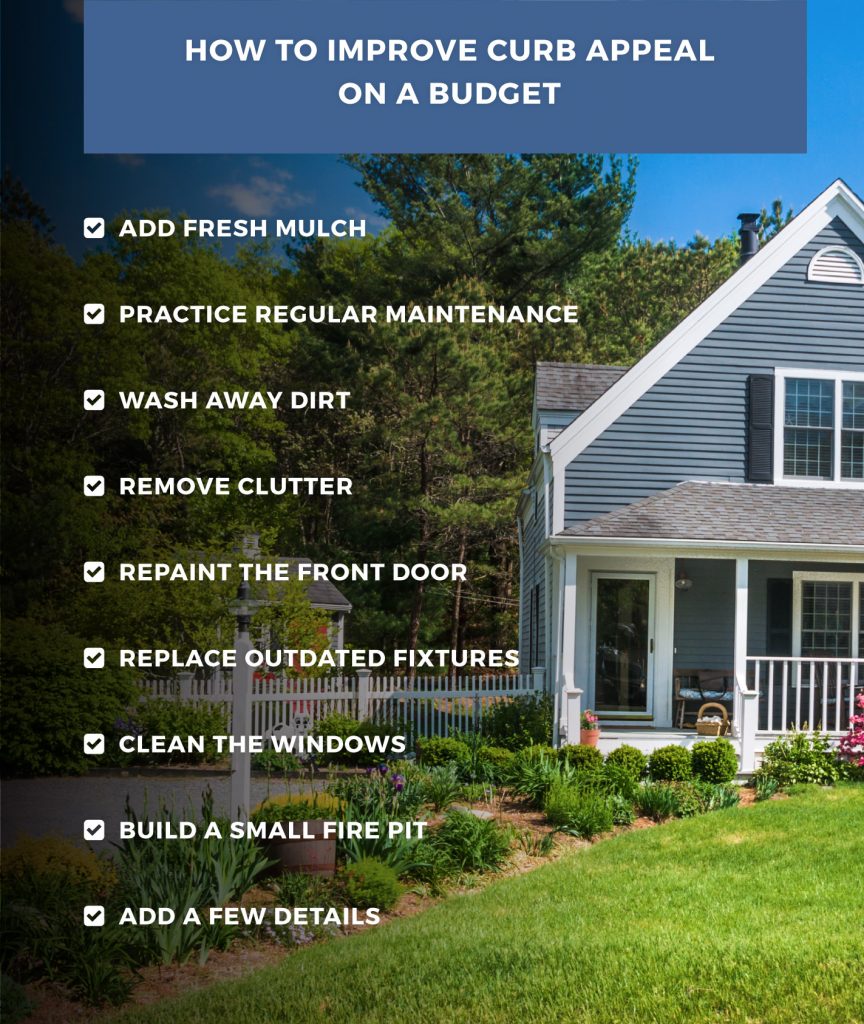 You can improve your home's curb appeal regardless of your budget. Here are a few budget-friendly ways to make your home attractive to buyers before they even get out of the car:
Add fresh mulch: Mulch is available in a variety of vibrant colors from red to black. Choose a colorful mulch to accent your landscaping, and add a fresh layer to your flower beds and around trees and plants. Adding fresh mulch is a fast and relatively inexpensive way to tidy up the yard and add an attractive detail. You might also consider using stone or gravel mulch for an appealing natural look.
Practice regular maintenance Regularly maintaining your lawn is an affordable way to increase curb appeal. This means weeding, mowing, fertilizing and removing dead leaves or plants. Prune overgrown shrubs and trees that hang over the house. Make sure you stay on schedule with lawn maintenance, because a potential buyer will notice if the yard is unkempt.
Wash away dirt: Wash dirt from the front of your home, driveway and sidewalks using the garden hose and the strongest setting. Although you might consider renting a power washer, there's probably isn't a need to –– the regular garden hose should work just fine.
Remove clutter: An easy way to boost your curb appeal is to remove clutter such as garden tools, bicycles, scraps, branches and any other clutter you can find when you walk around your property. The goal is to create a clean look that will allow potential buyers to envision themselves living there.
Repaint the front door: A fresh coat of paint on the front door can add a bright pop of color to your home and improve its overall look. Check for other areas in need of a touch-up as well, such as the trim. Choose a bright contemporary paint color that complements the color of your home's exterior and landscaping.
Replace outdated fixtures: Consider replacing old fixtures to give your home a polished look. For example, you might replace the house numbers with brushed nickel or bronze, or get a new mailbox to match other elements of your home's exterior. You'll give your home an updated look that will entice buyers without having to spend a fortune.
Clean the windows: Make sure the windows are sparkling inside and out before you have buyers stop by. Rinse them with the garden hose first and then wash them with a sponge and a vinegar-water solution. After you clean them with the sponge, give the windows a final rinse.
Build a small fire pit: You can make your yard more attractive on a budget by building a fire pit. Using concrete blocks, masonry adhesive and a metal ring, you can create a fire pit to match your home's style. Place a few chairs around the fire pit, and buyers will dream of spending time there with friends.
Add a few details: Just a few small touches like a new welcome mat can increase your home's curb appeal. Consider placing two potted plants on each side of the front door to add color and entice buyers to step inside.
Should I Landscape the Backyard Before Selling?
Even though the backyard is not the first thing a potential buyer will see when they pull up to your home, it's still important to address this space and improve its appeal before listing your home. An improved backyard adds value to your property and could help seal the deal.
For example, if a buyer has to decide between a home with an outdoor patio and one without a patio that otherwise has the same qualities, chances are, they're going to choose the one with the patio. The goal is to help buyers imagine spending time in your backyard and enjoying the time they spend there.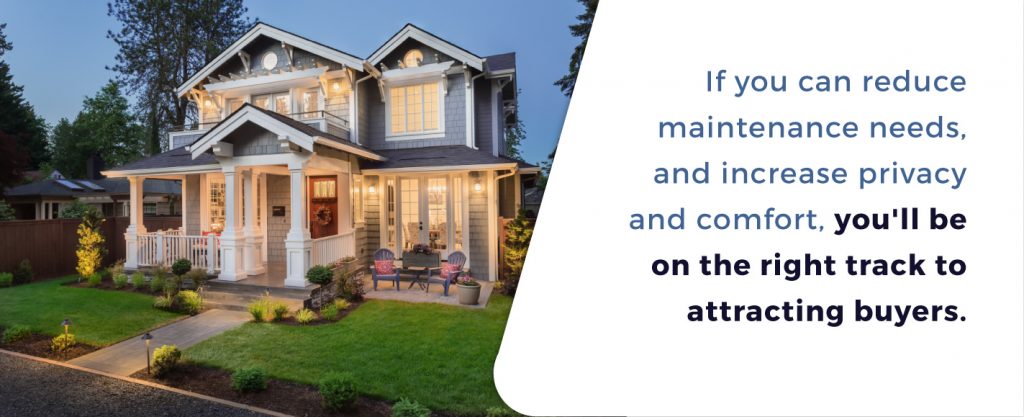 Consider how much maintenance your backyard requires and the current privacy levels. If you can reduce maintenance needs, and increase privacy and comfort, you'll be on the right track to attracting buyers.
Contact Nitterhouse Masonry Products for More Landscaping Ideas
There's no doubt about it –– you can improve your property's value through landscaping. Landscaping will also help you enjoy your home more while you still live there.
Landscaping on your own can feel like a challenge, but experts are here to help. At Nitterhouse Masonry Products, we've been helping residents in the Mid-Atlantic region beautify their homes with high-quality concrete masonry products since 1923. From gorgeous edging stone to elegant pavers, we have a vast range of hardscaping stones to complement your softscape and impress potential buyers. To learn more about our masonry products, contact us today!