Jump-To:
Two of the most popular driveway, walkway and patio materials for today's residential and commercial properties are stamped concrete and masonry pavers. Stamped concrete and masonry paver flatworks are similar in price, but pavers offer more durability than concrete. For that reason alone, pavers are the top choice for homeowners, builders and landscape architects who want the best appearance for the highest value.
Pavers have several advantages compared to stamped concrete. Their cost is affordable, and the installation time is fast. Patio pavers are durable, and nothing beats their look and feel. For style options, Nitterhouse Masonry offers a wide selection, including popular Chateau Pavers, rustic slate pavers and contemporary interlocking pavers.
Nitterhouse Masonry is a leading manufacturer and supplier of concrete paver products throughout the Mid-Atlantic states. Since 1923, we've produced pavers and other masonry construction materials of the highest standards. At Nitterhouse, we also pride ourselves in supplying customers like you with clear and complete information so you can comfortably make a reliable decision when choosing products like pavers. To help you understand your affordable outdoor options of a stamped concrete patio or interlocking concrete pavers, here is a guide to stamped concrete vs pavers.
What Is Stamped Concrete?
Concrete is one of the world's most popular building materials. Some builders call concrete the "miracle material" because this substance is so versatile. You'll find concrete used in every type of project from high-rise condominiums to massive bridge structures. You'll also find concrete used in flatwork like patios, drives and walks, where it's sometimes highlighted in stamped configurations.
On one hand, concrete is a simple substance. It's a time-tested blend of stone aggregate, Portland cement powder and water along with a few additives to give it properties like added strength and improved workability while setting from a semi-liquid form to a solid state.
On the other hand, concrete design and application can be immensely complex. Concrete engineers spend years learning the intricacies of this miracle material and know that concrete technology changes with advancing times. Concrete is unforgiving when not handled correctly. Bad concrete pours can be extremely expensive to repair or replace, and this is especially so when finishing a concrete drive or patio with stamps.

Stamping concrete for architectural appearance is somewhat common in residential and commercial projects. However, there's a high skill involved in turning out professional results. Many variables affect the finished look and performance in stamped concrete work. Primarily, it's a combination of timing and the craftsperson's skill in applying stamps or forms with the right pressure and sequence.
Stamps are molds the concrete finisher places on the upper or exposed surface of freshly poured concrete flatwork. These molds or stamps are flexible but not forgivable. The finisher has to work within a sensitive time limit that's subject to variables such as the concrete mix design, ambient temperature and weather.
Concrete stamps transpose an impression from the mold's inner surface onto the curing concrete's outer surface. The molded image is a negative that creates a positive finished appearance. Most stamps are rubber-based that allow flexibility yet have sufficient durability to stamp their image into the drying flatwork.
There's a wide variety of concrete stamp designs available. However, these stamps are valuable tools, and few concrete finishers carry a wide assortment of stamp profiles. This may limit your choice when choosing stamped concrete. Fortunately, choice limits aren't an issue if you decide to opt for concrete or masonry pavers.
What Are Pavers?
Pavers are individual masonry or concrete units used for exterior flatwork projects like patios, driveways and sidewalks. They're much like bricks. The name "pavers" came from their ability to replace asphalt pavement with a much more attractive and more versatile option. Today, pavers are a universal term for any type of interlocking, architectural or permeable hardscape feature that uses set-in-place techniques rather than cast-in-place processes like stamped concrete.
Even though pavers are an entirely different product than poured and stamped concrete, they're still concrete products. Pavers fall under the masonry category of concrete-based materials. Technically, masonry refers to individual concrete units or blocks rather than being a continuous or seamless casting.
Pavers are durable paving stones composed of sand, fine stone aggregates, Portland cement powder, pigments and a few miscellaneous ingredients to give them strength, performance and durability. Manufacturers, like Nitterhouse Masonry, mix these ingredients in a wet and malleable manner and cast them into individual molds to set.

Once paver units are cured in a 28-day process, they have a pressure tolerance of over 8,000 pounds per square inch (psi). This is more than twice the pressure rating for standard cement mixes used in stamped concrete applications. This strength rating makes pavers ideal for using in heavy-use areas where vehicle loads could crack or compromise conventional concrete flatwork.
Pavers or paving stones have hundreds of designs, colors and sizes available. Looking through the selection from Nitterhouse Masonry, there's plenty of selection to consider. However, there are only three main configurations of pavers, and these are sufficient to cover virtually any project you can imagine. Here are the three main paver types:
Interlocking pavers: These are the heavy-duty line of masonry or concrete paving blocks. They're designed and manufactured to hold up to roadway conditions as well as provide unlimited service in less-traveled areas. Interlocking pavers tie into each other by way of design and installation. This allows each separate block to support itself and its neighbor. For high durability with low maintenance, interlocking pavers are the first choice for builders and homeowners alike.
Architectural pavers: For lighter duty applications where appearance is more important than performance, architectural pavers offer an interesting alternative to robust interlocking pavers. These masonry units are aesthetically pleasing and come in many different shapes, colors and textures. Some architectural pavers have irregularities that resemble natural products such as flagstone or slate. Other designs have excellent color variations and work well with backyard patios, mall plazas and businesses presenting a stylish image.
Permeable pavers: The third paver option allows water to drain through the paver and continue its natural path into the ground and support the aquifer. Rather than blocking surface water and redirecting it in a concentrated outflow like interlocking and architectural pavers tend to do, permeable pavers have an open upper surface. Landscapers and outdoor architects often specify permeable pavers as a solution to support traffic conditions yet control water in a natural path. You'll often see permeable pavers used in softscape areas where grasses flourish right inside each paver unit.
Pavers vs Stamped Concrete
There is no right or wrong product when it comes to outdoor concrete surfaces. Much of the choice depends on the finished look you want to achieve, your experience with the various processes and your budget. The biggest challenge you may face is choosing one flatwork method over the other due to the many patterns, colors and textures offered by both the paver suppliers and the stamped concrete applicators.
Stamped concrete is a good choice for hardscape finishes where you or your contractor wants to control the pouring and finishing processes on site. With stamped concrete, you can custom design, mix, place your driveway or patio as you see fit. You're not restricted to fixed-sized paving stones or bricks. You have the creativity to make your final product unique.
The main drawback to stamped concrete is that it's a one-time event. There is no room for error or changing your mind mid-way through the process as there is with installing pavers. If you or your contractor makes an error when placing and stamping concrete, there really is no going back except to rip it out and start over. That may be too high a risk to take and too great a price to pay.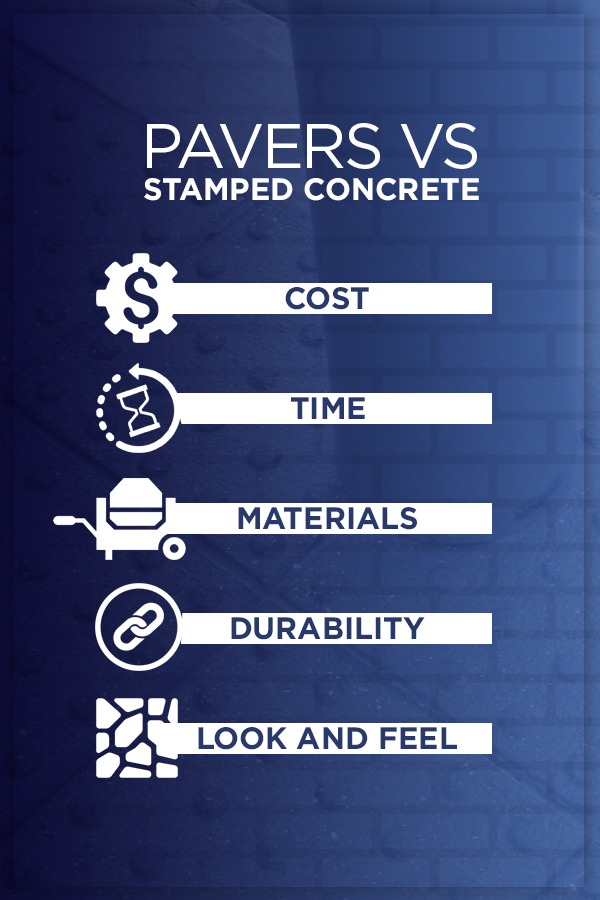 Pavers are an excellent hardscape solution where you want exceptional flexibility and to experiment with a forgiving surface. Although you don't mix your paver material on site, you certainly do place it. Your placement can follow your imagination, providing you choose the applicable type of paver to start with.
The main advantage of pavers is their flexibility. When setting pavers, you're not restricted to a tight placement window where time is of the essence. You can set pavers in practically any weather condition or workable temperature. And, with pavers, if you make a placement mistake or change your mind mid-set, you can easily lift them up and start from scratch.
Choosing between pavers and stamped concrete comes down to personal and practical preference. There are pros and cons to each surface. The main concerns you should be aware of are cost, time, materials, durability and the look, feel or style you want as the end result. Here is a deeper look at each of these decision factors.
1. Cost
Cost is always a serious consideration for most homeowners and their building or landscape contractors. Both stamped concrete and pavers can be a large investment, and you want to get as much a return for your dollar as possible.
There are no hard numbers on initial cost or a cost per square foot ratio for either pavers or stamped concrete. The final cost for stamped concrete or pavers depends on your location, current market, product availability and labor force. Generally, pavers are slightly more expensive per square foot than stamped concrete, but that's not taking into account labor or human error.
2. Time
There's no question it's faster to pour and stamp flatwork than it is to lay an equivalent area of masonry pavers. Fresh concrete has a narrow time when it can be properly set and stamped before it's cured. That's not the case with pavers.
You should also consider the long-lasting, professional finish that you can enjoy for years. It's wise to take your time, do it the way you want and live with a successful project you can be proud to show and look at.
3. Materials
Although stamped concrete and masonry pavers are both cement, aggregate and water-based products, there really is no way of directly comparing them. Pavers have much higher yield strengths than conventionally poured and stamped concrete. They'll stand up to almost any imaginable force they may face.
Another issue to consider if you choose stamped concrete over pavers is cracking. By nature, concrete is a volatile substance and will crack as forces affect it. Stamped concrete still has to have crack controls or break lines scored into the finished product, and some people find these cuts unsightly. That's not so with pavers because they are a series of interlocked control partitions.
4. Durability
With durability the factor, pavers are the clear winner. There's no question pavers are tougher and longer lasting than any cast-in-place concrete will ever be. Factory-made pavers use controlled environments, and each paver is uniformly made.
This quality control isn't possible with poured-on-site concrete. There are too many variables in the casting process to achieve perfection. If durability is your main concern, then pavers are your best choice.
5. Look and Feel
Here's where your choice of pavers vs stamped concrete may end. With stamped concrete, you're at the mercy of what your placement contractor has for stamp molds and what coloration techniques they're familiar with. In this end, you might not have much selection for the look, feel and style you're offered.
The good news is when you choose the paver option from a leading masonry company like Nitterhouse Masonry, you have a nearly endless product selection. We offer you colors, textures and appearances unequaled in the paver market. Here are a few examples of popular pavers you can source from Nitterhouse Masonry:
Pavers and Affordable Outdoor Options
Nitterhouse Masonry Products is your leading source for pavers and other high-quality concrete products. Whether you're a homeowner, architect or professional landscape contractor, Nitterhouse Masonry has the concrete-based products to get you the look you want and the performance you deserve. We've been helping folks like you through the Mid-Atlantic states for almost a hundred years.

For more information about our pavers, call Nitterhouse Masonry today at 717-267-4500. Or, you can reach a Nitterhouse service specialist through our online contact form.