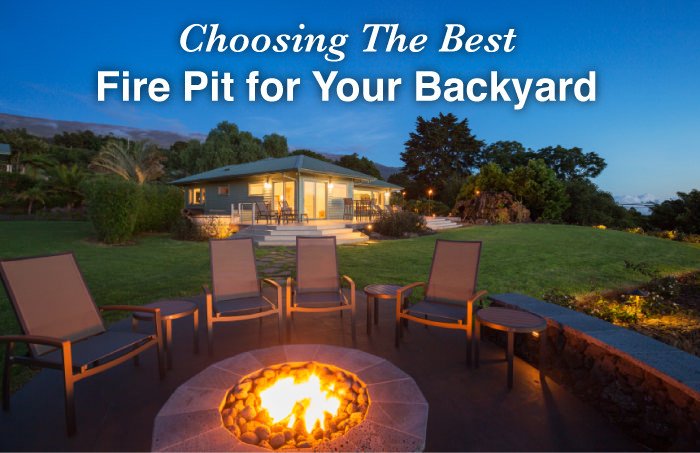 Jump To:
Nothing brightens up a backyard entertaining space quite like a fire pit. With this beautiful addition to your home, you can turn any night into a stargazer's paradise and extend the usefulness of your outdoor space on even the coldest days with special patio fire pits.
From roasting s'mores to building a glow for pool parties and at-home tailgating, a stone fire pit can give you the perfect ambiance to end each day.
Once you've settled on the appealing idea of a backyard fire pit, it's time to start considering your options to determine the right fit for you and your family. Premade fire pits or DIY pit kits come with a wide variety of choices and additional options. Your DIY options might even have a greater range of color and style choices because many paving stones can make a safe, enjoyable pit.
You'll have your pick of permanent and portable models, unique stone looks, stone pits you create yourself, premade fire pits and fire pit rings, and different ways to start and maintain your fire. Whether you want the rustic feel of a copper pot or are looking for a natural stone look to serve as an inset patio fire pit, the choice is yours. For camp sites and other areas that need to weather rain and storms, a simple concrete fire ring can be a safe, reliable and enjoyable choice.
To help you get started on finding that perfect fit, we've put together this guide to help you make the best selection.
What Should You Decide First?
Adding a fire pit to your backyard entertaining space can be a fun way to liven up your evenings and get the family together at night regardless of the weather. As you start considering a backyard fire pit, there are several questions that will guide all of your other decisions and options.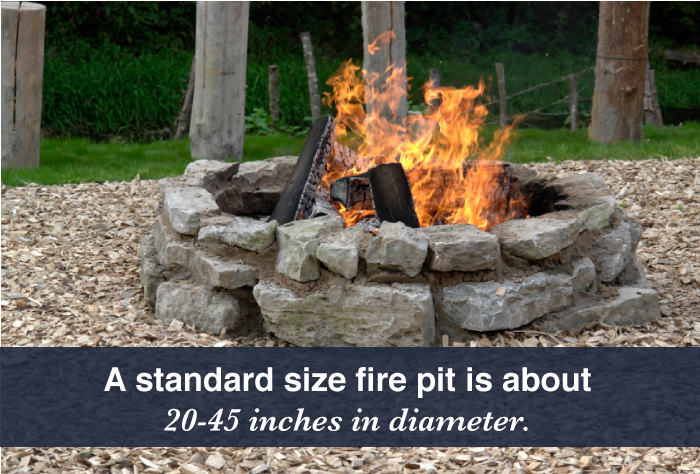 You first should examine your space and determine what you can safely accommodate. Standard fire pits and fire pit rings come in sizes from about 20" to about 45" in diameter. Think of this as the range between the size of an extra-large pizza to the size of your average patio table.
A common rule of thumb is to leave seven feet of space between your fire pit and any permanent fixtures. This space keeps your buildings safe and gives you the room you need to pull up a chair or walk around the fire. Built-in seating doesn't need to stay seven feet away, but must ensure that you have enough room for people to move about safely.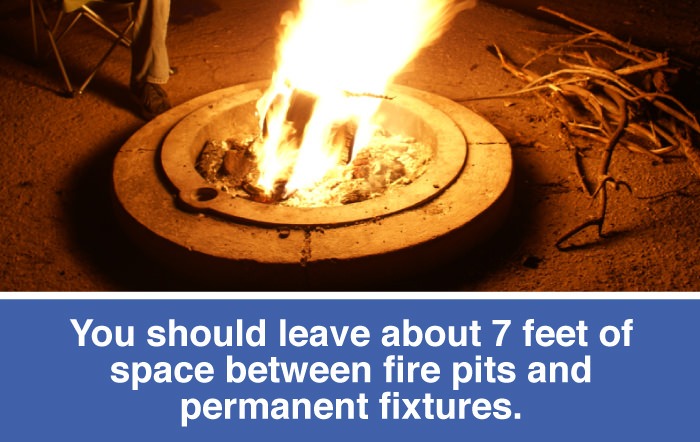 Fire pit fuel is a top starting point because your space restricts your options. The most common fuel choices are wood, natural gas and propane.
Wood
To be enjoyable, a wood fire pit needs plenty of space to ventilate properly and give you room to stay out of the smoke if the wind picks up. Wood-burning pits also need a larger fire pit ring than your other options to keep everyone safe from the heat. Wood pits are semi-permanent because they involve some basic installation but can be moved around your yard if necessary.
The smell of a wood fire pit can instantly get you into the outdoor mood and refresh memories of cooking s'mores above a campfire.
To maintain a healthy look, many wood fire pits also use a metal liner inside of the concrete block or stone. This prevents your beautiful stone and masonry from turning black because of the smoke, ash or heat. Liners also redirect heat upwards and can increase the warmth you'll feel from your fire pit.
Natural Gas
A natural gas fire pit requires existing home access to natural gas. You'll have to run a line from your home to the pit, which means a more permanent installation than that offered by other options. Gas-fueled pits provide better control over flame and heat, so you can enjoy them in a smaller area. Natural gas has two advantages over propane: You don't have to fill up tanks or monitor your fuel supply and natural gas costs roughly one-third the price of propane.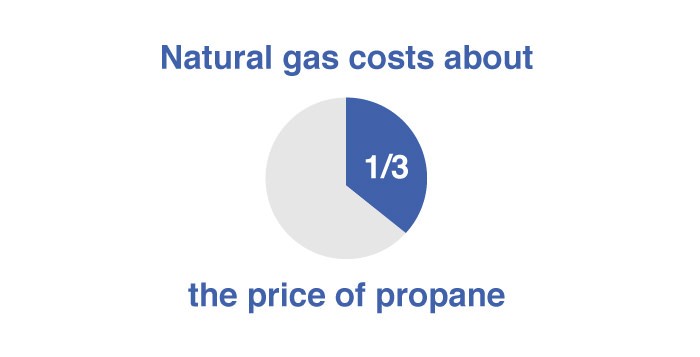 One thing to note is that natural gas and propane fire pits are perfect for creating the right ambiance but aren't the best fit for keeping you warm, according to Cathy Hobbs, a finalist on HGTV's Design Star.
Propane
Propane fire pits are your most portable option, giving you the chance to shift your fire pit throughout the year. These pits are fueled by propane tanks, so they tend to be smaller and top out at lower temperatures and flame output. While the need to monitor your fuel supply is a downside, propane is typically easier to find and store than wood.
The improved portability also means that you can remove the fire pit when it is not in use. This could be a great option for homes with small children, for rental properties or for keeping the fire pit out of the snow and rain.
Permanent or Portable
Most yards can accommodate either portable or permanent fire pits. You might want to consider how much of a focus you want the fire pit to be for your yard. If you're planning on sitting out near the fire for compelling conversations or to warm up as you're stargazing, a permanent pit sounds like a good fit.
If your backyard is full of toys, doubles as a soccer field or houses any other activities, a portable model could help ensure your purchase or DIY project is well-loved and doesn't interfere with other backyard fun.
Permanent concrete fire pits — especially those with fire pit rings — are typically your safest option if your space supports both options. They can be built into existing decks and patio spaces, limit the worry of a tip-over and are designed to keep everyone at a safe distance. Fire pit rings also come in a variety of materials so you can match surrounding buildings or furniture.
Once you've got those early considerations in mind, you're ready to start narrowing down options and picking a fire pit ring that perfectly fits your plans.
Understanding Your Materials
You've got a lot of great options for building a backyard fire pit. Designers and manufacturers are creating stunning options that match your home's aesthetic while still offering the right mix of warmth and safety for the space you have.
Material selections typically depend on whether you've chosen a portable or permanent fire pit.
Permanent Options
Veneer Stone fire pits, concrete block, as well as concrete fire pits are common types of permanent pits because they can be included into your existing landscaping. Both of these materials protect your guests and home when used to create a fire pit ring and you can even install them yourself.
You also have a lot of top options for colors and finishes to match your décor. Stone comes in a range of tones, much like brick and stone (make brick & stone singular) on modern homes, while concrete can be finished with a variety of colors. For example, a chiseled face fire pit is a cast concrete fire pit produced to give a chiseled stone look in two complementary colors sure to match any home exterior or patio. All fire pits are hot when in use, but rings for stone fire pits and thick concrete fire pits can give you a buffer against the hottest element of your fire pit — that's not always the case with portable options.
Choosing Portable Pits
Many portable fire pits live on patios and decks, so they need to match a variety of looks. This has led to a rise in clay, cast iron, copper and steel pits. We often make our final decisions based on aesthetics, but some of these materials do offer specific benefits.
Cast iron, for example, is very sturdy and hard to knock over. The material also heats quickly and retains its heat, giving you a warm experience. They can stay outside since they're resistant to rust, and some people even use them for cooking. The main drawbacks are that the weight makes them hard to move and the heat retention can be harmful, especially with kids around.
Stainless steel is a top choice for easy-to-move fire pits that are durable and safe in the elements. Possible negatives include high heat when in use and a limited color selection. Also, designs vary and some models may tip over easily.
Copper fire pits are among the most common pits that you can take home from the store. Because there are so many on the market, it can be difficult to ensure you get a safe model. Copper pits and other mass-produced options will typically hold less fuel and may have restrictions.
Designing Around Your Space
Your backyard entertaining space can get a major boost with the addition of a fire pit ring. Finding the right place to put your pit isn't difficult, but there are a few extra things to consider. Not only do you want to keep everything protected, but some choices will optimize your enjoyment.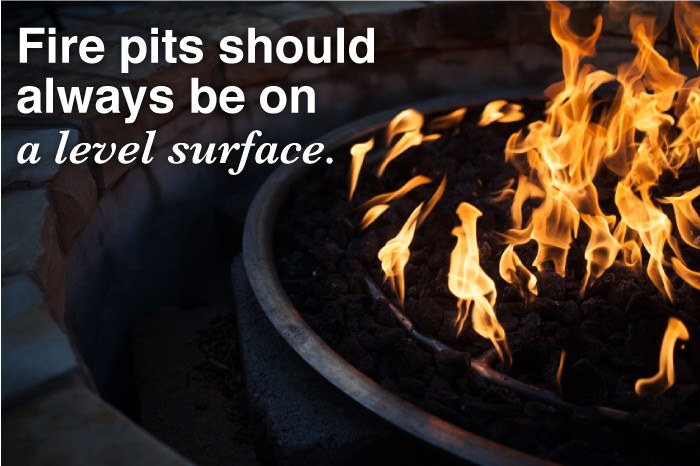 Safe and Scenic
First and foremost, your fire pit should always be on a level surface. If you're digging your own pit and placing stones in and around it, make sure that the foundation is level and your fire pit ring is high and stable. Portable fire pits should always be on hard, fire-resistant services such as concrete, brick or stone.
To make sure your fire pit is enjoyable; build it downwind from the prevailing winds in your area. This keeps smoke from blowing into someone's face and stops errant sparks from reaching a home, tree or brush.
Another beautiful way to optimize your fire pit experience is to take advantage of the high ground near your home. Place your fire pit ring in a location where you can see the nearby skyline or natural scenic views. Fire pits are often used for sitting together at night, so try and use the nearby scenery or give your guests a clear view of the night's sky.
Backyard Entertaining Spaces: Staying Social
For large backyards, you might be able to set your premade or DIY fire pit close to social areas like dining tables, outdoor kitchens, swings or pools. You'll still want to adhere to the seven-foot minimum for space around your fire pit.
Combining your fire pit with other social areas can keep it in use all year long and give you the option to continue a daytime activity into a calm evening with the same close friends and family members.
Patio Fire Pit
Premade fire pits and those you can make yourself are often incorporated into existing landscaping and designs. Patios make a strong choice because they already include seating and often have a stone or concrete base that prevents harm from the heat.
What really makes a patio fire pit enjoyable is when it fits with the existing look and feel of your home but has its own flair. Landscape architects often turn to premade fire pits for an easy fit and installation. However, you can also build the pit yourself and quickly match your home's exterior or your patio's paving stones and retaining or garden walls specifically made to mirror building materials and protect against heat.
Call Before You Buy
There's one thing you must do before you start building a backyard fire pit or purchase a premade fire pit: Call your local fire department. Different cities, counties and states have different outdoor fire codes. Firefighters can ensure that you make legal and safe choices.
Some of the most important questions you should ask include whether or not your fire pit needs to be covered and how far away from your home must it be placed. Some regions may restrict what you can place in your fire pit, so be sure to ask about that too.
Call your insurance too. Allstate notes that you may have to alert your homeowners insurance policy provider if you live in areas that are prone to wildfires or in other risky markets.
If you have small children at home, you may consider asking for safety tips or about programs available in your area. Keep your family safe by making sure everyone is educated on proper fire pit safety, such as never using flammable liquids to light your fires. Properly putting out a fire and disposing of the ashes safely are two other must-mentions when teaching everyone how to enjoy their new stone fire pit.
When You're Ready to Get a Fire Pit
Now that you've checked out your space and found a great location for your foundation, it's time to buy that great new fire pit and fire pit ring. Premade fire pits are often the safest and easiest to install while giving you something pleasing to look at next to your home.
Create a wonderful entertaining space by choosing from a variety of fire pit concepts perfect for any outdoor space. You'll learn more about the sizes available, shape and color options, and the safety they offer through sturdy design. Some styles — like the two- or three-tone Square Village Garden Wall Fire Pit — are popular enough to stay in stock online all year long, so getting your pit is just a click away.
If you're not the DIY installation type, don't worry! Just look up your local dealer to learn more about the premade fire pits and patio fire pit options available in your area. They'll help you make a decision based on your space, local requirements and needs, and then take care of the installation process for you too.
It's a great time to enjoy your home, and the right stone or concrete fire pit can bring new life to any backyard entertaining space.