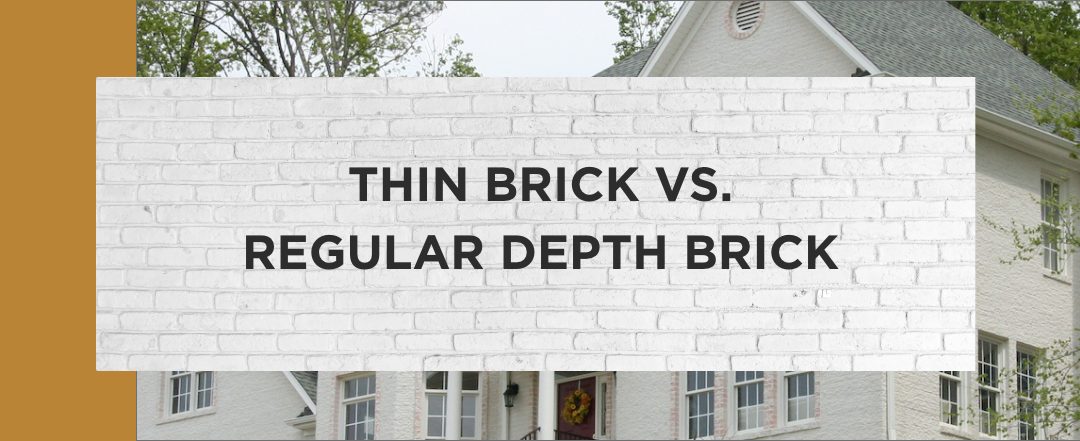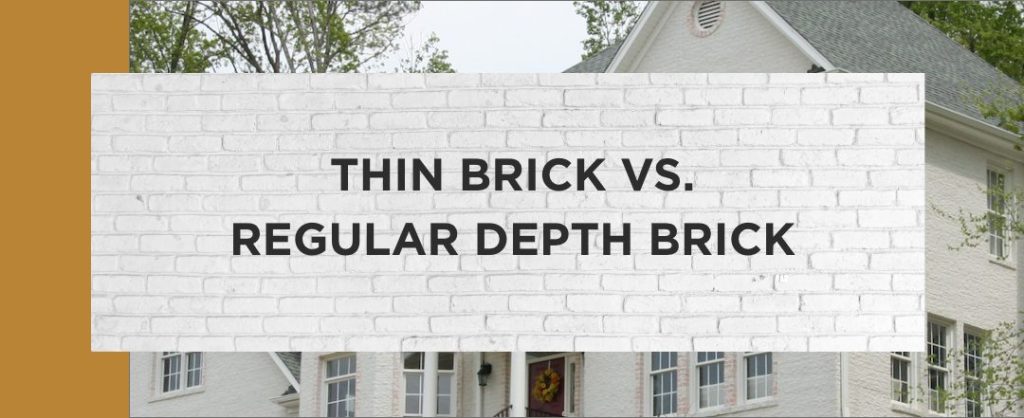 Bricks are a tried-and-true way to upgrade any space with materials that are made to last. When your upcoming projects require bricks, you'll want to make sure you have the best ones for the job.
Depending on your project vision, thin bricks or regular depth bricks may be exactly what you need. The first step toward installing an upscale brick facade is learning about the different options and the benefits of each.
View Our Selection of Brick Products
What Is Thin Brick?
Thin bricks are a concrete brick alternative, ideal for adding a classic brick look to an area without a major invasive renovation. Their clean installation and lighter weight make them a great addition to existing walls and other surfaces.
Thin bricks typically measure 3/4 of an inch to 1 inch deep and come in a variety of lengths to suit any project.
Applications of Thin Brick
Thin brick is the perfect material for easy renovations. You can apply them to almost any existing exterior or interior surface, renovating or transforming walls more quickly and with less mess than regular bricks.
Thin bricks give any area a classic feel and timeless look. They're ideal for creating a brick veneer finish without completely rebuilding walls, letting you bring new life to a commercial or residential building's facade.
You can also use thin bricks indoors to dress up fireplaces, kitchen backsplashes, decorative walls and other interior areas. Once they're installed, thin brick looks just like regular brick, making home renovations easy and eye-catching.
What Is Regular Brick?
Regular depth bricks are a type of concrete or clay brick that offers structural integrity combined. You can use these full bricks to build any wall and structures.
Regular depth bricks measure 3 5/8 inches deep. Like thin bricks, they come in many different lengths and widths, so you'll always find the ideal size for your needs.
Regular Brick Applications
Regular depth bricks give exteriors a solid structure that continues throughout the entire wall. From office buildings to cozy homes, regular bricks offer a pristine appearance that will last for years to come.
Regular bricks come in solid units, meaning you can fit them precisely around windows and doors without needing special shapes. They're the perfect way to easily upgrade all kinds of building exteriors.
You can also install regular bricks indoors. Just like thin bricks, they're ideal for fireplaces, decorative walls and other interior spaces.
Differences Between Thin Brick and Regular Depth Brick
One of the most prominent differences between thin and regular bricks is their depth. Thin bricks can be almost five times thinner than regular bricks, making them more lightweight and easier to install.
Thin bricks and regular depth bricks also serve different project goals — thin bricks can upgrade existing structures while regular bricks are ideal for creating new ones. Though the final results may look similar, the internal compositions of each are different.
Thin Brick Installation vs. Regular Brick Installation
When choosing between thin and regular depth bricks, you'll also want to consider their installation processes. Knowing how much time and material you have to complete a project can help you decide what type of bricks to use.
Thin bricks are typically faster to lay than regular bricks. Instead of using thin bricks to build an entire wall, you apply them to existing walls with an adhesive. You can also mortar them traditionally, making their installation process versatile enough to fit your project needs.
When installing regular bricks, traditional mortaring methods ensure the structure you're building maintains its shape and height. While regular bricks often take more time to install than thin bricks, the effort is worth your while, as these sturdy bricks join together to form strong walls and other formations.
Thin Brick Benefits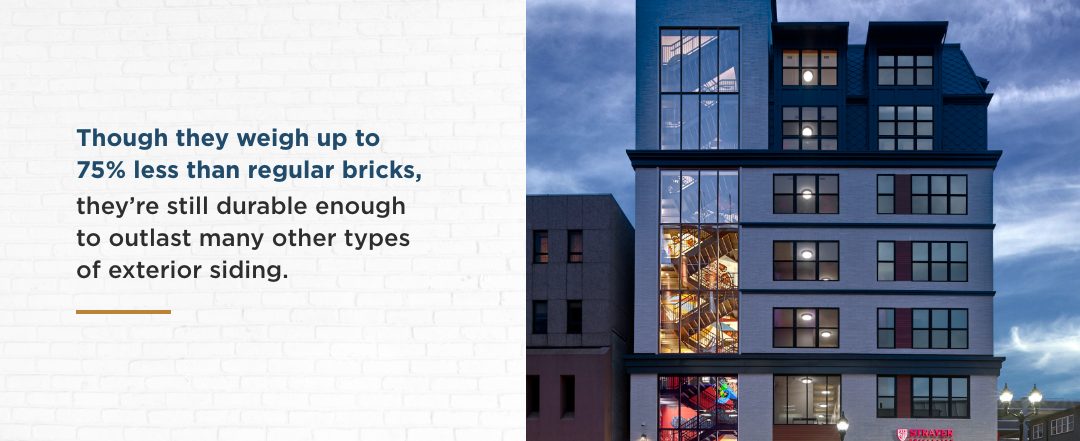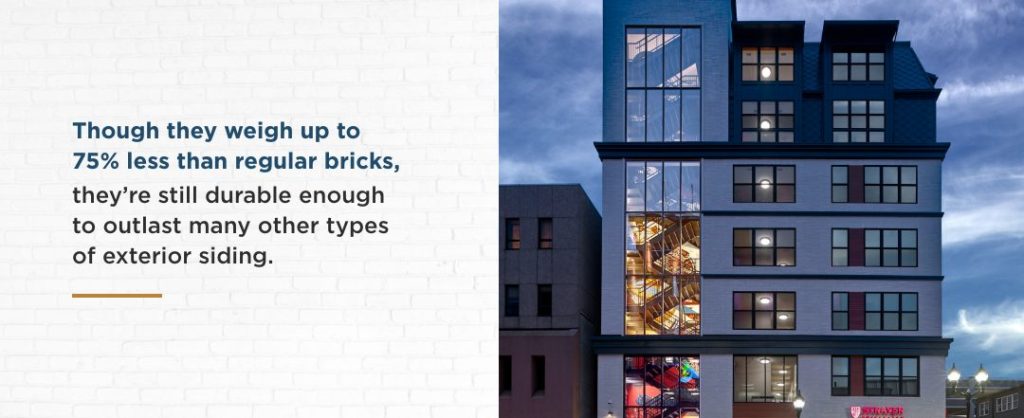 Thin bricks are great for the times you want to dress up a structure with a new brick-wall look without reconstructing it. Because they're meant for dressing up a facade, thin bricks are also more cost-effective than regular bricks, making them perfect for renovations on a budget.
Installing thin bricks is a breeze, as these lightweight materials are easier to handle than other siding options.
Though they weigh up to 75% less than regular bricks, they're still durable enough to outlast many other types of exterior siding. Metal can fade over time. Wood can experience rot, warping or insect infestation. Vinyl is easy to puncture. Thin bricks are easy to maintain outdoors or inside while withstanding all these issues and more. Your clients can rest easy knowing they're making a long-lasting, hassle-free investment.
When you use thin bricks, you'll also have several color options to choose from. You can find the exact color scheme to complement your project's surroundings.
Regular Brick Benefits
Regular bricks are as low-maintenance as think bricks, making them a great solution for projects that need a long-lasting polished and professional look. These bricks are also perfect for commercial projects that need brick-size masonry units.
Concrete bricks are more economical than bricks made from other materials. These bricks give you all the benefits of clay bricks at a lower cost to you and your clients.
Regular depth concrete bricks are also an energy-efficient choice for building exteriors. Concrete is a strong insulator, able to keep buildings cool in the summer and warm in the winter.
When safety and longevity are priorities, you can count on several types of regular depth bricks to hold up against fire and extreme weather elements. Concrete bricks protect buildings from excessive wear and tear, ensuring your hard work will stand the test of time season after season.
Like thin bricks, regular bricks come in a wide variety of long-lasting colors. Because these vibrant colors continue all the way through each brick, you can be sure the color won't flake or chip off. These bricks are perfect for areas that require durability and style.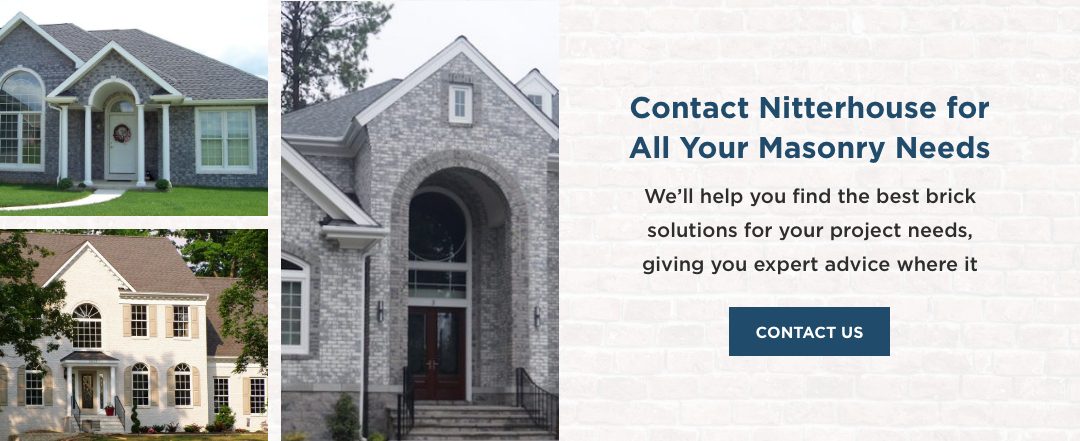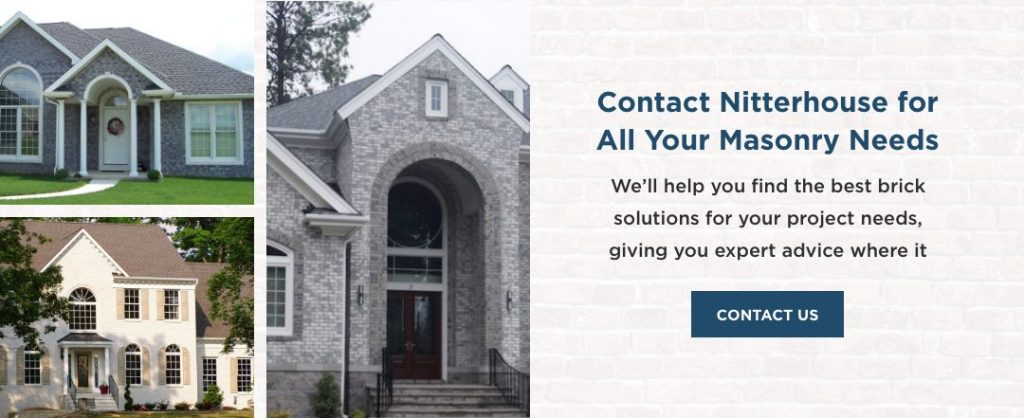 Contact Nitterhouse for All Your Masonry Needs
Whether you're looking for thin bricks or regular depth bricks, Nitterhouse Masonry Products has a wide variety of attractive, durable options for you to choose from. We make our bricks from all-natural ingredients sourced directly in Pennsylvania, giving you quality and durability you can trust. Browse our extensive brick inventory to explore all our colors, shapes, finishes and sizes.
Our bricks give you endless possibilities. We'll help you find the best brick solutions for your project needs, giving you expert advice where it matters most. Contact us today for more information about our stellar products and services!