Jump-To:
No flooring material is completely maintenance-free — not even concrete. Concrete is sturdy and durable, but it's also porous, which means it can soak up spills and dirt. This can result in staining.
Still, even though concrete floors can get stained, they're relatively easy to clean and maintain, especially when compared to other flooring types like carpet. Sealers, wax and mopping can help your concrete stay pristine, and if you do wind up with a stain, there are plenty of ways to remove it.
In a commercial setting, your concrete floor will receive a lot of foot traffic, so it will definitely need regular attention to keep it clean. Here is a look at what you can do to keep your concrete floors looking great.
How to Clean Stained Concrete
There are several ways concrete can become stained, but there are also plenty of options to remove stains and get your concrete flooring looking like new again. Homeowners, business owners and commercial contractors tend to choose concrete because of this very quality.
Why Concrete Is Easy to Clean and Maintain
There are several reasons concrete floors are simple to care for:
Concrete floors can be cleaned simply with dry or damp mopping.
Concrete is resistant to abrasion and stains when it is sealed properly.
There are no fibers, joints or grout lines that can trap dirt.
Minimal maintenace is required.
Concrete floors are pet-friendly, as they're easy to clean up after accidents or dirty paws.
This is what makes concrete the perfect material for commercial flooring. Your concrete contractor should also be able to provide you with a maintenance or sealing schedule you can follow to ensure your flooring remains in excellent condition. Covering concrete floors with mats or rugs can add another layer of protection against damage from moisture and dirt.
How Concrete Gets Stained

Concrete is porous, so it is susceptible to moisture, dirt and other particles that can get lodged inside pores and crevices. Water can carry foreign matter that can increase the likelihood of stains. Grease, oil and gas can stain concrete, and various chemicals can also stain or discolor concrete. When a chemical product reacts with the concrete, it can result in an acid burn. Even metal fibers can get lodged inside the concrete and lead to rust stains. If your floor isn't sealed or waxed, it will be particularly vulnerable.
No one wants a stained or discolored floor, which makes properly cleaning and maintaining concrete floors crucial for commercial operations.
Tips for Cleaning Concrete Floors
A basic cleaning routine for concrete should include:
Dry mopping to remove debris and dirt and prevent abrasion.
Cleaning spills as soon as possible to prevent stains.
Damp mopping as necessary with water and a mild detergent.
Using a sealer to protect the flooring.
Cleaning methods are generally divided into three categories — abrasive cleaning, water cleaning and chemical cleaning. The products you should use to clean your concrete floors depends on the type of flooring you have. For decorative flooring, use a mild cleaner. You can also reach out to your contractor to ask for a recommendation of their favorite cleaner or sealer. For commercial flooring with heavy foot traffic, you may want to use equipment such as a swing buffer or an auto scrubber. You can also dry and damp mop your concrete floors with microfiber cleaning pads. Harsher cleaners like bleach and vinegar can be used to clean concrete flooring in certain instances.
Use Sealers on Stained Concrete
Sealers should be used to protect concrete floors. A sealer can help a stained floor resist further staining, abrasion, water and dirt. Sealers can also add sheen or enhance the concrete's color.
Cleaning Stained Outdoor Concrete
You might assume cleaning outdoor concrete flooring and indoor concrete flooring should be the same process since the flooring is made of the same material. In actuality, though, outdoor concrete cleaning is quite different from indoor concrete cleaning, particularly if the flooring is stained.
How to Clean Outdoor Concrete Floors

Here are some of the tools you may need to clean outdoor concrete surfaces:
Broom
Leaf blower
Hose
Power washer
Detergent
Stiff brush with non-metal bristles
For basic upkeep, use a broom or a leaf blower to keep your concrete floors free of debris. You can also rinse off the concrete with a hose.
Perhaps the easiest way to ensure a more powerful cleaning of your outdoor concrete flooring is by using a power washer. A power washer will blast away mildew, grime and dirt from the concrete. If you plan on using the power washer yourself, be sure to read the instructions thoroughly before you begin using it.
Detergent manufacturers may have specific instructions, but application generally consists of spraying the surface of the concrete with a detergent, and then using a stiff brush to scrub the detergent into the concrete. Avoid using a brush with metal bristles, as metallic fibers can become trapped in the concrete's porous surface and eventually cause rust.
Be sure to wear all appropriate personal protective equipment (PPE) when working with chemicals and equipment. Before turning on the pressure washer, be sure to put on your safety gloves and goggles to protect your hands and eyes. When the pressure washer is on, you can move the wand as if you're mopping the floor.
Power washing is also a viable option for cleaning semi-exterior concrete surfaces like garages.
How to Remove Simple Stains From Outdoor Concrete Floors
Despite your best efforts, you may still wind up with staining on your concrete floor. Because concrete is porous, it can soak up moisture and dirt and become stained as a result. How can you clean and remove staining from outdoor concrete?
One way you can remove stains from outdoor concrete flooring is by using dish detergent, ammonia, bleach or another commercial cleaning solution. Be sure never to mix ammonia and bleach together as a cleaning solution. When using harsh cleaning products, always exercise caution and avoid mixing, as the effects can be dangerous or toxic.
How to Remove Tough Stains From Outdoor Concrete
For tougher stains on outdoor concrete floors, you can use hydrochloric acid, also referred to as muriatic acid. This solution should be able to remove even the toughest stains, such as dried grout and rust. Use this material with extreme caution, as it is toxic and can be dangerous if you come into contact with it.
Use gloves and protective eyewear if you plan on handling hydrochloric acid to get rid of tough stains from your outdoor concrete floors. Carefully follow the instructions provided by the manufacturer as well when cleaning concrete with hydrochloric acid.
To keep the surface of your concrete protected, apply a new layer of sealer regularly. Depending on the foot traffic outside of your commercial building, you may want to reapply the sealer every year or two to keep your concrete durable.
Cleaning Stained Indoor Concrete
If your commercial property contains indoor concrete, the ways you clean and remove stains from it will differ from outdoor concrete.
What Is the Best Solution for Cleaning Interior Stained Concrete Floors?
Perhaps the best cleaning solution for interior stained concrete floors is actually the simplest solution — dry mopping and occasionally wet mopping using a pH-neutral cleaner. This alone is usually enough to keep your floor pristine, especially for concrete with low foot traffic.
If your commercial building receives a high amount of foot traffic, you can still use this cleaning method, but do it more regularly. Depending on how many people are walking on your indoor concrete floors every day, you may want to schedule daily floor cleaning. If your floor requires a deeper cleaning for the removal of stains, you can use a stronger soap for wet mopping.
Stained floors can also lose their luster over time. When this happens, you can revive your concrete floor by sealing. You may also want to reapply the sealer if the floor is in a high-traffic area.
What Cleaning Products Can I Use on Stained Concrete Floors?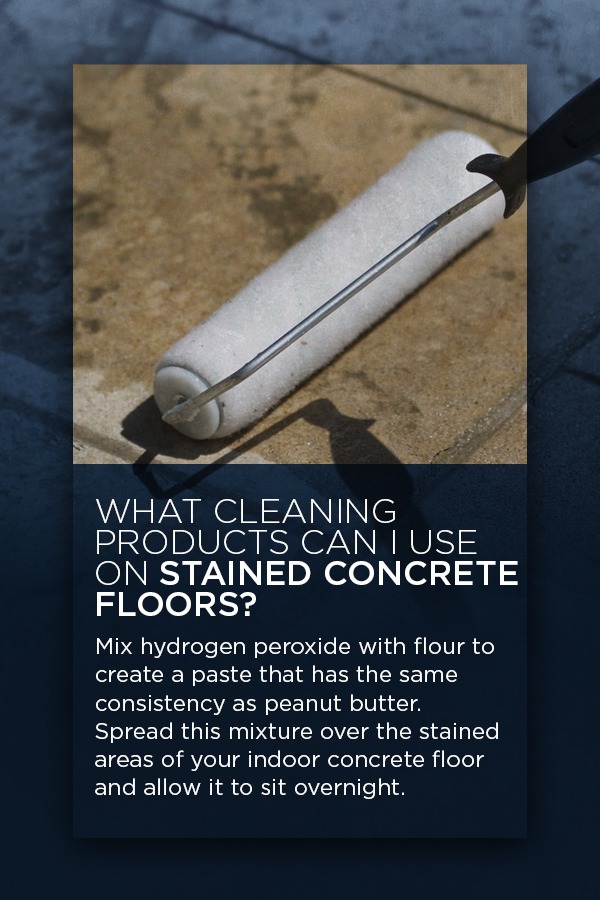 For indoor concrete floors, you can instead use a more natural solution to get rid of stubborn stains.
Mix hydrogen peroxide with flour to create a paste that has the same consistency as peanut butter. Spread this mixture over the stained areas of your indoor concrete floor and allow it to sit overnight. The next day, scrape off the mixture using a plastic-edged scraper. For grease stains, you can pour baking soda onto the stained area and allow the baking soda to absorb the grease. Later, use a cleaner designed to clean up grease.
For tougher stains, you can mix water with trisodium phosphate and scrub this mixture into the stains using a nylon brush. You should scrub until the stain is removed. You can find trisodium phosphate at a home improvement store. For indoor concrete, you should also use a water-based sealer, as these sealers don't contain any harmful fumes.
You can also use abrasive cleaning to remove a stain from concrete. Rather than dissolve and wash away a stain, abrasive cleaning removes the outer portion that contains the stain. You must use protective equipment and exercise caution when using abrasive cleaning for stain removal, as some abrasive blasting materials can pose a health hazard. Additionally, aggressive applications may impact the durability and appearance of the masonry. Products like crushed slag are safer to use in abrasive cleaning than silica sand, as the airborne silica dust can present a health hazard.
For more delicate surfaces, you can use softer abrasives like walnut shells, crushed cornhusks and glass beads, though this process is not generally efficient for a large-scale cleaning.
Wet abrasive cleaning can eliminate dust that comes from the dry process. Continue using the necessary protective clothing and equipment during this process, as you'll need to rinse down the cleaned surface post-blasting, and this could cause remaining harmful particles to pose a health hazard. Abrasive cleaning will remove waterproofing agents, so you will need to reapply them after the abrasive cleaning process.
What Is a Safe Solution for Cleaning My Stained Indoor Concrete Floors?
What constitutes a safe solution for cleaning your indoor stained concrete floor depends on what kind of concrete floor you have. For most concrete floors, you can use a mixture of flour and hydrogen peroxide or water and trisodium phosphate. But for stamped concrete floors or polished concrete floors, you'll want to use a gentler solution.
If your indoor concrete flooring is stamped, use a mop and mix water and a mild cleaner in a bucket. Avoid using highly acidic or alkaline substances on these floors. Instead, select from a mild floor cleaner, liquid dish detergent, a stone cleaner or Castile soap. When you mix your solution, you can apply it to the floor using a wet mop. After you've covered the area with the mixture, you can rinse it with a mop and clean water.
If you have a polished indoor concrete floor, your flooring is highly durable and usually easier to maintain than other decorative concrete floors — polished concrete doesn't require a sealer. In fact, you should be able to keep your polished concrete shining for years with a basic cleaning routine:
Dry mop the floor: Dry dust your concrete floor with a mop regularly to remove grit and dirt.
Damp mop the floor: Use a damp mop and a pH-neutral cleaner on your floor periodically. Alternatively, you can use a special cleaner made for polished concrete. Polished concrete cleaners will clean the floor's surface and coat the floor in a dirt-resistant film.
Buff the floor: If your floor starts to lose its shine, use a commercial polishing compound to buff the surface.
Re-polish the floor: For a more thorough touch-up, you can use a fine-grit abrasive to re-polish your floor.
To keep your indoor concrete floors looking like new, follow this cleaning routine regularly.
How to Make Concrete Floors Easy to Maintain After Cleaning Them
After you clean your concrete floors, how can you make them easier to maintain? One of the keys to making concrete floors easy to maintain is improving their durability.
You can make your concrete more resistant to stains in the future by applying a sealer. To apply a sealer to the concrete, you can use a sprayer or paint roller. Begin in the middle and roll the paint roller with the sealant outward to the edges. Applying a commercial-grade wax will make your floors even easier to maintain, as it will add another layer of protection to your flooring.
When you know how to make your concrete floors easy to maintain, you'll be able to keep them pristine for years.
Purchase Concrete Products From Nitterhouse Masonry Products
At Nitterhouse Masonry Products, we've been providing high-quality masonry products since 1923 for residential, architectural and contractor use. We've been family owned and operated for five generations, and because of our commitment to high standards and superior customer service, we've built a solid reputation as a leading supplier of concrete masonry products.
Are you a commercial contractor in need of a concrete product? We want our products to help you build concrete structures that will stand the test of time. Browse our specialty concrete products today to find what you need.