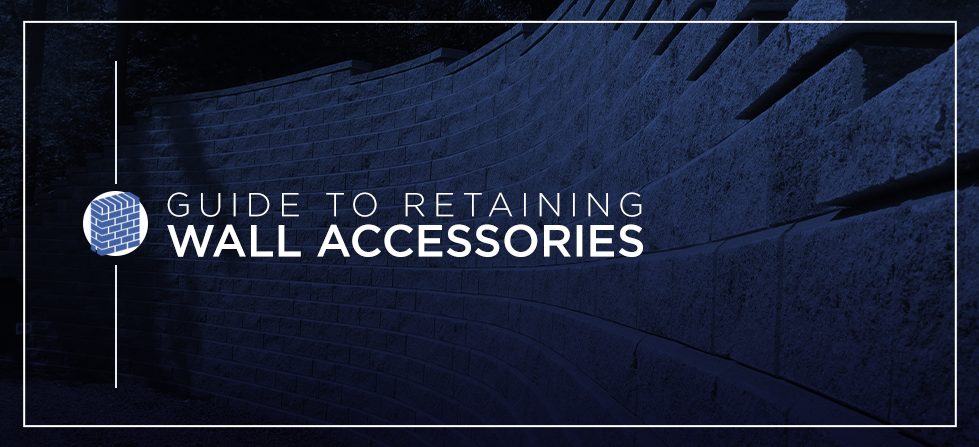 Jump-To:
When a retaining wall is erected, it usually requires some accessories to retain the soil properly. This guide provides an overview of several retaining wall accessories and explains the important role that each one plays.
The Sleeve-It System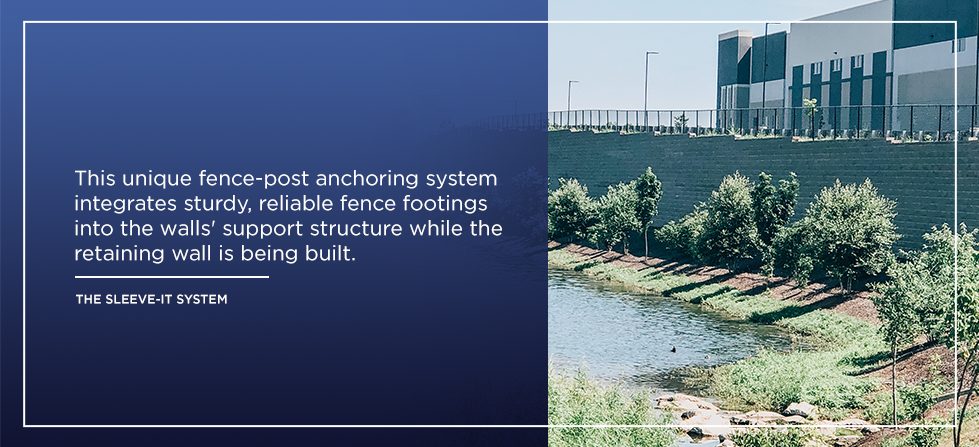 This unique fence-post anchoring system integrates sturdy, reliable fence footings into the walls' support structure while the retaining wall is being built. This system maximizes the useable soil at the top of the retaining wall.
Normally, when building a segmental retaining wall, fences and rails added following the construction of the wall must be offset by 3 feet. However, the Sleeve-It system completely eliminates this requirement, which reduces the costs associated with building code compliance.
Benefits of the Sleeve-It system include the following:
It offers peace of mind. The Sleeve-It system eliminates any concerns about the integrity of the wall system.
It lowers liability. Sleeve-It also reduces the liability of the wall designer.
It is compatible with different segmental retaining wall fences. Sleeve-it was made to accommodate all of the most common types of segmental retaining wall fences.
It maximizes the use of your land. If you were to install a normal fence on top of your retaining wall, you would have to install the fence at least 3 feet from the retaining wall's open side. If you use Sleeve-it, however, you don't have this offset requirement, thereby maximizing the usable space on top of your wall.
It complies with code. This technology gives the specifier a code-compliant solution.
It is portable and stackable. Sleeve-it features a lightweight design that makes it easy to transport the units to the job site and reduces the cost of shipping. It's also easy to stack, which reduces stocking space.
It is environmentally friendly. Sleeve-It is manufactured using roughly 95% post-consumer recycled polypropylene.
It allows for maximum productivity. With Sleeve-It, the contractor can maintain maximum production.
It is easy to install. Sleeve-it integrates seamlessly into the building process, and its installation is relatively quick and simple. When the wall is finished, you won't have to go through the tiresome process of augering, which is the process of boring holes in the ground to insert fence posts.
The Sleeve-It system can be performed in the following four steps:
Install units of cantilevered Sleeve-It. It should be close to the elevation of the top of the wall.
Fill soil up to the sleeve's top. Once you've filled it with soil, compact the soil.
Don't remove the disposable lid. You'll notice that the sleeve has a disposable lid. Leave this on until the installer inserts a post in this sleeve and fills it with concrete.
Let your fencing contractor finish the job. Your fencing contractor will insert the posts, pour the concrete and finish the fence.
Stratagrid
Stratagrid is a uniaxial geogrid made of high-strength polyester. It is a highly effective product for reinforcing soil and is manufactured to ensure consistency and premium quality. Manufacturers knit polyester yarn with exceptional tensile strength and high molecular weight into a dimensionally stable network of apertures, which forms the geometric grid pattern. This shape provides the soil with tensile reinforcement horizontally and vertically.
This product also features a black saturation coating that provides additional mechanical and chemical benefits, enhancing its durability regardless of the environment.
Below are some additional benefits of using Stratagrid:
It is exceptionally strong. Reinforcing the soil with Stratagrid gives it exceptional internal strength.
It is economical. Stratagrid is considered a great affordable alternative to ordinary cantilever and poured-in-place retaining walls.
It is user-friendly. Installation is fast and straightforward.
It is versatile. In addition to ordinary retaining walls, Stratagrid can also be used in applications like landscaping walls, bridge abutments, tiered architectural walls and stream channelization. If you use Stratagrid with these structures, you'll help to lower development costs on the site, allowing for more variability in design and lessening the amount of foundation preparation that has to be done, all of which make the construction process faster and simpler.
It can meet the highest standards. With Stratagrid, retaining walls can be designed to meet even the strictest project requirements.
It looks nice. Stratagrid provides retaining walls with unrivaled beauty.
It has better integrity and interaction with the soil. Stratagrid provides excellent junction integrity as well as a higher soil interaction coefficient when compared to all other polyester geogrid products.
In addition to its use in segmental retaining walls, it is also commonly used in the following applications:
Reinforced embankments where the soil is soft: Stratagrid is designed to interlock with structural fill, providing a sturdy "mattress" foundation, which will significantly increase its stability over weak soil. With this product, weak subsoils serve as a structural base over which many things can be built, such as crane pads, surcharge embankments and haul pads.
Landslide repair, reinforced steep slopes and reinforced foundations: Maximizing the use of land is critical and can dramatically reduce costs when developing any kind of site. As the costs of land rise, it is becoming increasingly important to use property with steeper slopes. When Stratagrid is used with vegetation and regular erosion protection products, it can provide well-engineered solutions.
It is available in 6-foot-by-300-foot rolls.
NMP GeoGrid Fabric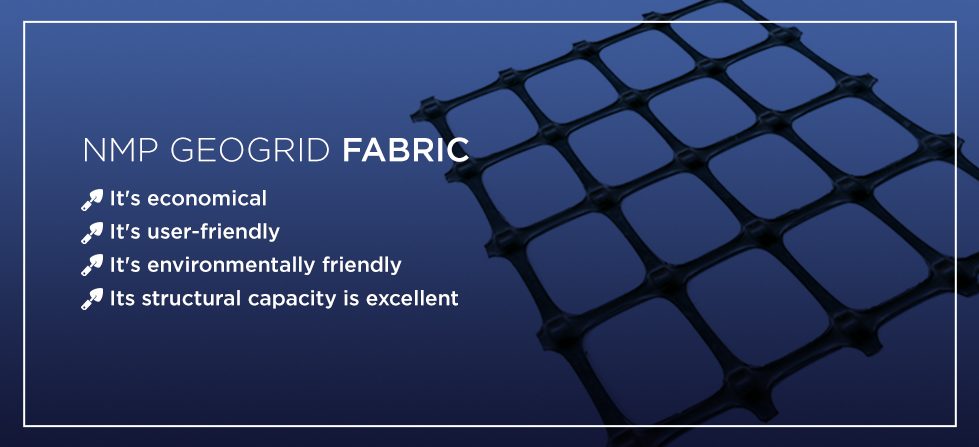 Geogrid fabric is a geosynthetic material made from polymers, and it reinforces the soil behind a retaining wall. This fabric is installed between courses of a wall in horizontal layers and extends into the dirt behind the wall. Through doing this, the NMP geogrid fabric keeps the soil stable and also increases the mass of the wall system.
This fabric offers other benefits, including the following:
It's economical. NMP GeoGrid fabric is less pricey than using steel.
It's user-friendly. NMP GeoGrid fabric is easy and quick to install.
It's environmentally friendly. You don't have to worry about harming the environment when using this product.
Its structural capacity is excellent. This fabric is designed for maximum strength and durability.
While used often for retaining walls, this fabric can also be used in the following applications:
Preventing land from moving
Base courses for railway, airport and road construction
Building transportation links and access roads
Extremely steep banks
Stabilizing slopes
Noise-protection embankments
Reclaiming contaminated land
Building landfills
Piled embankments
Bridging sinkholes and hollows
It is available in rolls measuring 4 feet by 100 feet.
Universal Geogrid
This bidirectional, or biaxial, geogrid provides excellent tensile strength in both the longitudinal and transverse directions. It consists of polymer and is made using extrusion, plate forming, punching and transverse and longitudinal stretching. Whereas unidirectional plastic geogrids are used mainly to make a soft foundation stronger, bidirectional plastic geogrids are used to reinforce a foundation where the bearing is long-term and the area is larger, such as a parking lot.
Universal geogrids can be used for walls up to 6 feet tall and can be installed parallel or perpendicular to the wall. Its dimensions are 4 feet wide by 100 feet long.
Wall Drain Pro
Think of Wall Drain Pro as an improved, simpler wall drain that drains water in a more visually appealing way. It offers the following benefits:
It looks nice. Wall Drain Pro is a lot more aesthetically pleasing than conventional wall drains.
It is user-friendly. Its easy installation means you don't have to be a DIY pro to do it.
The height of the drain is easy to modify. It's easy to adjust the height of the drain to the size of the blocks you're working with. However, keep in mind that this product is only designed to work with blocks up to 8 inches in height.
It involves less cutting. This means lower labor costs.
It comes in three colors. Wall Drain Pro comes in gray, black and tan, which makes it easy to match the colors of most retaining walls.
Adhesives: Gator Bond and PL Premium
We recommend two adhesives when building retaining walls: Gator Bond and PL Premium.
Gator Bond
Gator Block Bond XP Polyurethane Adhesive (Low VOC) is an extremely strong polyurethane adhesive specifically formulated for retaining walls, although this versatile substance can also be used in many other applications, including:
Steps
Overlays
Wall caps
Pool copings
Wet cast
Concrete pavers
Bricks
Masonry units
Natural stones
In addition to its versatility, Gator Bond also offers the following benefits:
It is environmentally friendly. Gator Bond complies with volatile organic compound (VOC) regulations, so you won't have to worry about it endangering your health or the health of those working with you.
It doesn't have a pungent odor. Unlike solvent-based adhesives, you can use Gator Bond inside without getting any odor complaints.
It is strong. This adhesive is extremely strong, being several times stronger than ordinary construction adhesives. It's often stronger than the substrates it connects together.
It is non-shrinking. You won't have to worry about this adhesive shrinking, cracking or losing the bond.
It cures quickly. Another benefit of this product is how quickly it solidifies. If the materials are installed properly, the adhesive can achieve a permanent bond after just 24 hours.
It has a long open time. This user-friendly adhesive offers lots of flexibility when it comes to repositioning.
It can be used in a wide range of temperatures. Not matter what the temperature is, this adhesive still works.
PL Premium
Loctite® PL® Premium® Polyurethane Construction Adhesive, a moisture-curing, polyurethane-based, one-component adhesive, is another retaining wall product we recommend.
In addition to retaining walls, this adhesive is also a good choice when working with the following building materials:
Wood
Hardwood
Treated wood
OSB
Plywood
MDF
Flooring
Concrete
Marble
Stone
Slate
Brick
Masonry
Foam insulation, including expanded polystyrene foam, extruded polystyrene foam and urethane foam
Metal
Carpets
Galvanized metal
Stainless steel
Lead
Cement-based products
Ceramic
Fiber cement panels
Drywall
Fiberglass
Here are some additional benefits offered by this adhesive:
It is safe and environmentally friendly. PL Premium is VOC-compliant and complies with strict federal and state regulatory requirements. It also doesn't contain any water or chlorinated solvents.
No unpleasant odor. You won't have to worry about having to tolerate any foul smells when working with PL Premium, as it has no strong solvent odor.
Great for both inside and outside applications. Due to its VOC compliance and lack of a strong odor, you can use it inside as well without getting complaints about smells or endangering the health of any occupants.
It provides premium adhesion. Like Gator Bond, PL Premium also offers adhesion several times stronger than conventional construction adhesives.
It is paintable. If you choose to paint your retaining wall, the adhesive will accept the paint.
It is water-resistant. Unlike many other adhesives, you can apply PL Premium to wet, dry or frozen lumber.
It can cure in cold temperatures. If you live in a colder climate or are building during the winter, PL Premium will still cure without any problems.
Slotted Pipes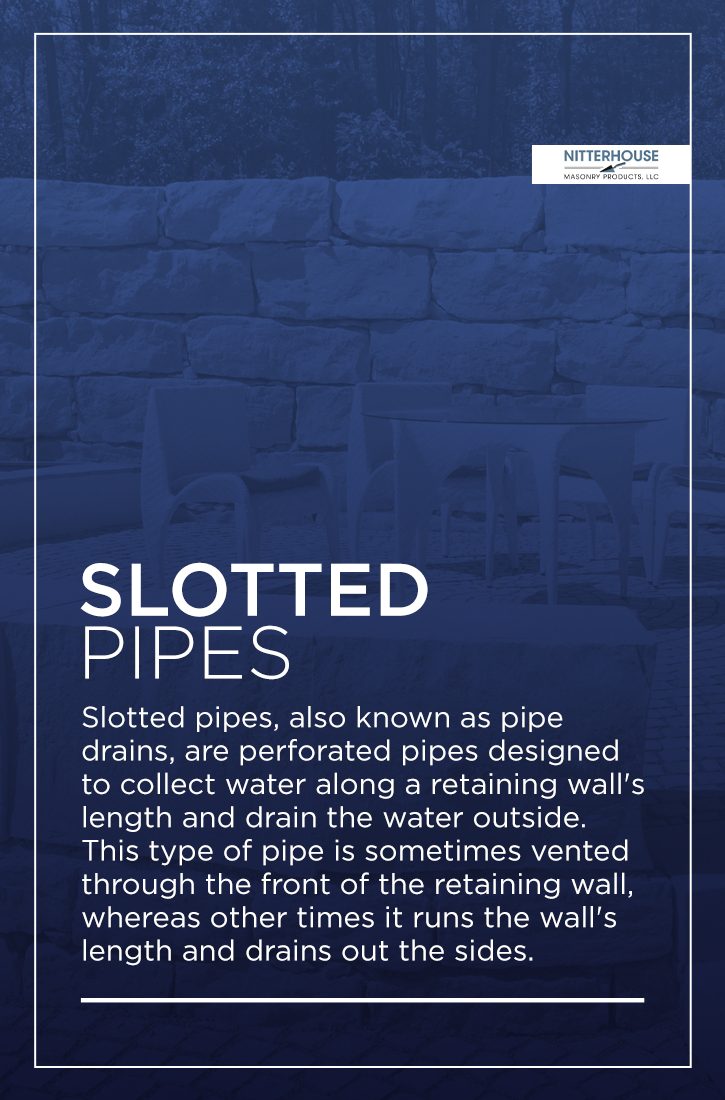 Slotted pipes, also known as pipe drains, are perforated pipes designed to collect water along a retaining wall's length and drain the water outside. This type of pipe is sometimes vented through the front of the retaining wall, whereas other times it runs the wall's length and drains out the sides. They are typically installed at the retaining wall's base, although if a wall is taller, it may need several slotted pipes at various heights.
These pipes require ventilation and need to be vented at least every 50 feet. They can also get clogged from debris, although this can be prevented by simply installing a rodent mesh.
Contact Nitterhouse for Retaining Wall Accessories
If you would like to learn more about the wide variety of retaining wall accessories we offer, check out our retaining wall product overview page. If you have any questions, we also encourage you to reach out to our knowledgeable and experienced team of experts, who will gladly provide you with professional advice and answer any questions you may have. We look forward to speaking and working with you!