Jump To:
Pavers affect the aesthetics of an outdoor space, yet you may not think twice about them outside of when you have to install, maintain or clean them. We walk all over them every day and probably don't take the time to consider how they enhance the beauty and function of an outdoor space.
Whether you're responsible for a small, private site like a home, or a large public place like a shopping mall, it's good to acquire some basic knowledge about pavers and their different applications in a number of places, such as:
Homes
Pools
Retail
Restaurants
Hotels
Public parks
Apartment dwellings
City complexes
School campuses
Offices
Nitterhouse Masonry Products offers the best pavers for patios in all of these environments, along with the expertise to facilitate excellent installation. We enjoy sharing knowledge and getting to convey the best news of all — that the possibilities with quality products are as endless as the imagination.
Textured, Tumbled and Smooth Pavers
Pavers come in a wide variety of styles, sizes and colors, with most manufacturers releasing new lines each year. There are three basic types of concrete pavers, nearly all of which are interlocking:
1. Textured — Pavers feature an imprinted pattern ingrained into the surface from the type of mold they are made in.
2. Tumbled — Pavers acquire a weathered, aged look from continuous turning in a drum-like machine that resembles a clothing dryer. Any paver can be tumbled, and the resulting surface is usually at least a little rough.
3. Smooth or Matte Face — These pavers have little to no texture and a smooth surface that's easy to wash and typically less expensive than the other two types. A completely smooth-surfaced paver has a unique look but does not provide great traction.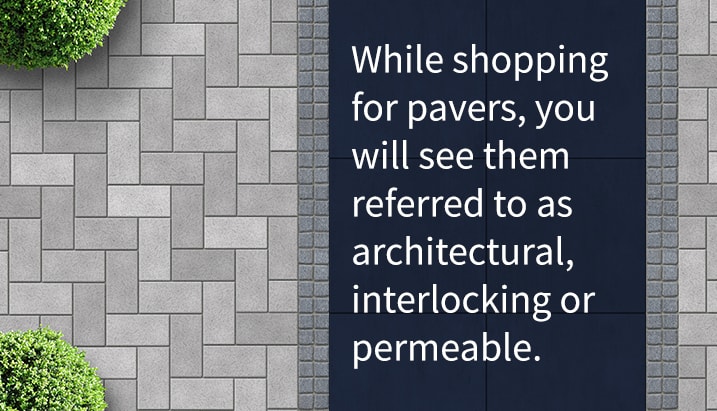 While shopping for pavers, you will see them referred to as architectural, interlocking or permeable.
An architectural paver may consist of a blend of materials, which gives it an artistic look that helps the paver serve as a complement to the surrounding architecture.
Interlocking pavers are typically used in residential applications. They are small and have the ability to lock to each other, which makes them easy to use when forming patterns.
The reality is that all pavers are somewhat permeable since some water will flow through the cracks between them, whereas water flows over the top of poured concrete. However, some pavers are made to absorb and/or convey water.
Any pavers you consider should meet the standards of the American Society for Testing and Materials (ASTM). It includes many different codes that manufacturers are supposed to follow so that the product meets performance expectations.
Creation of a beautiful and enhanced patio requires a detailed plan, material analysis and proper preparation of the paver bed. It is essential to dig the bed to the proper depths, create good drainage and fill with the right materials. Any outdoor paradise needs a great foundation to provide years of worry-free enjoyment.
Modern Patio Design
Each year brings a fresh set of ideas, materials and trends in patios and outdoor living, and each person checks that pulse in different places. We might get ideas from other people's houses, at event venues, on television, in magazines, on websites or through family and friends. Many look to landscape architects and design professionals for analysis of trends. Here are a few trends for in-patio design.
Opting for pavers instead of poured concrete seems to be the popular preference, and there are a few common reasons:
Pavers are stronger than poured concrete.
They are easy to replace if an area sustains partial damage, or if repairs underneath are necessary.
The variety of choices available when it comes to color, texture and overall look.
Colors can match bold and bright tastes, as well as natural and subtle tastes.
Pavers can create or accent adjacent features.
Paver patterns provide pleasing symmetry.
Large paver sizes respond to recent-year trends.
Other popular trends in patio design have to do with the approach taken to the layout and accessories:
Clean, simple, linear designs dominate the patio industry as of late, as they provide less general clutter and a stronger focus on a few quality elements. Many times, the objective is to make the patio more open and spacious. This minimalist approach has become very popular.
Cooking space probably lands on everybody's "dream patio" list, whether it involves a simple charcoal grill or a full kitchen with sinks, cooktop and serving bar.
Edging of all kinds is used to enhance and define patios. Pavers, stones, gravel, bricks and flower beds can all add flair, color and definition.
Patio covers make the patio feel more like an outdoor room, and they provide people and the furniture some protection from the weather. People use covers to add design flair as well as function, and the cover can be anything from a roll-down canvas model to one with a roof of steel or timber and shingles.
Walls that double as seating offer a practical solution for events in which many guests will be meandering about a patio space. Retaining walls, adjacent building walls and decorative and/or separating walls can all function as seating, perhaps topped with a permanent, weatherproof material or removable cushions.
Water features create an elegant look and a pleasant background sound. Many people opt for some kind of fountain for design purposes, and so that their patio can feature the relaxing sound of falling water. It can be a big, formal feature with a statue and lights, or something small that blends with its nature surroundings. Standalone pottery fountains can also add color and the desired sound effect.
With a focus on the paver, it's possible to accomplish many goals with pavers, including aesthetics that contribute to invoking a distinct atmosphere while simultaneously providing a functional foundation for everyday living. While Nitterhouse offers a wide variety of pavers for all types of situations, a common interest among buyers is the question of which pavers create great patio designs for spring, so we've highlighted a handful of our favorites:

Interlocking-Village Pavers
Nitterhouse offers the interlocking Village Paver, which is popular for its warm, natural look; choice of 11 colors; and tough-yet-artistic design and construction. It can mimic the look of cobbled stones without the hassle, and the look it creates can range anywhere from reminiscent of a bygone era to ultra-modern. Rustic, earthen, limestone, salmon, pewter, sandstone and tan are a few of the colors available and can be employed alone or mixed and matched.
Village is a tumbled paver available in four sizes, all of which are 2 3/8 inches thick: 4 or 8 inches x 8 inches and 6 inches x 6 or 9 inches. The tumbled look adds texture to a space, and the variety of available colors makes this paver popular because it is easier to blend it with the surrounding landscaping elements, whether they are natural or manmade.
The interlocking characteristic of the Village paver adds efficiency to the project. Anyone who has tried to install interlocking pavers knows there is a difference between a quality lock and pavers that are billed as interlocking simply because they align beside each other. The Village provides a great combination of warm, classic beauty and enduring strength.
People use the interlocking paver for many paving projects, both small and large:
Driveways
Fire pit surrounds
Patios
Pool decks
Walkways
Concrete Slate Pavers
Subtle, sophisticated beauty meets the eye with the Slate paver. It looks stylish, yet provides an affordable, durable and practical material made of concrete and blended to resemble slate. Canyon red, Sierra tan, Appalachian gray and mountain green colors complement each other and are available individually or as mixed packages. Each color of paver also comes in a natural or sealed finish, which adds versatility.
For example, you may choose an unsealed finish for a pool deck to create the best traction possible when the surface gets wet. Sealing the pavers could be the best option for a patio or driveway that you would like to have a more finished look or a protective coat.
From large commercial and residential expanses to smaller areas, the Slate paver will fit right in, as it is available in six sizes, starting at 12 inches x 12 inches x 2 inches for one square foot of coverage and ranging up to 24 inches x 36 inches for six square feet of coverage. Each strong, concrete Slate paver has straight sides, square edges and a uniform thickness. It is not necessary to use a plate compactor with these pavers, but some type of restraint system for the pavers is recommended.
Nitterhouse provides this type of paver for a variety of projects:
Driveways
Garden areas
Patios
Pool decks
Walkways
View all slate paver patio options!
Camina Creates Dreamy Lines
Each Camina paving stone features grooves that add dimension to a space. Some designs align the grooves in a linear or parallel fashion, while others put the Camina lines at opposing angles. And when the literal groovy-ness of this tile brings on a flood of creative juices, people are tickled to learn that the grooves of Camina paving stones are customizable.
One of the principles of design grants that flowing or connected lines create a feeling of spaciousness, and those lines can be customized and arranged in a nearly endless number of possible combinations. Tons of designs include and play off geometric shapes, and with Camina paving stones, you can design the lines however your mind's eye sees fit.
While Camina has several options for customization, its initial debut included choices of a mostly smooth or rough surface, as well as a mixture of these elements on one stone. The popular combination of light gray and dark slate colors complement each other when mixed but can stand alone too, especially augmented by the dimension that lines add.
Camina helps create a functional-yet-artistic complement to the surrounding architecture. It is often used in commercial applications and can upgrade the look of many outdoor areas, such as:
Patio
Courtyard
Walkway
Path
Pavilion
Park feature
Courtyard
View Camina paving stone options!
Urban Stone Builds in Beauty and Function
Urban Stone is a brand new architectural paving stone that creates beautifully patterned expanses. These plank-like pavers have an elongated rectangular shape and may be arranged in a variety of ways to create a distinction between areas. Designs can feature perfect symmetry, repeating patterns or a random, scattered style, all of which create interesting shapes within the space.
Typically used in commercial applications, a variety of sizes contributes to the versatility of Urban Stone and the inviting designs it makes possible. The line includes six standard sizes ranging from 4″ x 12″ x 3 1/8″ to 4″ x 24″ x 2″, and custom sizes can be delivered as well. At least 20 colors offer rich choices as you match other elements or create a standalone look. Urban Stone can create a natural backdrop that blends or a bold statement that stands out.

Its excellent compressive strength of 8,500 pounds per square inch holds high traffic. Its low absorption rate of 3 percent and its resistance to damage from the freeze-thaw cycle make it ideal for urban outdoor applications. This paver provides the durability of concrete needed for large common areas, such as:
Patios
Walkways
Courtyards
Apartment grounds
Malls
View our lineup of Urban Stone patio pavers!
VIP Pavers Offer Textured Cues
This paver derives its name from its use as a cue for visually impaired pedestrians, and it complies with standards set by the Americans with Disabilities Act. They feature small, raised domes arranged in a uniform pattern to provide a particular feeling that signals a transition in the walking surface.
You'll see VIP pavers where curbs and sidewalks meet streets, where concrete and/or steel safety bollards are placed in front of buildings and anywhere else where there is a change in the landscape. Other examples of places that these pavers are often used might be before a drop or step as well as a grate, manhole or other similar utility.

The pavers come in standard sizes of 12″ x 12″x 2″ and 24″x 24″ x 2″. While they are usually neutral colors that vary from the adjacent sidewalk, patio or walkway application, VIP pavers come in eight colors. Many people seek a paver that serves not only as a guide to the visually impaired but also as a feature that sighted pedestrians can enjoy.
VIP pavers serve an important and specialized function in many public places, but it is also common for people to use them in residential applications for a variety of reasons, such as:
Serving as a guideway in the dark, whether power is off or it's just dim outside
Providing superior traction for people of all ages, but especially the very young and the elderly
Coming in a color they like
Contributing to a creative design idea
Providing a tactile border for young children and even pets
Adding color and texture to outdoor features
Creating an interesting border around amenities like patios and pools
Talk With a Professional Partner
Nitterhouse Masonry Products offers many ways to beautify and improve the functionality of any building or outdoor living space. Many people appreciate that our products are created right here in Pennsylvania. You can be sure our masonry standards, as well as those of our partners, meet all ASTM criteria.
We serve a full spectrum of needs in commercial and residential building exteriors, as well as interior veneers of stone and Nicrete brick. Nitterhouse products are features of many schools, health care facilities, malls, office campuses, fire stations and apartment complexes, in such capacities as patios, walkways, parks, commercial roofs, pool decks, courtyards, retaining walls and more.
Nitterhouse is in its fifth generation of family ownership and has a reputation for quality and industry leadership. Expertise makes a huge difference in concrete-paver work, and ours dates back to 1923 when a single mason endeavored to make a better block.
Nitterhouse masons continue honing the craft today, and along the way, they gain landscaping expertise and specialized knowledge, such as that of interlocking stone installation. Our professionals can also offer advice throughout the process of creating, redoing or upgrading a space, including design, specifications, materials, setting and sealing. Whether you're tackling a patio or any other project, let us know how we can help. Contact Nitterhouse Masonry today.