Jump-To:
Concrete masonry units are a versatile, environmentally friendly building product that can be used for a wide variety of applications. With the variety of shapes and sizes available, they can be used as part of an attractive exterior design, as well as to add interest to interior walls. Using concrete blocks on a project can even contribute to it being designated as a "green" building.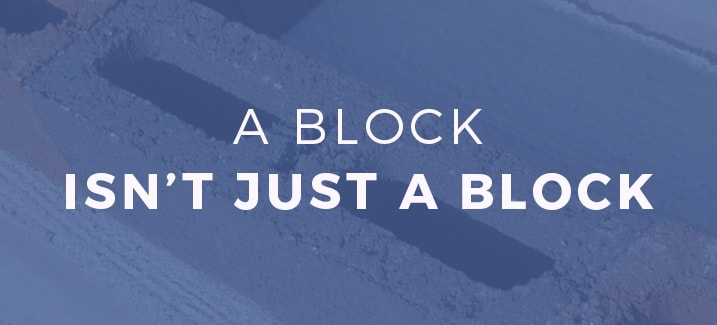 Characteristics of Concrete Block
Concrete block is made from Portland Cement, aggregates and water. It is also known as a concrete masonry unit (CMU). As a building material, concrete offers several attractive characteristics to designers and builders, including the following:
Durable
Easy to install
Fireproof
Low maintenance
Decorative finishes available or may be ornamented after installation
The standard (nominal ) size of a concrete block (stretcher block) is 8" x 8" x 16", the actual size is 7 5/8" x 7 5/8" x 15 5/8" the block is produced to this size to account for mortar joints. The block itself is slightly shorter in order to accommodate the mortar used to secure it in place.
CMU Block Shapes. Blocks may be solid or hollow with two or more cores. This feature reduces the cross-sectional area of the block by about one quarter. The advantage with this material is that its lighter weight makes it easier to work with. It can also be reinforced with rebar, either horizontally or vertically, depending on your plans.
Hollow concrete blocks are also a more economical choice, since they require less raw material, time and energy to produce. Once delivered, they are much easier to lift into place than their solid counterparts.
The fully solid blocks have different applications including caping off top of a wall or to give a building additional security. Since they are more expensive than their hollow counterparts, the cost of using them would always need to be weighed when considering whether they are the best solution for any project.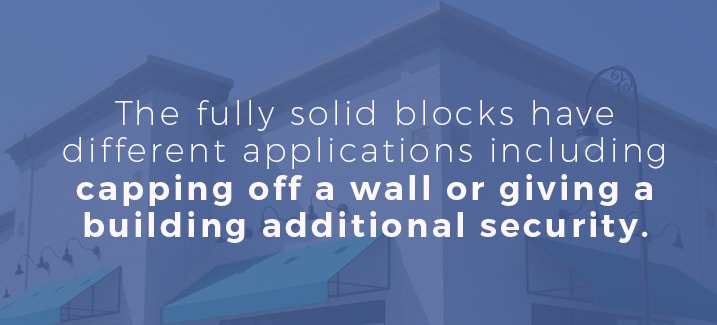 It's important to use the right type of block for the job at hand. Examples of different types of block available and their uses are as follows:
Stretcher Unit is a block that is laid flat on its bed and installed along the length of a wall. Its face is parallel to the face of the wall.
Quion Corner Unit — pronounced "coin" — is the decorative end piece of a concrete block wall. These units are hollow and may be slightly larger than the surrounding block to give off a stronger appearance. These units are also called, "universal corners"
Stretcher With Score Unit is a concrete block that is meant to be seen end on. The score unit gives it the look of brick.
Solid Quion Corner Unit is similar to the Quion Corner Unit above — the only exception is that the block itself is solid.
"L" Corner Unit is meant to finish an outside corner and be viewed from three sides.
Closed Bottom Bond Beam Unit is hollow with parts of the end and crosswebs formed to allow a continuous channel to allow reinforcing steel beams and grout.
Open Bottom Bond Beam Unit is a similar product to the Closed Bottom Bond Beam Unit, with the exception that the bottom is open. It can still accommodate steel beams and grout.
Bullnose Stretcher Unit has one of its edges rounded off.
Split 6 Flute Stretcher Unit is a six-inch concrete block with a decorative fluted or scalloped edge on the outside.
Split 6 Flute "L" Corner Unit is from the same collection. It's a corner unit featuring the same fluted edge for an outside corner.
Split 8 Flute Stretcher Unit is an eight-inch concrete stretcher unit with a decorative scalloped pattern.
Split 8 Flute "L" Corner Unit matches the eight-inch concrete stretcher for outside corners with the scalloped pattern.
Split Wide Stretcher Unit features a decorative pattern with four sections per concrete block.
Split Wide Corner Unit is the coordinating piece for outside corners. It features three pattern sections on one side and two on the other for pattern continuity.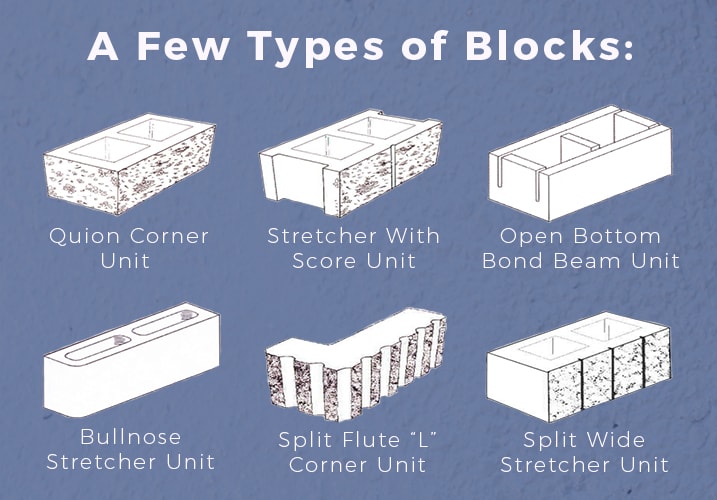 Typical Uses for Concrete Block
Concrete block is a popular construction material due to its versatility. It can be used for several applications, such as:
Foundation walls
Basement walls
Partition walls
Exterior walls
These blocks can be finished with a number of coatings, which can be used to prevent water from penetrating the concrete and help with efflorescence. Examples of theses types of coatings include:
Cement paints
Latex paints
Oil-based paints
Urethanes
Epoxy coatings
The specific type of coating will depend on the specific function of the block, where it will be used, if the coating needs to be UV resistant and breathable, etc.
Concrete Blocks: A Sustainable Building Product
The majority of the materials used to make CMU can be found in most places. Cement is an ingredient that is usually produced on a regional basis as well. It is the one building material that is produced close to a job site.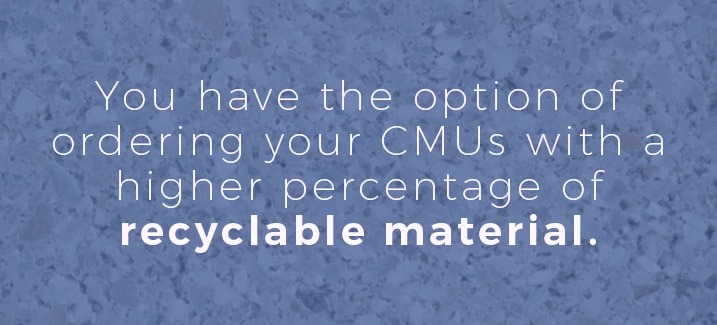 The LEED Program
LEED (Leadership in Energy and Environmental Design) is a third-party verification program for green buildings. Under its verification system of the way our communities and the buildings which occupy them are planned, constructed, operated and maintained, 1.85 million square feet of space is meeting LEED's standards each day.
Its standards can be applied to commercial and residential buildings at all stages of development. Projects may pursue LEED points at more than one area addressing sustainability issues. Points are tallied, and the project is awarded one of the following ratings:
Certified
Silver
Gold
Platinum
LEED ratings apply to both new construction and major renovations to properties, both interior and exterior. The ratings are often used in the following types of markets:
Schools
Retailers
Data centers
Hospitality
Healthcare
Industrial warehouses and distribution centers
Use Recycled CMU and Earn LEED Points
Many customers have become increasingly environmentally savvy over the past several years and are insistent that their designer and/or builder use sustainable materials as much as possible. You can earn LEED points for choosing recycled CMUs for your new construction or major renovation project.
Recycled CMU
Recycled CMU is the eco-smart option for your project. These CMUs are made with 30 percent recycled material and are available with Nitterhouse Masonry Products' Ground face and Split face finishes.
You have the option of ordering your CMUs with a higher percentage of recyclable material, if desired. Recycled materials can also be added to any color CMU block at the time of ordering. Using recycled CMUs benefits you in the following areas:
Locally Sourced Materials. Points are given when materials are used from within a 500-mile radius. All the recycled CMUs from Nitterhouse Masonry Products are regionally sourced.
Recycled Materials. Using recycled materials and resources to manufacture products also qualifies for LEED points. Nitterhouse Masonry Products uses a large percentage of recycled aggregates in their CMUs, and since the recycled materials are post-consumer, the products qualify for the maximum number of LEED points.
Construction Waste Management. Since CMUs are modular in design, they produce very little waste during installation. Nitterhouse Masonry Products encourages its customers to return any unused product. These examples of construction waste management strategies qualify a project for another LEED point.
Energy and Atmosphere. Walls constructed from masonry are a good choice for the interior of a structure, since they change temperature slowly and store coolness that can be emitted back into the building during business hours. Using concrete block on the interior walls of a building is a good strategy to absorb moisture, which will create a more comfortable interior atmosphere for the building's occupants. Up to two LEED points may be earned in this category.
Innovation and Design. Projects can earn LEED credits for projects that exceed the requirements of LEED Ratings. Credits have been awarded previously for impact-resistant finishes, durability, mold resistance and finishes that do not need painting. A total of four points are available in this category. Nitterhouse Masonry Products offers permanent colors that do not need painting.
Nitterhouse Masonry Concrete Block Products
Nitterhouse Masonry Products carries a number of quality products for exterior and interior use. The right one for a particular project will depend on where you want to use it and the particular finish you are looking for. Consider the following available options before making a decision about your next new construction or major renovation project:
Architectural Concrete Block
Architectural concrete block is your go-to choice when you are looking for a solid product. This block can be used for both exterior and interior applications and is a popular choice for accent bands to draw interest to a building's facade. The blocks are suitable for loadbearing walls. Available in a number of standard colors — with custom colors available on request — the blocks come in the following CMU block shapes:
Stretcher
Split Fluted Stretcher
Bullnose Stretcher
Split Wide Stretcher
Stretcher With Score
Solid Quion Corner
Quion Corner
Split Face L Corner
Open Bottom Bond Beam
Closed Bottom Bond Beam
The architectural CMU is produced with an integral water repellent. Before use, an integral water repellant mortar admixture must be added to the mortar.
The product is sealed with an acrylic resin before being delivered to the customer. For best results, apply a second coat of resin to seal the entire wall.
Architectural Concrete Finishes
The architectural concrete block is available in the following finishes. Each one gives the blocks a distinct look, and the blocks can be mixed and matched to create a custom look on a building facade or an interior wall.
Ground-Face Finish. The Ground-Face Finish has a smooth, uniform look. It is suitable for interior and exterior building façades, as well as decorative borders. Blocks can be used at and below grade. The product meets standards for loadbearing concrete. Ground-face CMUs arrive at customer's location factory sealed with a water-based resin sealer. These CMUs are available in both standard and custom colors by request.
Split-Face Finish. The Split-Face Finish gives interior and exterior surfaces depth with a textured look. It is a good choice for building façades as well as decorative accent bands. This product can be used at or below grade and meets the standard for loadbearing concrete masonry units. This finish is offered in several standard colors and custom colors are available, depending on the quantity ordered.
Antique Finish. The Antique Finish is the right choice for your project if you want your blocks to have a weathered look immediately upon installation. The shot blast finish exposes the aggregate to provide this effect. It can be used for interior and exterior façades and makes a striking accent band or stripe when used in conjunction with other finishes. Several standard colors are offered, and custom colors are also available on request.
Monarch Traditional
For customers who want the look of traditional brick in a concrete block product, Nitterhouse Masonry Products offers the Monarch Traditional product line. This product is the height of a regular brick, but the length and depth of a standard block. The blended blocks are integrally colored in several attractive combinations. Product sizes are:
3 5/8″x 3 5/8″x 15 5/8″
7 5/8″x 3 5/8″x 15 5/8″
11 5/8″x 3 5/8″x 15 5/8″
Legacy Stone
Legacy Stone is a veneer CMU that is offered in a choice of two finishes: the textured and the terrazzo. In both instances, the beauty and uniqueness of the aggregates can readily be seen when viewing the product. As the name implies, the textured finish is rough in appearance, while the terrazzo finish is polished flat.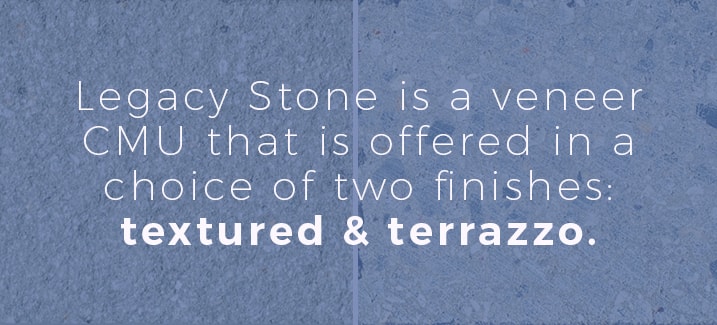 The textured finish can be used for exterior and interior applications. It creates interest and gives a sense of dimension to any space where it is applied. Legacy stone is not designed to be a loadbearing unit. The concrete block dimensions available are as follows:
3 5/8" x 3 5/8" x 23 5/8"
3 5/8" x 7 5/8" x 23 5/8"
3 5/8" x 11 5/8" x 23 5/8"
3 5/8" x 15 5/8" x 23 5/8"
3 5/8" x 11 5/8" x 11 5/8"
3 5/8" x 11 5/8" x 11 5/8"
Other sizes are available on request. Several standard colors are available, but you can also request custom colors.
Legacy Stone: Chiseled Face
Legacy Stone's Chiseled Face finish has an appearance that is similar to cut limestone. This four-inch cut veneer CMU is a popular choice for customers looking for striking accent bands on building façades. This option is often used to break up large spans of one color of color and texture of block to create interest and draw the eye to a particular area of a building.
This product is not designed to be a loadbearing unit. It is offered in a number of attractive colors, and is available in both the textured and terrazzo finish to match surrounding bricks. Customers can choose from the following sizes and shapes:
3 5/8" x 3 5/8" x 23 5/8"
3 5/8" x 7 5/8" x 23 5/8"
3 5/8" x 11 5/8" x 23 5/8"
3 5/8" x 15 5/8" x 23 5/8"
3 5/8" x 11 5/8" x 11 5/8"
3 5/8" x 11 5/8" x 11 5/8"
Other sizes are available on request.
Legacy Stone: Linear Collection
The Legacy Stone Linear Collection is a visually striking finish featuring scored horizontal lines between two different finishes. One of the finishes is a ground-face finish and the other one is a shot-blast finish.
The width of each band can be customized to suit the style of your project and your particular needs. The Linear Collection may be used for exterior and interior projects to create striking accent bands to draw the eye to whatever level you choose in a particular design.
Legacy Stone is not designed to be a loadbearing unit. The Linear Collection is available in the following sizes:
3 5/8" x 3 5/8" x 23 5/8"
3 5/8" x 7 5/8" x 23 5/8"
3 5/8" x 11 5/8" x 23 5/8"
3 5/8" x 15 5/8" x 23 5/8"
3 5/8" x 11 5/8" x 11 5/8"
Elite CMU
The Elite CMU line's highly polished appearance makes it a very striking addition to any exterior or interior project. It meets the requirement for loadbearing units and eliminates the need for laying block and then installing ceramic tile over top.
This product is available in several attractive standard colors, and custom colors are available on request. The standard finish dimension for Elite CMU is 7 5/8" x 15 5/8".
Concrete block is a building product that adds color and texture to exterior and interior spaces. It's a green choice that has a number of advantages for designers and builders. Nitterhouse Masonry Products is your source for high-quality CMUs. Contact us today to learn more about our product lines or to discuss your needs in more detail.